Edward Norton's Motherless Brooklyn Cancels Filming After On-Set Firefighter Death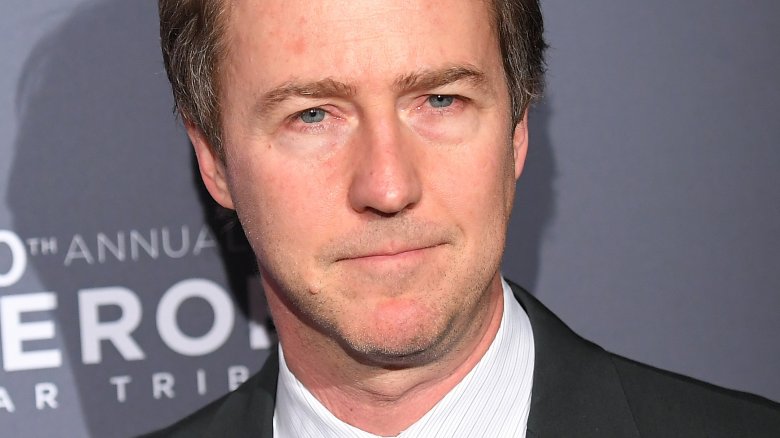 Getty Images
The producers of Edward Norton's upcoming movie Motherless Brooklyn have canceled filming following the on-set death of New York City firefighter Michael Davidson. The 37-year-old was killed on Thursday, March 22 after a raging fire broke out in a Harlem townhouse that Norton and his crew were using as a set.
When news of Davidson's death first circulated, there was no indication as to how (or if) production on Motherless Brooklyn would move forward. Now, the film's producers have issued a statement to Entertainment Weekly indicating that filming has been canceled. Additionally, a source with The Hollywood Reporter visited the movie's set, where crew members confirmed on Friday that "filming has been canceled for the week and next steps are being worked out."
Several reports have indicated that the fire broke out around 11 p.m. on Thursday. The Motherless Brooklyn crew notified the fire department and neighboring residents after noticing "smoke was coming into [the] set and into other parts of the building from below." Davidson of Engine Company 69 was one of a number of firefighters who responded to the scene. There, Davidson used the hose-line in attempts to contain the spreading blaze. He reportedly became separated from the other responders, who later found him unconscious. Davidson was pronounced dead at Harlem Hospital thereafter. 
It's unclear what started the fire in the townhouse, a five-story building home to the former St. Nick's Jazz Pub before its closing in 2011. Crew members began assembling sets inside the building for Motherless Brooklyn about two weeks ago. According to neighbors, set decorations included a sign reading "King Rooster Jazz Club" that was set up outside the building. Norton directs and stars in the film, based on Jonathan Lethem's novel of the same name. Bruce Willis, Willem Dafoe, and Alec Baldwin round out the main cast. 
Two other firefighters suffered burns during the incident and were in serious condition as of Friday morning. Three others were injured, according to Fire Commissioner Daniel Nigro. "Our department and our entire city mourn this tragic loss of a very brave firefighter," he said.
Eric Philips, a spokesperson for New York City Mayor Bill de Blasio, said in a tweet shortly after the tragedy, "It's an awful night. You haven't heard a scream until you've heard the scream of a mother who's seen her son give his life to protect us."
A resident in the neighborhood told the New York Post that Norton appeared visibly shaken at the scene. "He looked pretty upset," he stated. "This is crazy, this fire. You think a movie comes up here and it is good for the neighborhood. Not a fire."
The producers of Motherless Brooklyn expressed their condolences in a statement that reads, "To our great sorrow, we now know that a NYC firefighter lost his life battling the blaze that grew, and our hearts ache in solidarity with his family. New York City firefighters truly are the bravest in the world. We watched firsthand with astonishment as they charged into the smoke to make sure all were safely out and then fought to contain the blaze and prevent it from spreading, putting their lives on the line as they do every day. The FDNY are real-life superheroes and have our boundless admiration and gratitude."
Davidson had been a firefighter for about 15 years. He leaves behind his wife of eight years, Eileen, and four children: daughters aged 7, 3, and 1, and a son who is 6. Our thoughts are with Davidson's friends and family during this time of mourning.