If Glass Onion's Miles Bron Reminds You Of A Certain Billionaire, There's A Reason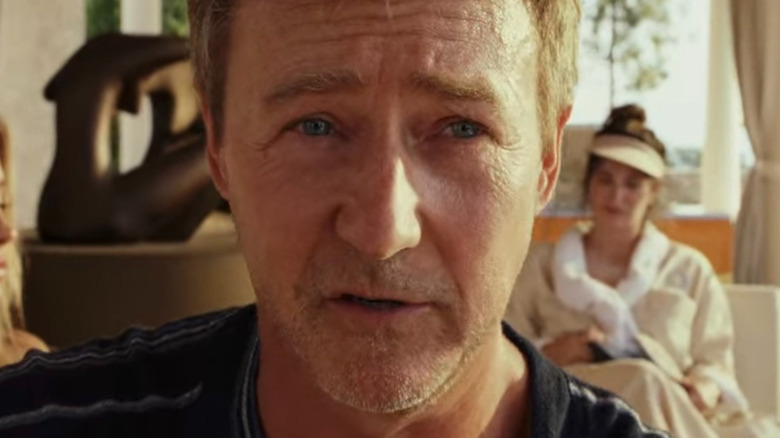 Netflix
"Knives Out" offered a unique take on the mystery genre filled with small details that also delivered a strong examination of social, political, and class conflicts, giving audiences something to chew on long after the 2019 Oscar-nominated venture. So when director Rian Johnson and company returned with another adventure for Benoit Blanc (Daniel Craig), it's no surprise that the first film's scathing satirical side came along with them, but this time aimed at a very different public figure.
Released on Netflix on December 23, 2022, "Glass Onion" reunites viewers with Benoit Blanc, who is invited to a murder mystery party at the Greece home of tech billionaire Miles Bron (Edward Norton), only for the night to go awry when an actual murder takes place. The film has received positive reviews from many, who consider it great, if not better, than the first film (via Rotten Tomatoes). Like "Knives Out," "Glass Onion" playfully comments on several elements of modern-day society, from the COVID-19 pandemic to canceled social media stars. But perhaps its most blatant example of mirroring reality comes in the character of Miles Bron, who many have likened to Tesla and Twitter CEO Elon Musk (via MSNBC). As apparent as the parallels may appear, however, there's more to the idea than meets the eye.
Elon Musk was not the only influence on Bron's character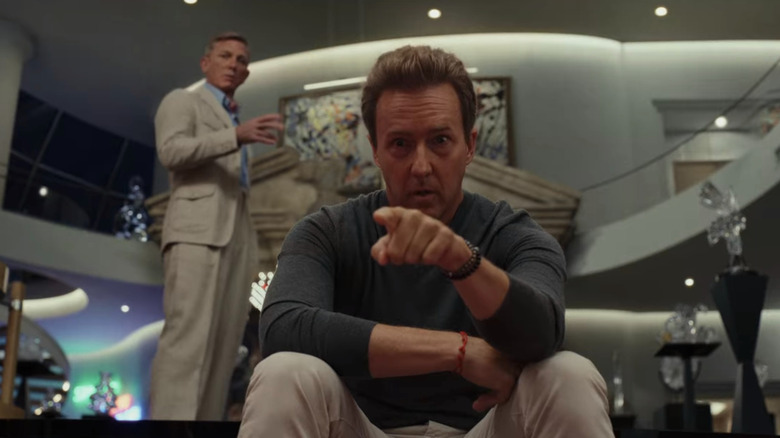 Netflix
While the connection between Elon Musk and "Glass Onion" character Miles Bron may seem like it couldn't be any more obvious. While acknowledging Musk as an inspiration, writer-director Rian Johnson ultimately had more universal intentions. 
In an interview with The Atlantic, when the director was asked if Musk was a specific inspiration for Bron, he responded, "He was in the cloud of people it was about. But you gotta think, back in 2020, all of the current unpleasantness was a long way off. And also, I found very quickly that it became very boring if I started thinking too specifically about anybody." Nevertheless, Johnson still held on to what made these figures so fascinating. He continued, "What was interesting was our weird relationship in American society to [these kinds of people], where we want to hate them but we also want to kind of believe they're Willy Wonka. The very American, natural instinct to mistake wealth for wisdom and competency".
While such observations hold an all-inclusive mindset, it's hard not to think of Musk, especially with the business tycoon's recent controversies surrounding his handling of Twitter (via Complex). And Johnson is similarly aware of the strange timing, telling Wired that Bron's relevancy is just the result of accidental timing.