Law & Order: SVU Planned On A Fin And Phoebe Marriage But It Never Happened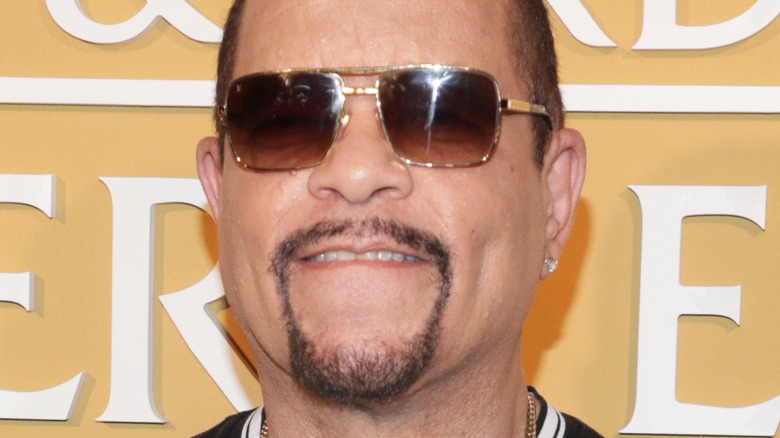 Rob Kim/Getty Images
Ice-T's Odafin "Fin" Tutuola is one of the most beloved characters on "Law & Order: Special Victims Unit." As the second longest-running character on the series, Fin has been featured in over 500 episodes since his debut in Season 2 (via IMDb). The only cast member to appear in more episodes is none other than Olivia Benson (Mariska Hargitay) herself.
Jennifer Esposito portrays Sgt. Phoebe Baker in four episodes of "SVU" across Seasons 20 and 22. Although her role as Phoebe was relatively small, she played a significant role in Fin's life. In the Season 20 episode "Brothel," Fin inevitably asked Phoebe out on a date only to have the latter decline because she was already seeing someone. The relationship ended up falling through, and Fin and Phoebe found themselves entangled in a storyline where they ended up hooking up and developing a relationship during the height of the COVID pandemic.
Apparently, Phoebe was meant to be a more prominent character in Fin's story. Hooking up during COVID was only meant to be part of it, as the writers wanted Fin and Phoebe to go the extra mile and commit to marriage.
Ice-T was as confused as the fans inevitably would have been
Ice-T sat down with Smashing Interviews Magazine to discuss various topics. He spent a lot of time discussing his involvement with My Legacy Voice and insisted that as long as Mariska Hargitay was part of "SVU," he would also be on the show. The interviewer inevitably brought up Fin's romance storyline with Phoebe, and Ice-T elaborated on the more fleshed-out relationship they were supposed to have.
"Funny thing about the romantic storyline. When we came back from Covid, they said, 'You're getting married,'" Ice-T explained. "I'm like, 'To who?' They said, 'Phoebe.' I'm like, 'Didn't she tell me hell no two years ago?' They said, 'Yeah. Well, you guys are getting married.' I'm like, 'How?' 'You guys hooked up over Covid,' they said. I said, 'Do the fans know that?'"
Ice-T's reaction was about the same as any hardcore fan of the show's would be. Going from seeing Phoebe turn Fin down once in the "Brothel" episode to suddenly coming back from COVID to them being married likely would have caused an uproar within the fandom. "SVU" fans don't tend to take things at face value. There has to be a reason for everything that happens, or they likely won't accept it. The writers worked it in by saying they tried but ultimately broke up.
"Dick Wolf will be the first to tell you that this show is not about us," Ice-T pointed out. "He's not too much about getting into our storylines. It's not a soap opera. It's a show based on the crimes and the different characters that come in, and it has worked. You know, 24 years? I'm cool. I just come to work and chase the perps."