Brian Tee Explains How Chicago Med Changed A Handshake To Mirror Pandemic Guidelines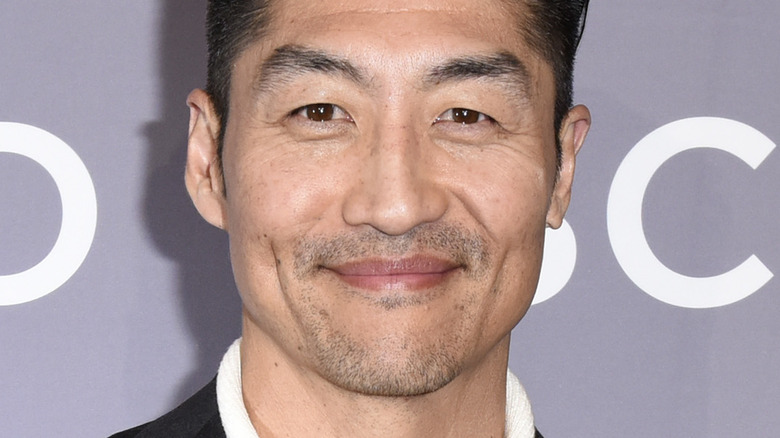 Vivien Killilea/Getty Images
NBC's long-running hit series "Chicago Med" is no stranger to the "ripped from the headlines" school of episodic TV storytelling. Ever since joining the "One Chicago" sister shows "Chicago Fire" and "Chicago P.D." in 2015, the medical drama has incorporated a variety of narratives echoing real-world events (per Outsider).
Numerous episodes of the show draw on major accidents or disasters commonly found screening on its devoted audience's nightly newscasts. From mass-casualty train derailments to toxic chemical spills, bio-weapons threats, and high-rise blazes, "Chicago Med" and the other two "One Chicago" shows are more than willing to mine current events for episodes with the built-in appeal of life-or-death drama, and the personal heroism of first responders confronting these often-dire situations.
It should be no surprise that the series would serve up more than a few episodes reacting to the COVID-19 outbreak. In this respect, the creative response of "Chicago Med" to the pandemic can be highlighted in certain script changes. According to actor Brian Tee, who plays Dr. Ethan Choi on the show, one particular example can be found in a scene between two of the show's prominent doctors as the pandemic continued to ravage the globe.
A handshake on Chicago Med was revised into a more pandemic-aware interaction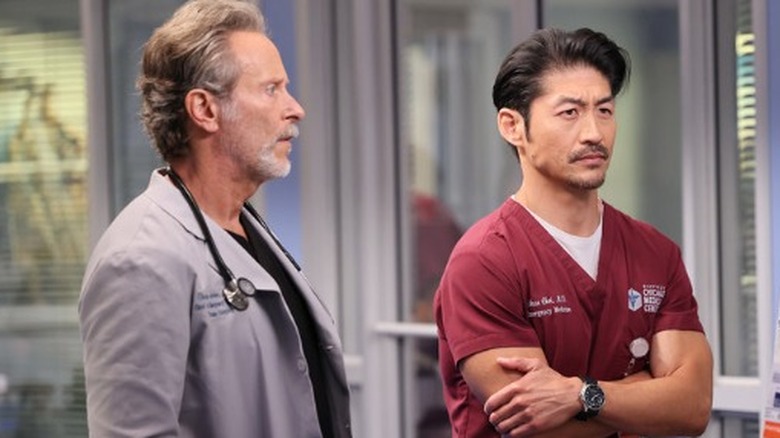 George Burns Jr/NBC
At the height of the COVID-19 pandemic, the universally common gesture of the person-to-person handshake was replaced by the generally stilted and awkward elbow bump. This handshake-to-bump phenomenon was brought up during a 2021 One Chicago Day Virtual Roundtable Interview as "Chicago Med" cast members Brian Tee, S. Epatha Merkerson, and Nick Gehlfuss discussed the pandemic's influence on the series' storytelling. Tee recalled a moment when a script called for his Dr. Ethan Choi to interact with Steven Weber's Dr. Dean Archer.
"I literally had a scene with Steven Weber, right, and I introduce him, and he's coming into our E.D. and ... there's a handshake in there," Tee said, then going on to add that, "The producers and I are like when does this air, should we be handshaking?" The immediate conclusion was absolutely not, Tee said, as they all agreed that touching elbows instead was the solution in light of the pandemic.
Likewise, as "Chicago Med" showrunner Diane Frolov told One Chicago Center, the real-world impact of the pandemic affected a whole range of aspects of the show beyond the suddenly forbidden handshake: "The [medical] protocols in real life affect our storytelling as well, because we can't have as many people in a scene, we can't have big intakes, you can't have bunches of people waiting in the waiting room."