NCIS: LA Star Daniela Ruah's Favorite Part Of Directing Is The Collaboration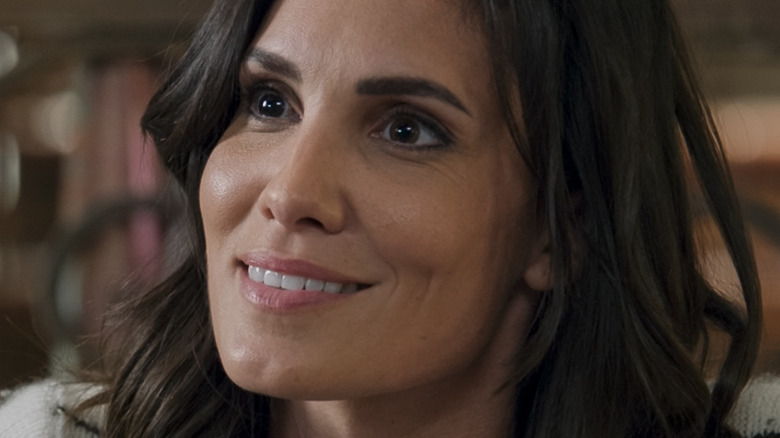 CBS
Daniela Ruah has been one of the major players on the roster for "NCIS: Los Angeles" since the series debuted in 2009 (via IMDb). Still, some fans may not be aware that the actress has sat in the director's chair for several entries since Season 12, with a certain key aspect being her favorite part of the high-level behind the scenes gig.
For over 300 episodes, Ruah has entertained fans as Special Agent Kensi Blye, a resilient and resourceful member of the Office of Special Projects Team station in the City of Angels. Whether she is getting in shootouts with dangerous criminals or surviving explosions of historic proportions, the well-crafted "NCIS: Los Angeles" persona rarely disappoints. One of the main reasons the character is so well-received by fans of the long-running and still popular series (via Variety) is arguably the exemplary efforts from Daniela Ruah. The actress's dedication to the series and the role has translated into a stellar performance and a substantial contribution to the continued success of the "NCIS" spinoff.
But Ruah has contributed much more to the series than just what she has done in front of the camera. Out of everything that goes into her ability to helm an entry of "NCIS: Los Angeles," she has a fondness for the collaborative side of things.
Director Daniela Ruah isn't afraid to work with others
Directing any endeavor is the furthest thing from what people would consider an easy job, especially regarding projects on the small screen. There is so much that goes into a TV show, especially one like "NCIS: Los Angeles." There are action scenes, chase sequences, heavy dialogue moments, and more, all needing specific things from several people. Quarterbacking the entire ordeal is the director. While it is notoriously a solo affair, there is sometimes a need for collaboration which, fortunately, is one of the things Ruah is most fond of concerning the position. "That's my favorite part of directing is the collaboration aspect of it," the "NCIS" spinoff actress and director told Good Day Sacramento alongside co-star Eric Christian Olsen. "And having been my fourth episode, I think I found my stride with sort of delegating or making sure that I stay the course but that everybody is also happy. It's a very fine balance."
Maintaining that order on set is no simple ordeal. While she recognizes the difficulties of that aspect, Ruah has also admitted that stunts on "NCIS: Los Angeles" can be a challenge. "The logistics entail being very specific and very careful, especially when you have explosions, or people falling, or people getting shot at. It's very important to be exceptionally well-prepared for those days and ready for any changes." From regulating the pulse-pounding thrills that keep fans coming back for more to colluding with coworkers while maintaining progress is just part of the job for "NCIS: Los Angeles" director Daniela Ruah when she isn't on screen solving Navy-related crimes.