Young Sheldon's Parents Also Play A Parental Role On The Set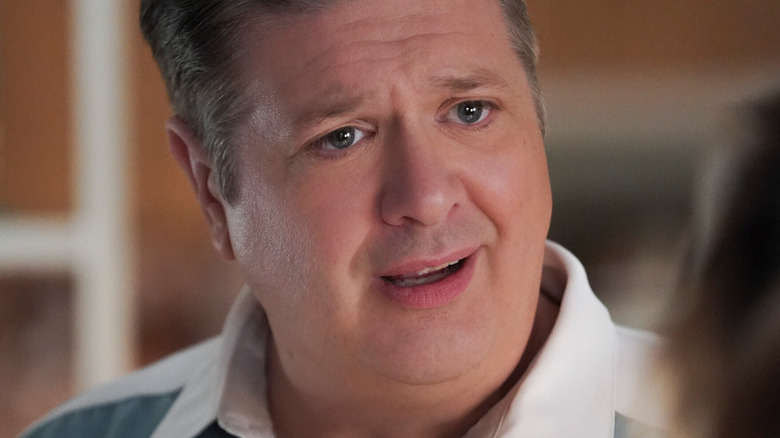 Sonja Flemming/CBS
For a prequel like "Young Sheldon" to be compelling viewing for those familiar with its progenitor "The Big Bang Theory," its story should at least occasionally surprise viewers despite their knowledge of its characters' futures. Fortunately for fans of "The Big Bang Theory," "Young Sheldon" does just that, sometimes reframing or recontextualizing key characters in ways that viewers have found unexpected.
Chief among its new ways of looking at old characters is the manner in which Sheldon (Iain Armitage)'s parents are presented in a new light throughout their "Young Sheldon" storylines. In fact, one unfortunate way "Young Sheldon" changes "Big Bang Theory" canon is by presenting Sheldon's father George Sr. (Lance Barber) as sympathetic, rather than as the outright negligent parent Sheldon (Jim Parsons) describes in "The Big Bang Theory." Another way "Young Sheldon" is changing opinions of Sheldon's parents is by turning viewers against his mother Mary (Zoe Perry) concurrently with providing its new perspective on his dad. Furthermore, "Young Sheldon" Season 6 is foreshadowing George Sr.'s death, an event that will surely complicate the nature of Sheldon's parents even further.
Contrary to their character's complicated roles, however, Barber and Perry appear to be wholly positive presences on set, even serving quasi-parental roles for their younger co-stars.
Lance Barber and Zoe Perry are like parents on set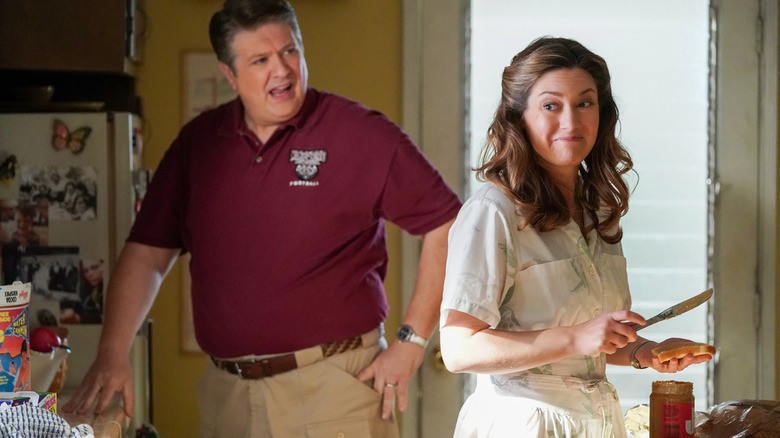 Sonja Flemming/CBS
In conjunction with the release of "Young Sheldon" Season 3, Mashable spoke with both Zoe Perry and Lance Barber, who portray Sheldon's mom and dad respectively on the "Big Bang Theory" prequel. At one point in their discussion, Mashable asked the duo if the show's younger actors ever solicit acting advice from them. Barber half-jokingly replied that the opposite is true, and the younger actors are so skilled that he and the rest of the adult cast will go to the kids for acting advice.
Perry then followed this up by noting that, although the young cast typically doesn't require help with acting, she and Barber do still parent them in other ways. "By virtue of them being kids, we do kind of stand in as parental figures when we're on set," she said.
"We might give them examples of, say, behaving in a professional environment because that's a strange environment for a 10-year-old," Barber added.
In an interview about the show's 100th episode, which aired the first half of 2022, co-creator Steve Molaro explained to Variety that the show's very tone changed as its child actors aged into young adults. Presumably, then, just as the growth of its young stars is affecting the show's content, Barber and Perry's parental guidance is playing less of a part on set too, the more familiar with the process of filming Iain Armitage and co. become.