Yellowstone Creator Taylor Sheridan Originally Wanted Cole Hauser Play One Of John's Sons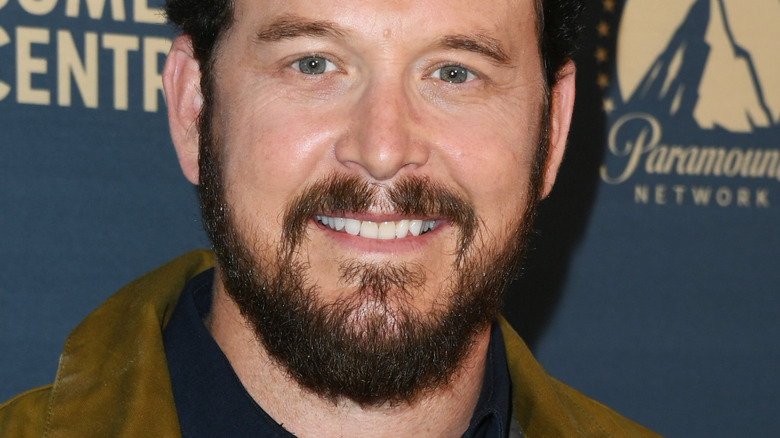 Jon Kopaloff/Getty Images
Sometimes the stars align just right, and a role never intended for one actor ends up being the one they were always meant to play. That's the case for Cole Hauser, who has spent five seasons turning scenes ice cold with a single stare or flinging men around by their flannel shirts and looking good doing so as Rip Wheeler in Taylor Sheridan's hit show, "Yellowstone." The Dutton devotee who loves a trip to the train station now and again has more dead bodies to his name than the Dutton family funeral plot at this rate. Such is the burden of being John Dutton's (Kevin Costner) right-hand man.
Things weren't always planned this way, though, and initially, Hauser was being eyed to be closer to the family tree than Rip was when we first met him back in the debut season of "Yellowstone" in 2018. Initially, Hauser was considered part of the Duttons from the off until a more stoic and silent character caught his eye. One that would become a career-defining role for the actor and, quite frankly, much more his wheelhouse.
Hauser was close to being a Dutton boy before having a go as Wheeler
In an interview with Parade, Cole Hauser recalled just how it came to be that he wandered onto the Dutton ranch as a now-fan-favorite character in the show. Initially, the plan was for Hauser to take on one of the roles of a Dutton son, but it only took a few pages for Hauser to drastically change plans and take on a different role entirely after co-creator John Linson let him take a look. "Initially, they were interested in me as one of the sons, and then I saw Rip in the pilot. He didn't have a bunch to do, but I just thought, 'Wow, that's the character that I'm interested in.'"
From there, it was a phone call with Taylor Sheridan directly regarding Rip that shifted what was originally planned. "He and I, we ended up talking for an hour or hour and a half about the growth and potential storyline for him," he explained. "I just thought, 'Wow, this is it,' and I said, 'This is who I want to play.' He said, 'Man, it's yours.'" The rest, as they say, is Dutton family history, or not as the case may be. Thankfully with Hauser getting the greenlight, not only was a fan favorite cemented in the series, but it sparked a mutual respect and friendship between the actor and creator responsible for the legendary Rip Wheeler.
Rip Wheeler sparked a genuine friendship between Cole Hauser and Taylor Sheridan
Being on the same wavelength in bringing Rip Wheeler to the small screen led to more than just a solid creative partnership between Cole Hauser and Taylor Sheridan but a real friendship. Speaking on the Ryen Russillo podcast about all things "Yellowstone," the actor explained that one of the biggest things he took away from the show was the friendship he now has with Sheridan. "He and I have become really close friends," Hauser explained, admiring the man that gave him the role of a lifetime. "He's a really intense guy; he's very focused; he's not unlike me. I think we kinda complement each other because we both give a s***."
This camaraderie has undoubtedly sparked from their joint effort to bring Wheeler to life, which, now five seasons on, has proven an enormous success. "We both care greatly about what we put out into the marketplace, but also to make sure we're portraying, especially my character, you know, as realistic as possible." Who knows how things could've panned out had Hauser been a Dutton from the off, but after a phone call and a keen eye, fans should be undoubtedly grateful that it was Rip Wheeler that became a far better fit.