Why Rize Kamishiro From Tokyo Ghoul Sounds So Familiar
Set in Japan's bustling and beautiful capital city, "Tokyo Ghoul" imagines a world in which people coexist with ghouls, cannibalistic humanoids. Sui Ishida's manga became a popular title during a three-year run in the early 2010s, and it spawned a massive anime, which aired in 2014. To this day, Pierrot's adaptation is the ninth most popular title on My Anime List, having successfully maintained its core fan base.
Rize Kamishiro is just one of the many fascinating characters that inhabit this unique world. While her role may not be as pronounced as some of the leads, she still has a gripping story. Most of her appearances throughout the anime and its source material are less than comfortable for Kamishiro — her earliest storyline sees the character literally become a part of Kanski.
While "Tokyo Ghoul" fans already know all about the girl with glasses, they might not know why her voice sounds so familiar. Here's where you may have heard the voices of the actors who bring Kamishiro to life in both versions.
Kana Hanazawa voices the Japanese language version
Viewers watching "Tokyo Ghoul" in Japanese will hear the voice of Kana Hanazawa, who has been part of the anime community for decades and has over 300 credits to her name. A true veteran of Japan's voice acting industry, Hanazawa has worked on everything from "Pokemon" to "Demon Slayer." She is best known for her collaborations with Makoto Shinkai : She voiced Y ukari Yukino in 2013's "The Garden of Words," a beautifully animated drama, and she played a teacher in 2016's "Your Name," one of the best anime films ever made.
Hanazawa also does dubbing for English language films set for a Japanese release — for example, if you've ever seen "Miss Peregrine's Home for Peculiar Children" in Japan, then you'll have heard Hanazawa, who provides the dubbed voice of Ella Purnell's Emma Bloom. Outside of the VO industry, Hanazawa has recorded several albums. Most of the albums — as well as their accompanying singles — have seen success, making their way onto Japan's Oricon sales charts. To date, her album "Claire" has proven to be her highest charting title, reaching number six.
In 2022, she dropped a new photo book called "Hanazawa Kana wa Oshare ni Naritai," which translates to "Kana Hanazawa wants to be very fashionable." It was a two-and-a-half-year wait for fans, who purchased her last book — "How to go?" — in 2020. The project shows off her penchant for fashion and includes various industry creators.
Monica Rial voices the English dub version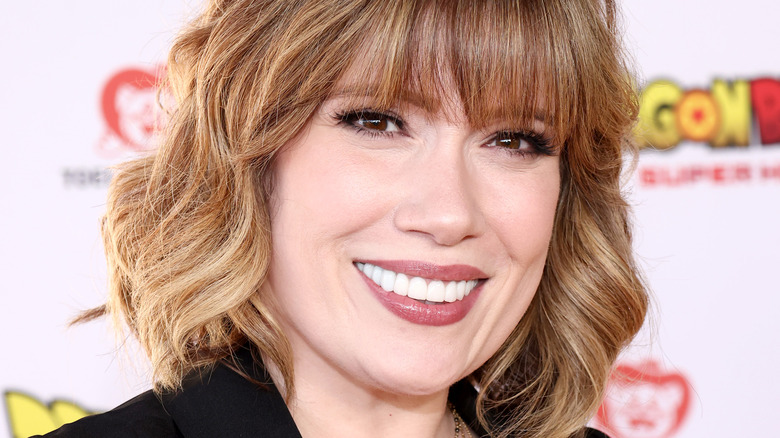 Tommaso Boddi/Getty Images
If you've ever been to an anime convention in the States, there's a good chance you've seen Monica Rial in the flesh. If you haven't, there's still a good chance that you've heard her voice, and not just in "Tokyo Ghoul." She provides the English dub voice of Rize Kamishiro, but she's just one of the many anime characters Rial has brought to life over the course of her long and varied career.
If you thought Kana Hanazawa had voiced a lot of characters, get this: Rial has over 650 credits to her name. Her journey began when she won the role of Misa Hayase, a major character in the seminal '80s mecha series " Super Dimension Fortress Macross." Since then, she's worked on everything from "Fullmetal Alchemist: Brotherhood" and "Fairy Tail" to "My Hero Academia," in which she voices the frog-like hero Tsuyu Asui. She's probably best known for voicing the English version of Bulma in the "Dragon Ball" franchise: Rial returned to the role as recently as 2022 for the hit feature film "Dragon Ball Super: Super Hero."
One of the things that Rial loves about working in anime is that there are a lot of "strong female characters," she told Diehard Gamefan. "It's the one genre in entertainment where a women/girl can save the world and nobody questions it. I think the industry has come a long way in creating even stronger female role models." The actor has also been a credited ADR writer and lead writer on various projects. She gave fans quite a scare after announcing a hiatus from doing these projects, later taking to Twitter to clarify that she still intended to work as a voice actor. "That's my passion," she tweeted.