Glass Onion's Rian Johnson Didn't Hide The Script's Secrets From The Cast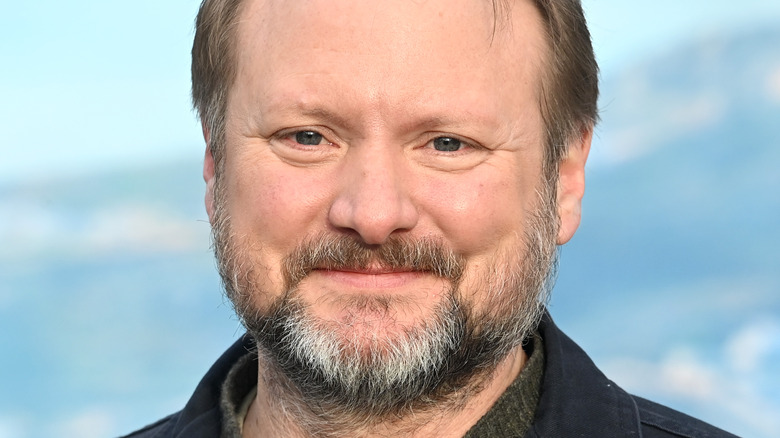 Dave J Hogan/Getty Images
Rian Johnson's "Glass Onion: A Knives Out Mystery" – the highly anticipated standalone sequel to 2019's acclaimed whodunnit "Knives Out" — has just about reached its release date, as it will be available to stream on Netflix on Friday, December 23. The follow-up sees Detective Benoit Blanc (Daniel Craig, reprising his role from the first film) traveling to Greece after receiving an invitation from billionaire Miles Bron (Edward Norton), who is hosting a lavish murder mystery party for his group of friends. Before long an actual murder occurs, and Benoit Blanc must solve the case before the killer potentially strikes again. Alongside Craig and Norton, the ensemble cast consists of Janelle Monáe, Kate Hudson, Kathryn Hahn, Leslie Odom Jr., Dave Bautista, Jessica Henwick, and Madelyn Cline.
Anyone who has seen the first "Knives Out" knows that Johnson packed the script with plenty of twists and turns; even when you think you've figured out who the killer is, there is actually more to the story. With such a highly praised script for "Knives Out," Johnson sure had a lot to live up to with his sequel, "Glass Onion" — after all, audiences are bound to try to figure out the twists before they're revealed.
One may think that the cast members also have to resort to guessing who the killer is since it wouldn't be unheard of to keep it a secret as long as possible in order to keep plot secrets from leaking. However, that wasn't the case at all with "Glass Onion," as Johnson didn't keep any script secrets from his cast.
Cast members confirm that they knew the movie's killer the whole time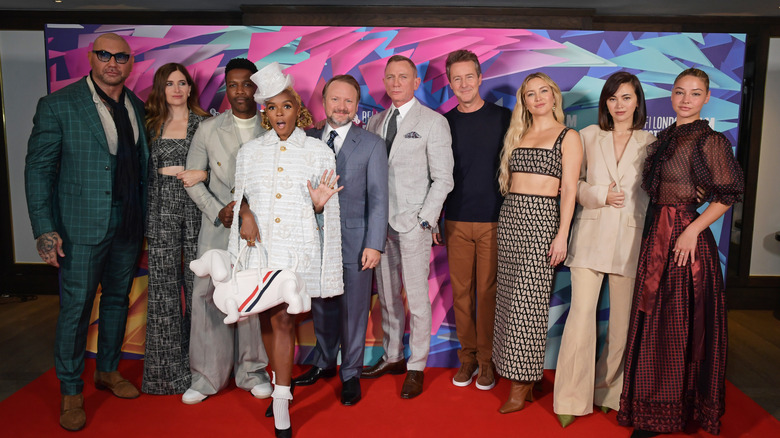 David M. Benett/Getty Images
"Glass Onion" cast members Jessica Henwick and Madelyn Cline — who play Birdie's (Kate Hudson) assistant Peg and Duke's (Dave Bautista) much-younger girlfriend Whiskey, respectively — recently sat down with ComicBook.com to discuss their experience making the much-anticipated whodunnit.
During the discussion, the actors revealed that there was never any attempt to keep script secrets from the actors — instead, it was all laid out for them in the script. Cline said, "I would say [we found out from] the script. Rian didn't hide anything from us." They weren't kept in the dark for very long.
Henwick added, "Most of my jobs, they have withheld scripts until the last minute and [sic] often they just won't give you the end of the script and it's just a surprise." Henwick has been a part of some pretty big and secretive productions with the Marvel Netflix series, "Game of Thrones", and the new "The Matrix Resurrections" film (via IMDb), so she knows a thing or two about secretive sets.
The actress then went on to speculate why Rian Johnson differs from other directors in this way. She continued, "Rian is an actor's director. I think because he used to be an actor. Back in the day, he was a little theater kid. So, he understands how important it is from the get-go." In the actor's opinion, Johnson knows just how hard it is to act without all the information.
Johnson doesn't thinking finding the story's mystery is difficult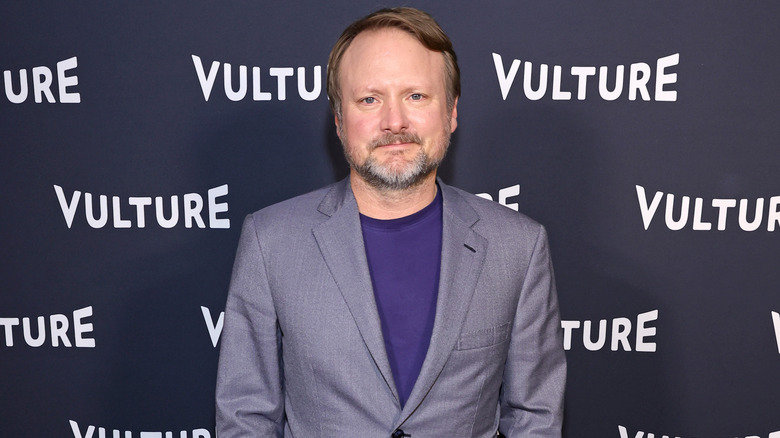 Matt Winkelmeyer/Getty Images
In a December 2022 interview with A.Frame, writer-director Rian Johnson discussed the writing and making of "Glass Onion." During the conversation, Johnson revealed that during his writing process he doesn't find creating the mystery to be the hardest part, even though it might seem like it to audiences.
Johnson said, "The hard part for me is not actually the mystery part of it. It feels a bit like fishing. You know, you're searching for the idea that's going to surprise you. The actual hard part, the place where the most sweat goes into, is telling a story that's going to keep the audience engaged." The director went on to say that finding the mystery is very different from finding an engaging story, even though they're ultimately layered together. He continued and declared that he thinks it all comes down to creating compelling characters, stating that you need both a protagonist that viewers will be worried for and characters with dramatic stakes between them. It seems he thinks he achieves this end goal best when his actors are in the know.
Johnson concluded, "That's the same work that goes into any other genre of screenplay, and that's still the hardest work."