Family Guy Fans Can't Get Enough Of The Two Lame Chicks On Vacation Duo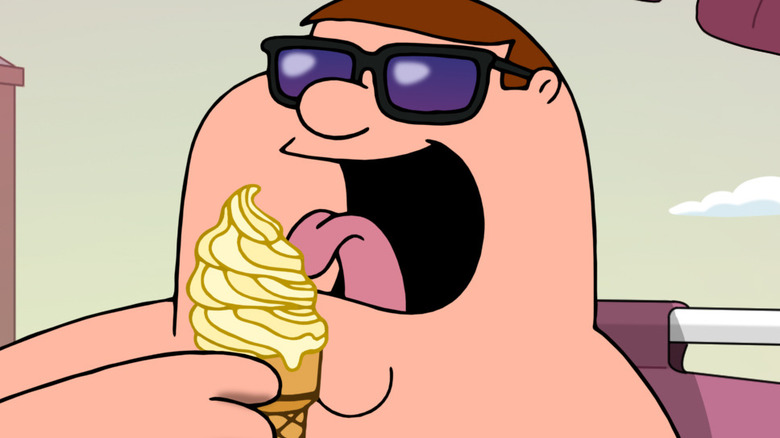 Fox
For many reasons, Seth MacFarlane's "Family Guy" has stood the test of time for 21-plus seasons. Audiences have come to know and love the hijinks of Peter Griffin, the friendship of Stewie and Brian, the romantic endeavors of Glenn Quagmire, and more. Plus, the show often stays relevant to societal issues. For example, its 400th episode sees Stewie get canceled on social media after his idol, Mary Elizabeth Becca Ryan (Emmy Raver-Lampman), takes his tweet the wrong way.
However, "Family Guy" boasts another popular aspect, one that its animated competitors, "The Simpsons" and "South Park," utilize much less frequently – cutaway gags. Nearly every episode features a moment when Peter, Stewie, or another character mentions a specific happening, and audiences are instantly transported to that moment.
The list of cutaways is endless, but some are particularly unforgettable. There's "Sesame Street" staple Cookie Monster in rehab for his cookie addiction, Peter getting stuck behind a long-winded Robert Loggia at the airport, and Will Smith's very clean rapping. 
Still, there's another cutaway that is a favorite among many viewers – the "Two Lame Chicks on Vacation in Mexico" duo, who appear in Season 10, Episode 10 ("Quagmire and Meg").
The vacationers help Family Guy fans chronicle their own trips to Mexico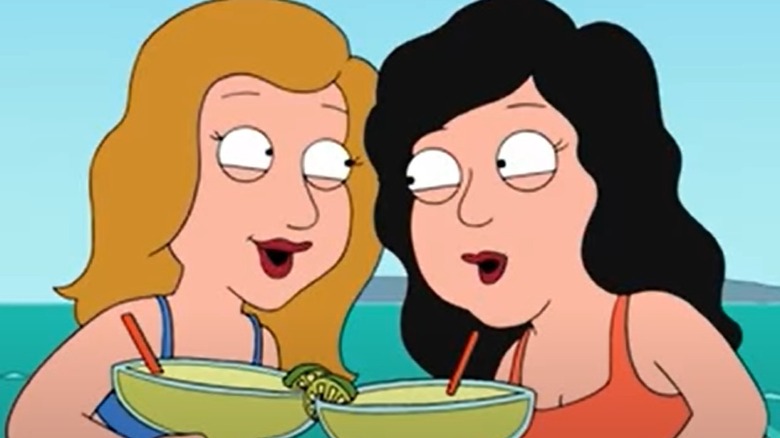 Fox
In the episode "Quagmire and Meg," the Griffins' sleazy neighbor makes a move on Meg upon learning that she's now 18. Cuddled on the couch, Quagmire and Meg watch the movie "Two Lame Chicks on Vacation in Mexico," which features two over-the-top besties excited about their trip. The cutaway includes quotable lines like, "I'm so gonna brush my teeth with tequila" and "Hey, is this beach topless? No, but my margarita is bottomless." After each statement, the girls huddle together and exclaim, "Mexico!"
On Reddit, Optimistic_doc expressed their wish that "Family Guy" would bring them back for another cutaway. Other commenters, like 4L4D4B4, agreed: "This is literally one of the best cutaways ever..."
Some fans found the cutaway to be extremely relatable. Tnakahara said, "This is me and my family's go to.... We're going to Mexico in the spring – and this one often comes up..." Deflatethese added, "I share this clip to my friends every time one of them tell me they are going to Mexico. It is one of my favorite cutaways." As for hithere297, they found the friends inspiring, remarking on the general excitement and bombast in which the two throwaway characters experience life.
Though the "Two Lame Chicks" haven't appeared again, their trip lives on through TikTok. Users, like couple Abigail Heringer and Noah Erb, use the cutaway as a sound to chronicle their own tequila-filled adventures in Mexico.