Our Heads Are Spinning Over This Look At Leonardo DiCaprio As Spider-Man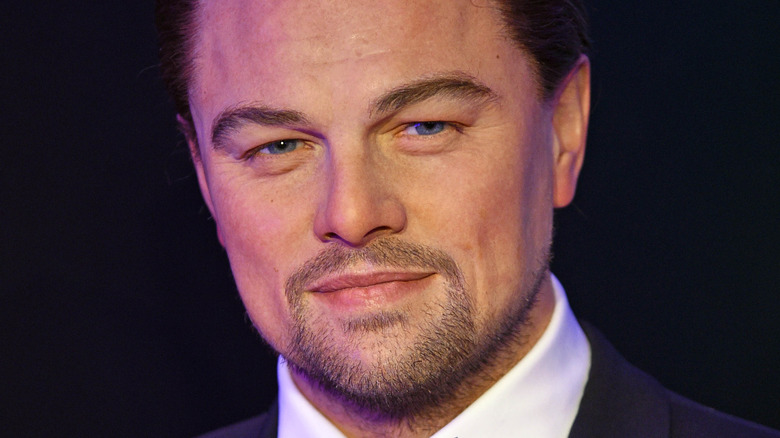 Tristar Media/Getty Images
For many webheads out there, it's hard to envision anyone else donning the Spider-Man mask other than Tobey Maguire. The actor portrayed the iconic Marvel superhero and his secret identity of Peter Parker in the character's first major live-action movie, released in 2002 and directed by Sam Raimi, and would reprise the role in the film's two sequels, cementing Spider-Man in the minds of many fans. Even after the beloved live-action portrayals of the character from Andrew Garfield and Tom Holland, many fans still consider Maguire's performance the one that all other Spideys should aspire to reach.
So would it surprise you to find out that Maguire almost never slipped into the red and blue tights? Before starring in the game-changing 2002 blockbuster, "Spider-Man" went through years of development, with the idea of a Spider-Man movie being conceived as early as the mid 1980s (via Digital Spy). Part of this included seeking out the perfect actor to play the titular hero, with one name circulating around being none other than "Titanic" star Leonardo DiCaprio (via Entertainment Weekly). Even though we will likely never see DiCaprio shoot webs, it hasn't stopped fans from imagining it, including one artist who simply couldn't go without visualizing what could have been. 
Leo swings as the Superior Spider-Man
For those wondering what Leonardo DiCaprio would have been like as Spider-Man, artist Yadvender Singh Rana has the answer. The artist, who goes by @ultraraw26 on Instagram, decided to take the liberty of imagining DiCaprio as the Dan Slott-created Superior Spider-Man. The impressive piece sees DiCaprio in an Iron Spider Suit coming out of one of Dr. Strange's portals. 
Fans were impressed to say the least, with many finding DiCaprio a surprisingly good choice for the role. One comment from @magnificent_robby said, "Ngl he'd be a good Superior Spider-Man," while @morteza_farzan2002 similarly commented, "Just imagine how awesome that would be." 
Meanwhile, @frazier_efrat__22 playfully imagined DiCaprio using his powers to save another redheaded love interest of his saying, "He gonna save Rose again." User @funsised343 exclaimed, "I really like this idea. Leo would make a great scheming and manipulative Spidey! I also really love the costume so to see that in live action would be a major win for me." 
Spider-Man was not the only comic book role that DiCaprio almost took on. When "The Dark Knight Rises" originally planned to have The Riddler as the villain, studio executives pushed to have director Christopher Nolan reunite with his "Inception" star. Nolan, however, felt it would be too similar to the Joker and instead wanted to focus on a different kind of threat for the film, leading to Bane (Tom Hardy) (via Empire).