Rooster's Story Was The Key To Getting Tom Cruise On Board For Top Gun: Maverick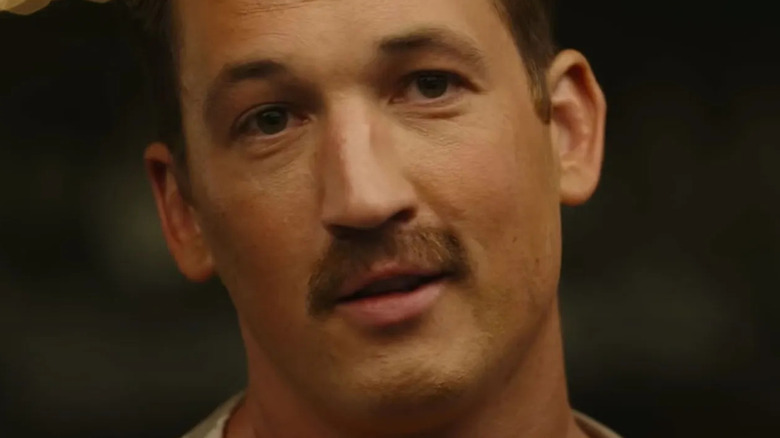 Paramount Pictures
Soaring to critical acclaim and box office riches, "Top Gun: Maverick" will not only be remembered as a rare sequel-reboot that's better than the original but as one of the most successful films of the early 2020s. Starring "Mission Impossible's" Tom Cruise as the titular loose-cannon Navy pilot with a predilection for ignoring authority, "Maverick" forced the character to take an unfamiliar and uncomfortable leadership position over a new class of Top Gun students.
Among them was Bradley "Rooster" Bradshaw, Miles Teller's mustachioed lieutenant who was last seen as a small child in the original "Top Gun" film. Rooster's father, of course, was Lieutenant Nick "Goose" Bradshaw (Anthony Edwards), Pete "Maverick" Mitchell's wingman who died after a faulty ejection during a reckless training routine.
Though Rooster is far from the only echo of the original film present in "Top Gun: Maverick" (Val Kilmer even makes a surprising and touching appearance as Tom "Iceman" Kazansky), he became the emotional through-line connecting both films early on in the sequel's development. In fact, "Maverick's" director is quite sure that without Rooster, the film wouldn't have happened at all.
Tom Cruise seemed most interested in the Rooster storyline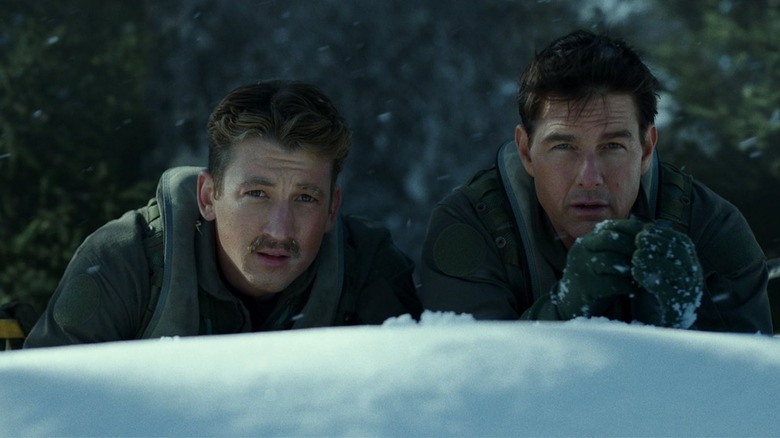 Paramount Pictures
As part of their "Directors on Directors" series, Variety arranged for "Top Gun: Maverick" director Joseph Kosinski to be interviewed by "Glass Onion" and "Knives Out" director Rian Johnson, and vice versa. After asking Johnson if he had ever taken an improv or acting class (both directors have), the former "Star Wars" provocateur asked Kosinski how he first got involved in the long-awaited "Top Gun" sequel. After all, the original 1986 film remains a classic piece of American cinema, an unabashed — and arguably naive — celebration of patriotism, masculinity, and the thrill of fighting for your country.
Answering Johnson's question, Kosinski reveals that taking over the coveted future of the series was pretty simple: producer Jerry Bruckheimer sent him a draft of the script, and he was interested. The aspect of the film that inspired some anxiety was getting Tom Cruise to sign back on — though Kosinski already felt that Rooster would be the deciding factor. "I knew that Tom would be reticent to return to that character unless there was a real strong emotional reason," he told Johnson. "So the notion of Maverick having to reconcile a relationship with Rooster, his wingman's son, to me seemed like a great way in."
With this plan, Kosinski and Bruckheimer flew to Paris to meet Cruise on the set of 2018's "Mission Impossible- Fallout" to pitch the film. "I started with that Rooster storyline," he recalled, "and I could see his mind start to turn, and he started seeing a way into this character. Tom basically greenlit the movie at the end of the meeting." Bruckheimer agreed that the meeting went so well that Cruise almost immediately called Paramount Pictures CEO Jim Gianopulos to express his desire for the film to be made (per The Hollywood Reporter). Following the call, "Top Gun: Maverick" was officially ready to fly.