Jerry Bruckheimer Believes Top Gun: Maverick Paved The Way For The Next Stage Of Blockbuster Cinema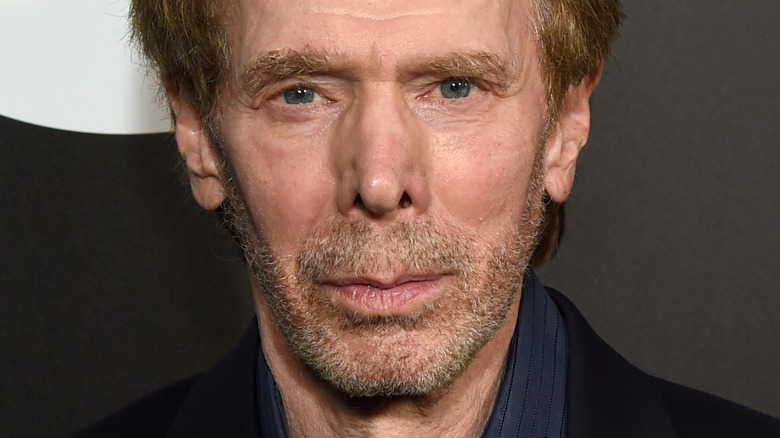 Michael Kovac/Getty Images
Jerry Bruckheimer is one of the most prominent producers working in Hollywood today. The films he has under his belt include the "Pirates of the Caribbean" films and the "National Treasure" franchise, as well as several other one-off films, such as 1998's "Armageddon" and 2001's "Pearl Harbor." Further, he even has a hand in producing television — namely, the "CSI" shows. Most recently, Bruckheimer was part of the team behind one of 2022's biggest films: "Top Gun: Maverick," the sequel to 1986's "Top Gun," directed by Joseph Kosinski.
The sequel, which saw Tom Cruise returning to reprise his role as Pete "Maverick" Mitchell, was an immediate hit with critics and audiences alike. It currently holds a 96% Tomatometer score on Rotten Tomatoes, alongside a near-perfect 99% audience score. In fact, the critical response to the film was so positive that many critics went as far as to declare "Top Gun: Maverick" better than the original. On top of the positive response from critics and audiences, the film also did exceptionally well at the box office. According to Box Office Mojo, "Maverick" made over $1.48 billion worldwide, far surpassing its $170 million budget (via Variety). And, to top it all off, the film just received a couple of Golden Globe nominations, including for best motion picture, drama (via Variety). In simpler terms, the film was undoubtedly a success.
And according to Bruckheimer, the success of "Top Gun: Maverick" is paving the way for the next stage of blockbuster cinema beyond superhero films and other franchises.
Bruckheimer says Maverick rejuvenated the theatrical business
In an interview with The Hollywood Reporter, Jerry Bruckheimer discussed the state of the film industry today, including how he thinks "Top Gun: Maverick" is paving the way for more movies like it. During the conversation, interviewer James Hibberd asked Bruckheimer if he thinks movies may be shifting back to being more "authentic" (as in, less use of CGI). Bruckheimer said, "I think so. The market is so overwhelmed with all the terrific comic book films that get made. But [audiences] also love real cinematography on real locations."
When asked to speak more on comic book movies, Bruckheimer had nothing but positive things to say about them, focusing on the fact that so many people enjoy them. However, he thinks "Top Gun: Maverick" pulled in a wider audience, noting that, from his perspective, the audiences of comic book movies skew younger. The producer said, "You don't do [$700 million domestic, $1.5 billion global] and not get everybody [watching]. 'Top Gun' rejuvenated the theatrical business, here and around the world. Our foreign grosses were bigger than our domestic grosses."
Bruckheimer then declared why he thinks "Maverick" was so successful: they shot practically rather than relying on CGI. Bruckheimer said, "It goes to show that when we tell stories about interesting characters with real cameras, real locations, you can captivate the world." The veteran producer further acknowledged that while the movie is very American at its core, global audiences did not care due to the compelling characters.