How The Original How I Met Your Mother Spin-Off Tanked With Test Audiences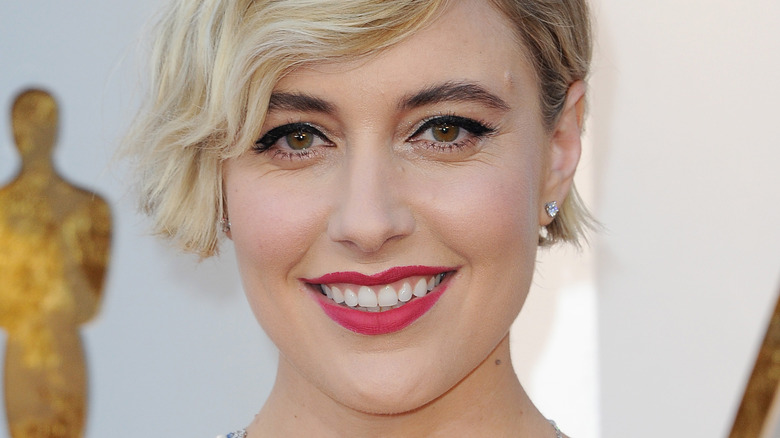 Tinseltown/Shutterstock
CBS' "How I Met Your Mother" remained hugely popular after its nine-season run. In 2022, the spinoff show "How I Met Your Father" debuted on Hulu, starring Hilary Duff, Chris Lowell, and Suraj Sharma. Thanks to its success, it's already earned a Season 2 renewal. However, this wasn't the first attempt at creating a "How I Met Your Mother" spinoff.
In 2014, executives developed a pilot for "How I Met Your Dad," starring Greta Gerwig as Sally, a woman about to break up with her newly married husband (via E! News). Meg Ryan would act as the show's narrator — similar to how Bob Saget played an older version of Josh Radnor's Ted Mosby. The series cast Nicholas D'Agosto, Drew Tarver, and Anders Holm in supporting roles.
The show hailed from the "How I Met Your Mother" duo of Carter Bays and Craig Thomas, as well as Emily Spivey ("Parks & Recreation," "Modern Family"), who also created the NBC comedy series "Up All Night." Gerwig planned to be part of the writers' room if the show received a green light. However, test audiences didn't rate the pilot highly enough for a network to move forward with the project. As Gerwig recalled to E! News, "The audience, they're given knobs. They turn the knob to the right if they like it and to the left if they don't. Apparently, they turned the knob to the left every time I came on...so yeah, they didn't like it. At all."
Gerwig continued writing before moving to directing
Gerwig didn't let the failed attempt at the show affect her career. She subsequently appeared in television comedies like "Portlandia" and "The Mindy Project," and followed up "How I Met Your Dad" with the film "Maggie's Plan," playing the titular Maggie. She teamed up with numerous acclaimed filmmakers such as Todd Solondz in the 2016 film "Wiener-Dog," Pablo Larrain in the 2016 biographical film "Jackie," and Wes Anderson's animated film "Isle of Dogs." She teamed up twice with filmmaker Noah Baumbach with 2015's "Mistress America" and 2022's "White Noise." She co-wrote "White Noise" with Baumbach, and worked in the writers' room for the Adult Swim animated comedy show "China, IL," where she also voiced the character of Pony Merks.
In 2017, Gerwig stepped into the director's chair for the second time, following her 2008 film debut "Nights and Weekends," which she co-directed with Joe Swanberg. She then directed a film based on her original screenplay, "Lady Bird." The film starred "Brooklyn" actress Saoirse Ronan as the titular character, with a supporting cast that included Beanie Feldstein, Timothee Chalamet, Lucas Hedges, and Laurie Metcalf. The film received several Oscar nominations, including best original screenplay, best director, best picture, best actress in a leading role, and best actress in a supporting role.
How I Met Your Dad cast's careers continue to flourish
Gerwig returned to the director's chair in 2019 to adapt Louisa May Alcott's classic novel, "Little Women." Saoirse Ronan and Timothee Chalamet joined her ensemble cast, which included Emma Watson, Florence Pugh, Eliza Scanlen, Laura Dern, Meryl Streep, and Chris Cooper. Gerwig wrote the screenplay adaptation and received an Oscar nomination for best-adapted screenplay. Ronan and Pugh received an Oscar nomination for their work. The film won an Oscar for best costume design, which went to costume designer Jacqueline Durran.
In 2023, Gerwig's next directorial effort will be "Barbie." She co-wrote the screenplay with Noah Baumbach. The film stars Margot Robbie as the titular Barbie, with a supporting cast that includes Ryan Gosling, Simu Liu, America Ferrera, Kate McKinnon, Emma Mackey, and Will Ferrell.
Gerwig's "How I Met Your Dad" co-stars have also found success in the wake of the series not moving forward. Nicholas D'Agosto starred in the Fox superhero series "Gotham" as District Attorney Harvey Dent, before headlining the NBC comedy series "Trial & Error," which ran for two seasons. Drew Tarver landed a lead role in the HBO Max comedy series "The Other Two," portraying Cary Dubek, an aspiring actor stuck in the shadow of his pop star brother and talk show host mother. Anders Holm became one of the leads of the Comedy Central series "Workaholics."
Still, it's hard not to wonder how a Gerwig-led and created television show would tackle finding love.