Christine Baranski Is Shocked Fan Recognition For Her Big Bang Theory Role Outshines The Others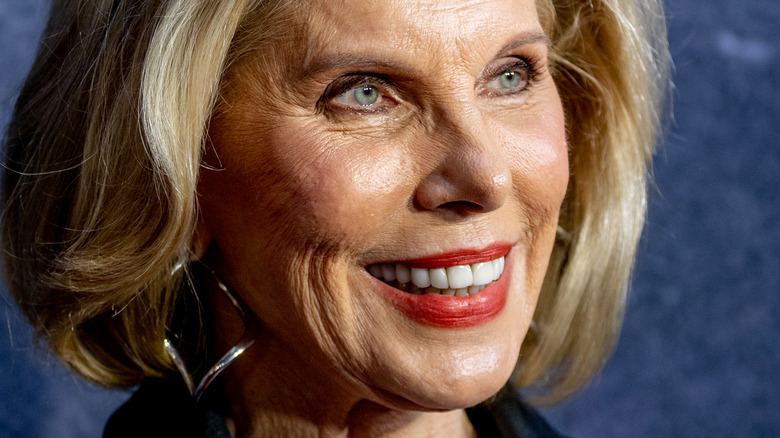 Roy Rochlin/Getty Images
Throughout her lengthy career, Christine Baranski has appeared in some of pop culture's most memorable projects.
She's a key member of Whoville in the 2000 live-action holiday classic "How the Grinch Stole Christmas," which she stars as Martha May Whovier. In the film adaptation of the hit Broadway musical "Mamma Mia!," she takes on the role of Tanya, the love-obsessed best friend of Donna (Meryl Streep) and Rosie (Julie Walters), who has no problem with her cougar status.
Then, for an impressive seven years, from 2009 to 2016, she starred as attorney Diane Lockhart on the series "The Good Wife." Thanks to her work on the CBS show, Baranski had six Emmys nominations for outstanding supporting actress in a drama series. She is now reprising Diane in the spinoff "The Good Fight" (via IMDb).
The list of Baranski's work goes on, including several Broadway credits, such as Chris Gorman in "Rumors" and Charlotte in "The Real Thing" (via Playbill).
Despite such unforgettable work, Baranski isn't typically approached on the street because someone recognized her for these roles. Instead, fans know and love her as Beverly Hofstadter — mother of Leonard (Johnny Galecki) on the hit CBS comedy "The Big Bang Theory."
Fans love Chrisine Baranski as Leonard's judgemental mother
Christine Baranski appears in 16 episodes of "The Big Bang Theory," each time wreaking havoc on the lives of her son Leonard and his friends. Well, except for Sheldon Cooper (Jim Parsons). Unlike the other mothers of the core cast, such as the uber-religious Mary Cooper (Laurie Metcalf) or the outspoken and overprotective Mrs. Wolowitz (Carol Ann Susi), Baranski is a highly intellectual neuroscientist, psychiatrist, and author.
Her affection toward Leonard is minimal. She never celebrates his birthday, is critical of his girlfriend Penny's (Kaley Cuoco) employment at the Cheesecake Factory, and airs out his upbringing in books like "The Disappointing Child." Not surprisingly, she gets along swimmingly with Sheldon.
According to Baranski, it's for this role that she receives the most praise from fans, which is somewhat surprising to her. She told People, "More often than not, they point to me and say, 'Leonard's mother!' even though I appear infrequently as her on 'The Big Bang Theory.' The show is just such a megahit. There are worse things to be called, believe me."
Baranski's last appearance on the show comes in Season 12, Episode 22 ("The Maternal Conclusion"), when she and Leonard put aside decades of pain and judgment and share what's likely their first real hug.
In an interview with WFSB3, she said, "The final episode for Beverly and Leonard is really quite touching. I was so, so pleased with the way they wrote it because that's such a tortured relationship, and he finally confronts his mom. It was a beautiful scene. It was a wonderful way to say goodbye to the show and the character."
Still, thanks to regular interactions with "The Big Bang Theory" fans, Baranski hasn't had to leave Beverly entirely in the past.