James Cameron Lost Some Serious Bets On Avatar Star Zoe Saldaña's Archery Skills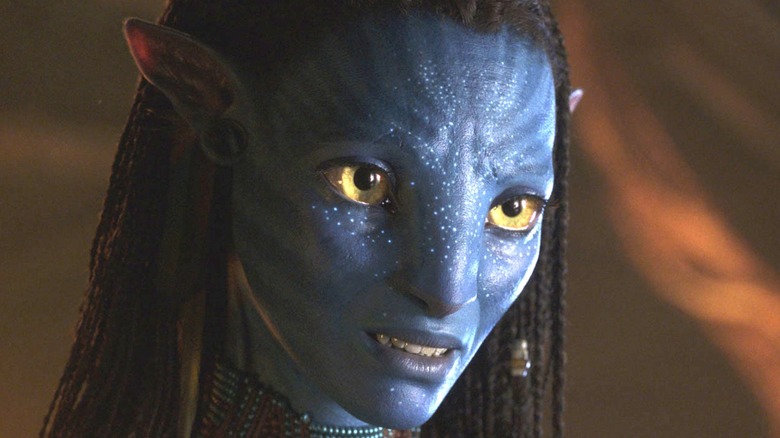 20th Century Studios
13 years after the original film hit theaters, "Avatar: The Way of Water," the first of many planned "Avatar" sequels, finally arrived in December 2022. Moviegoers can, of course, expect both good and bad aspects of "Avatar: The Way of Water," but the film has been a massive hit, with an emotional and tense story alongside groundbreaking motion capture technology that adds to the film's immersion.
The film's release has brought a tidal wave of interviews with the cast and crew of "Avatar: The Way of Water," who are finally free to break their silence regarding the years-long process of making one of the biggest blockbuster films in recent memory. And while there are plenty of important conversations to be had about the epic story and the cutting-edge technology, there are also some charming anecdotes about the little details of the movie's shoot. For example, Sam Worthington and Zoe Saldaña told People about a surprising bet that filmmaker James Cameron lost regarding Saldaña's skills.
When Sam Worthington met Zoe Saldaña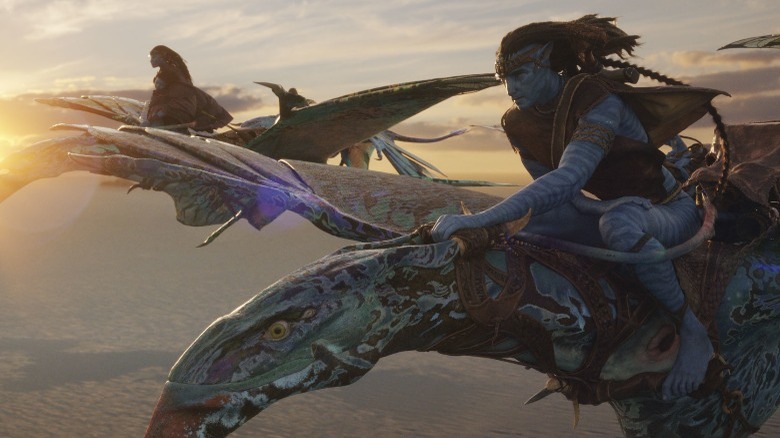 20th Century Studios
Worthington and Saldaña told People Magazine about the first time they met, which was at the bar of a hotel where they were both staying after being flown in to audition for the original "Avatar" in 2006. Worthington had specifically asked Cameron to audition with Saldaña, as he believed doing so would help him get the part. Clearly, that turned out to be the right call.
"I met Zoe, I wooed her and charmed her, and found out a bit later that she had no idea what I was saying," Worthington said to People. "She couldn't understand my accent." (Although his character Jake Sully has an American accent, the man himself is Australian.) Saldaña, for her part, remembers things slightly differently.
"Listen to him. 'I wooed her, I charmed her.' First of all, he comes down, and I'm the one who's chatty Cathy, and he's like, 'Yeah, yeah,'" Saldaña joked in her best impression of Worthington's Australian accent. "And then when he would talk, I couldn't understand what he was saying, because his Australian accent was an accent I was unfamiliar to."
Avatar is all about family, and so are Worthington and Saldaña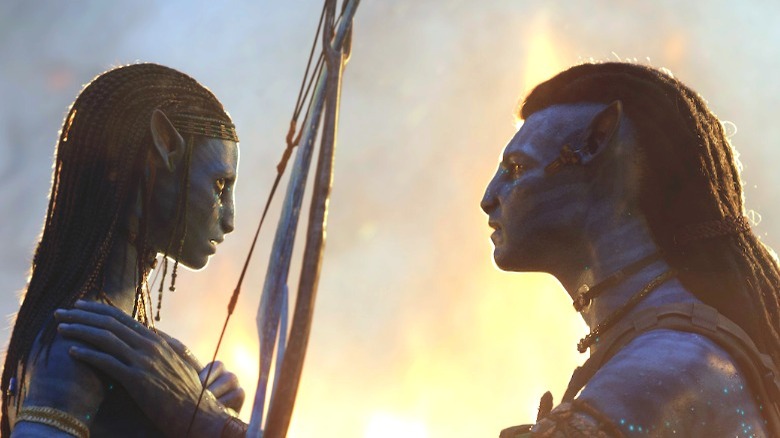 20th Century Studios
A large portion of the People interview finds Worthington and Saldaña talking about how much their families mean to them. That's certainly relevant, since a large focus of "Avatar: The Way of Water" is the importance of family, particularly that of Worthington and Saldaña's characters, Jake and Neytiri.
"Since marrying his wife [Lara Worthington], and starting this beautiful family, between us we have a football team," Saldaña said. "We have six boys, rambunctious and inquisitive and bossy and wild and crazy. So we've gotten them together, we've gone trick-or-treating together. And every now and then I look at them and I'm trying not to cry, because I'm a sap, I'm a natural sap, and so is Sam, but we're not gonna say that, and we are quite grateful."
The two then went on to talk about what their kids think they do. While Worthington's kids just know their father's job as "Dad," Saldaña decided to tell them that she is a famous actress because she didn't want them to not know where she goes when she's away filming for long periods of time. She also said her kids wanted to go to the premiere with her, but that they were too scared to see the movie, so she decided to wait until they're older to take them to premieres. "I don't want them to have an incomplete idea to what we do," Saldaña said. "And if that introduction is the fame part, where people are taking your picture and the flashes and the overstimulation, they need to know what that's connected to."
James Cameron bet against Zoe Saldaña's archery skills and lost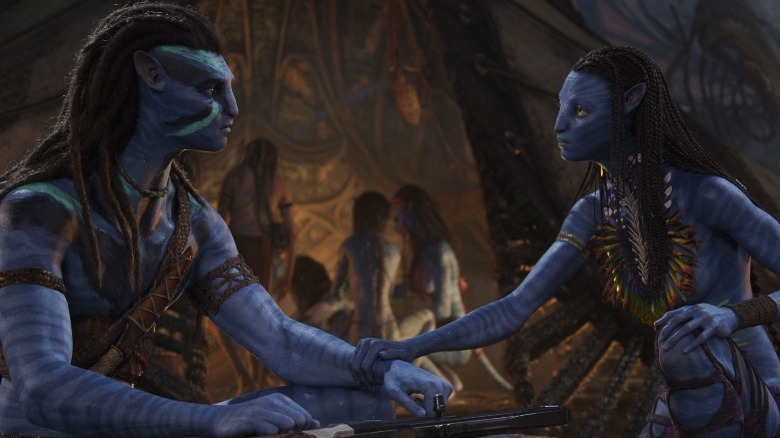 20th Century Studios
That love of family isn't the only thing Saldaña shares with Neytiri — the actress also has some warrior skills of her own. "I'm proud of the fact that [James Cameron] has lost bets of whether or not I can hit a mark," Saldaña told People. "So he'll be like, 'go hit that.' And in my mind, there's no way I can. And then..." To drive home her point, she mimed firing an arrow with deadly accuracy.
"He lost a lot of money betting against Zoe," Worthington added. According to both actors, the betting started with $100, but as Saldaña continued to hit her targets, Cameron became less confident and decreased his bets, first to $50 and then (as the two actors said likely in jest), a quarter.
Given that "Avatar" was the highest-grossing film of all time until "Avengers: Endgame" supplanted it, and that "The Way of Water" isn't doing too bad either, we have a feeling Cameron won't be going into debt because of those lost bets.