The Most Anticipated Anime Of 2023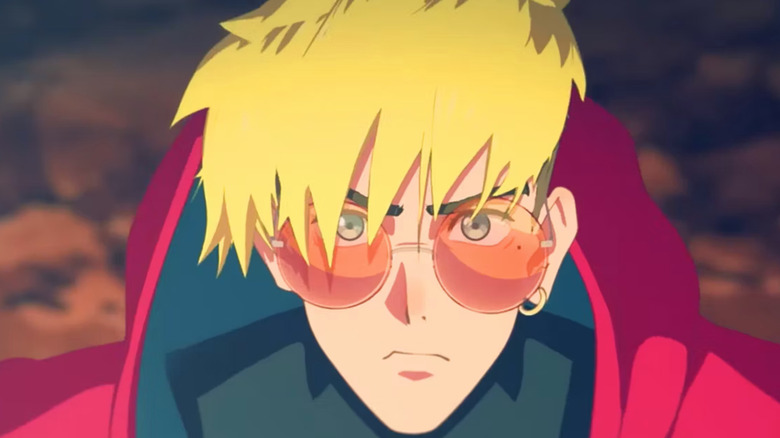 Orange
With so much great anime released in 2022, there's plenty to be excited about for people around the world who are eager to catch anime right when it comes out in Japan. Both longtime fans and newcomers alike don't just want to watch anime — they want to be up to date on the latest hits. With many highly anticipated anime series and movies, both new and returning, set to air in 2023, we see no reason to expect this trend to change. Anime is truly for everyone, and this list of 2023's new anime highlights should have something for everyone.
We currently know more about what's set to air in the winter and spring than we do later in 2023, so this selection leans more toward the earlier part of the year. There will surely be more great new anime announced throughout the year that may very well exceed the titles included here. While the series on this list are all adaptations of popular manga, novels, or video games, we also hope to discover more original anime hits in the coming year.
NieR:Automata V1.1a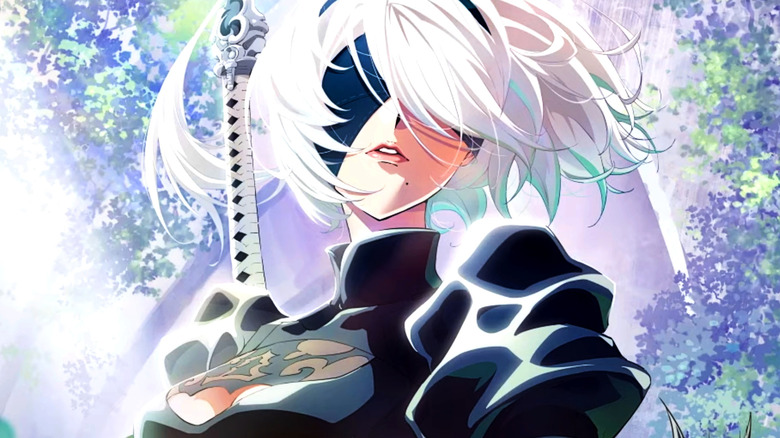 A-1 Pictures
The video game "NieR:Automata," a distant sequel to "NieR," is an action RPG about androids fighting on the side of humanity against alien machines. Released on multiple consoles and selling millions of copies since its initial release in 2017, the game's stylized imagery and layered storytelling seem like a natural fit for the anime medium — though recreating its specific impact may prove to be a challenge for its creative team.
The anime adaptation's full title, "NieR:Automata V1.1a," might give a hint as to how it can pull off that difficult feat. The game requires multiple playthroughs in order to get the full story, so it seems likely there might be multiple "versions" of the anime to offer up a similar experience of uncovering different perspectives. Whatever the quality of this adaptation is in comparison to its beloved source material, at least one thing is absolutely certain: The Gothic Lolita-dressed android 2B is going to top many "Best Girl" lists for the coming year. Crunchyroll will be streaming the series internationally starting in January 2023.
Trigun Stampede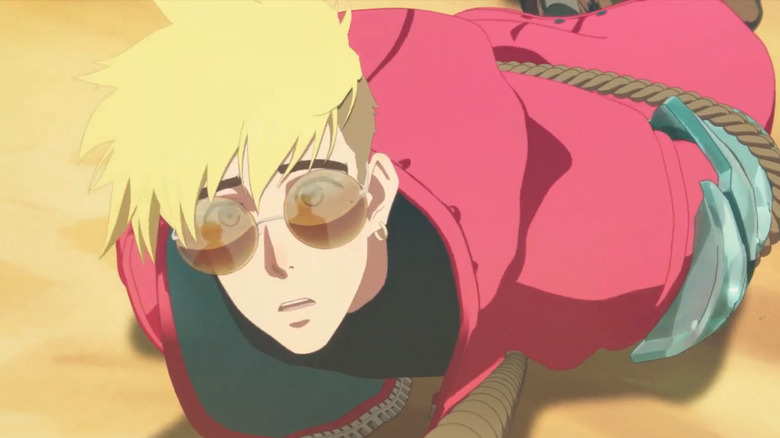 Orange
The 1998 "Trigun" anime is fondly remembered as a cult classic, but it only adapted a mere sliver of Yasuhiro Nightow's manga. "Trigun Stampede," streaming on Crunchyroll starting in January 2023, is neither a continuation of the old series nor a direct adaptation of the manga, but rather a reboot drawing from the story and characters of the manga while reworking the iconic space Western into a fresh new take.
The first episode of "Trigun Stampede" already made its world premiere at the Anime NYC 2022 convention, giving the series an auspicious start. The animation studio Orange, whose past works include "Land of the Lustrous" and "Beastars," has once again raised the bar for 3D computer animation in the anime industry, and the action, comedy, and science fiction elements are all incredibly entertaining. Vash the Stampede's return to TV promises to be one of the first must-watch anime of 2023.
Vinland Saga Season 2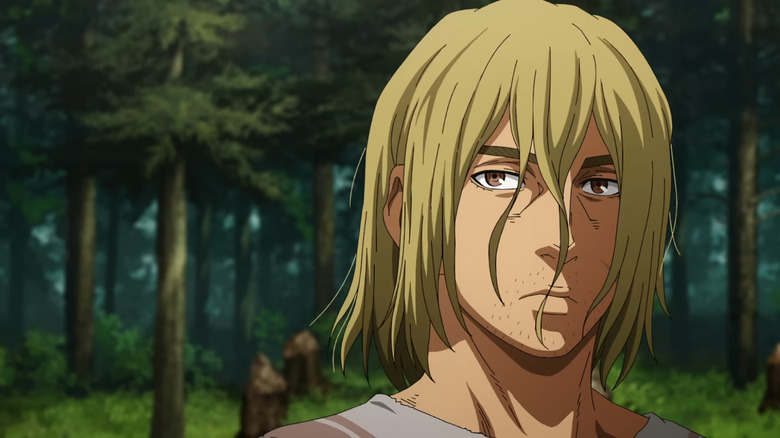 MAPPA
The first season of the "Vinland Saga" anime, animated by Wit Studio based on Makoto Yukimura's long-running manga, aired in the summer and fall of 2019. As with the final seasons of "Attack on Titan," Wit is now handing animation duties over to MAPPA for "Vinland Saga" Season 2, set to premiere in January 2023 and stream on multiple services including Netflix and Crunchyroll.
Despite the shift in studios, this Viking-centric historical action drama is still being handled by much of the same crew as Season 1, including director Shuhei Yabuta and head writer Hiroshi Seko, so we're basically guaranteed this will match if not exceed the previous episodes' high bar of quality. This season will cover Thorfinn's life after being sold into slavery, where he meets new allies such as Einar and fights for his freedom, while King Canute deals with the Curse of the Crown after taking over England at the end of the previous season.
Dr. Stone: New World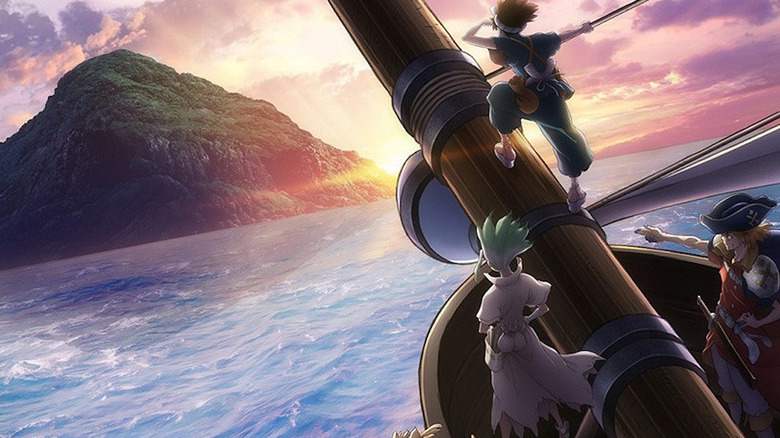 TMS
"Dr. Stone: Stone Wars," the second season of the anime based on the "Dr. Stone" manga written by Riichiro Inagaki and illustrated by Boichi, ended with the scientist hero Senku announcing two big goals to his post-apocalyptic allies: To build a ship to explore the world, and to discover the secrets of petrification. These goals will be at the center of "Dr. Stone: New World," the third season set to premiere in Spring 2023 on Crunchyroll.
The "Dr. Stone" manga finally reached its conclusion in 2022, but there's still quite a bit more of this civilization-rebuilding adventure to be animated. Barring a rushed "Promised Neverland" Season 2-style fiasco, it seems safe to assume that Season 3 will not be the last we see of the "Dr. Stone" anime. The series has been a reliable source of both entertainment and (mostly) scientifically accurate education, standing out as one of the more distinctive shonen anime on the market.
The Ancient Magus Bride Season 2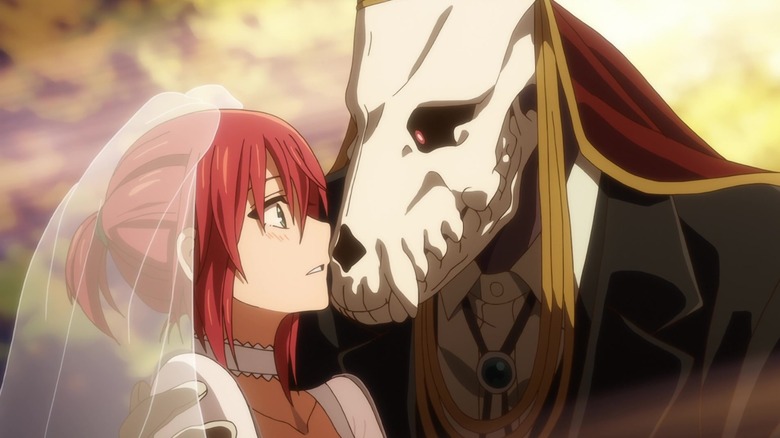 Studio Kafka
"The Ancient Magus Bride," based on the manga by Kore Yamazaki, is yet another anime that, like "Attack on Titan" and "Vinland Saga," was started by Wit Studio but will not be finished by it. A whole new animation studio, Studio Kafka, was formed for the purpose of producing a three-part "Magus Bride" OVA series (via Crunchyroll), which premiered over the course of 2022. Now Studio Kafka is handling the show's second season, premiering in April 2023 on Crunchyroll.
The story follows Chise Hatori, a teenage girl both gifted and cursed with magical abilities, who sold herself into slavery and ends up the apprentice and bride-to-be of Elias Ainsworth, a mysterious, not-fully-human sorcerer with a cow skull for a head. An odd set-up, to be sure, but the resulting show proves surprisingly charming and emotionally sophisticated. The OVA episodes were a nice return to this Celtic mythology-inspired fantasy series, which concluded its first season all the way back in 2018, so we're excited to finally get another full season.
How Do You Live?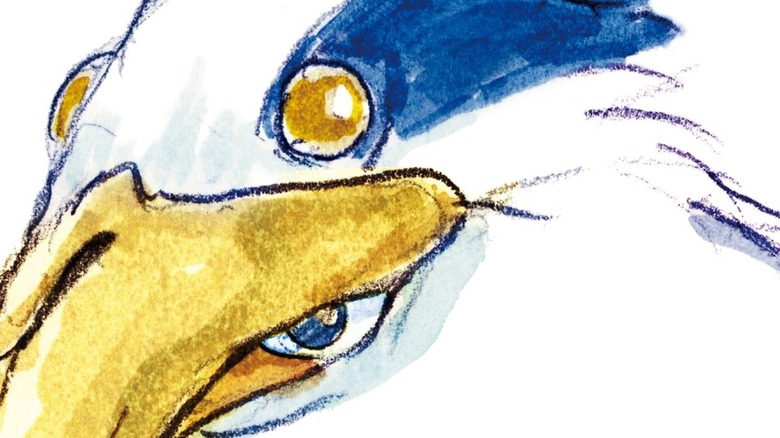 Studio Ghibli
Hayao Miyazaki's next feature film "How Do You Live?" has been in production for so long that it wasn't certain when it would ever be finished, but now it's almost complete, announced to hit theaters in Japan on July 14, 2023. This will make 10 years since the release of Miyazaki's previous feature, "The Wind Rises," and we're excited to see what the world's greatest animation director has in store for his next "post-retirement" movie.
"How Do You Live?" is inspired by a 1937 children's novel of the same name by Yoshino Genzaburo, but it doesn't appear to be a straightforward adaptation. It's been described by producer Toshio Suzuki as a "big, fantastical film" (via EW), which doesn't seem to match the more realistic source material. It's also been reported that the film's protagonist is someone who has read the novel, implying it's more a film about the book (via Anime News Network). The film's poster appears to showcase a bird of some sort, drawn in a sketchy style closer to the look of "The Tale of the Princess Kaguya" than Miyazaki's earlier films.
Mashle: Magic and Muscles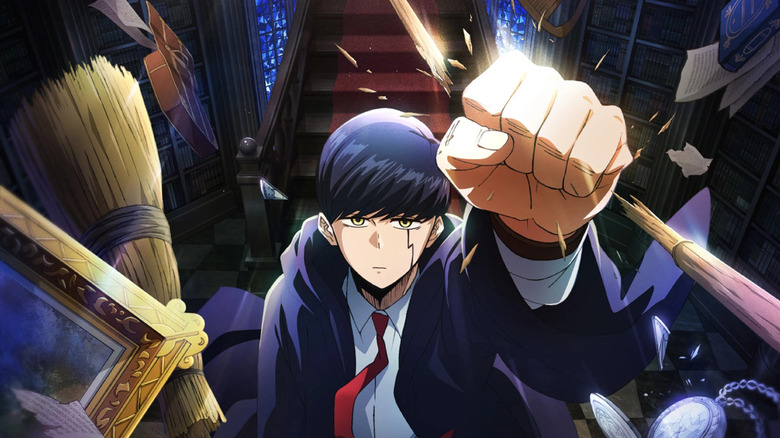 A-1 Pictures
When predicting which new anime in a given year will be the biggest hit, looking to the biggest new Shonen Jump adaptation is always a safe bet, and in 2023, it looks like that might be "Mashle: Magic and Muscles." The manga by Hajime Koto has been running in Weekly Shonen Jump since January 2020, with 14 collected volumes and counting. The main character Mash Burnedead is a student at Easton Magic Academy, despite having no magical abilities whatsoever. Not that he needs magic when he has muscles.
This action-comedy plays as a parody of the "Harry Potter" series with a sense of humor comparable to "One-Punch Man." Though the manga is currently ongoing, the anime from A-1 Pictures has been described as a "complete adaptation" by its official website, implying that the end of the manga is soon and that the whole story will be animated. It will begin airing in April 2023, with international streaming licenses yet to be announced.
Jujutsu Kaisen Season 2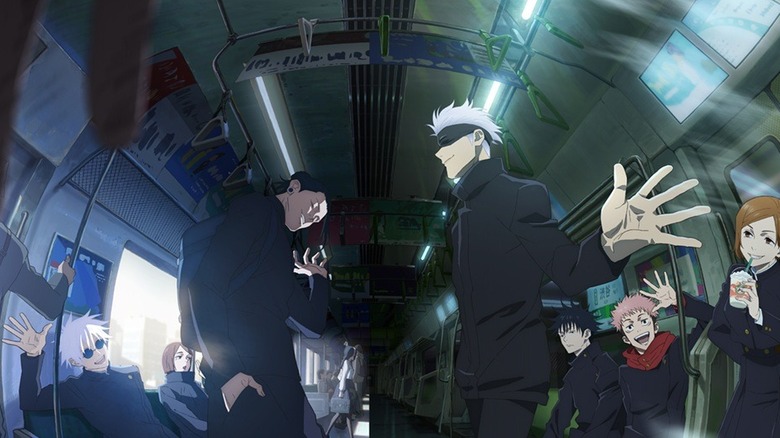 MAPPA
"Jujutsu Kaisen" by Gege Akutami was the top-selling manga of 2021 (via Anime News Network), and its prequel film "Jujutsu Kaisen 0" was that same year's biggest hit at the Japanese box office (via Box Office Mojo). The first season of the "Jujutsu Kaisen" anime aired from October 2020 to March 2021, and was a popular hit in both Japan and the United States. Now, the wait for Season 2 is almost over: It will officially be premiering in July 2023 (and will almost certainly be streaming on Crunchyroll).
The story of Yuji Itadori's quest to defeat Ryomen Sukuna, the evil Curse he shares a body with, will continue throughout most of the year, covering the "Kaigyoku/Gyokusetsu" and "Shibuya Incident" arcs of the manga (via Anime News Network). 2023 is shaping up to be an incredibly busy year for the animation studio MAPPA, but if "Jujutsu Kaisen" Season 2 matches the quality of Season 1, this will be among their most visually stunning work.
Attack on Titan: The Final Season Part 3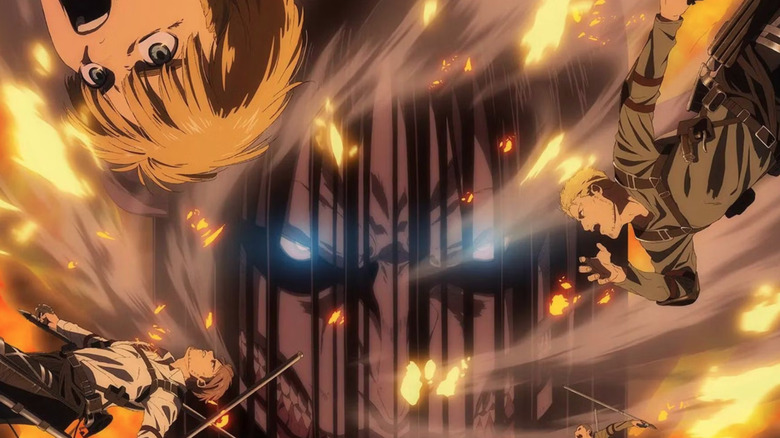 MAPPA
Yeah, "Attack on Titan: The Final Season Part 3" is a very cumbersome and unintentionally hilarious title to say. This "final season" has been going on for three years now, and by the time it finishes, nearly half of the whole series' episode count will be from this "final season." But making jokes about awkward titles isn't going to stop anyone who's already hooked on the show from watching, so this is destined to be one of the most-watched anime of 2023.
"Most watched" and "most liked" are two different things, and given how, um, controversial the ending of Hajime Isayama's manga was, with said creator even going so far as to apologize for it, we fully expect that viewers will be left divided over however the anime adapts that wrap-up. But even the most cynical about the manga may still want to watch out of curiosity, and fans of the anime will want to know how it all ends for Eren, Armin, Mikasa, and company. Could this be an adaptation that improves upon its source material?
Solo Leveling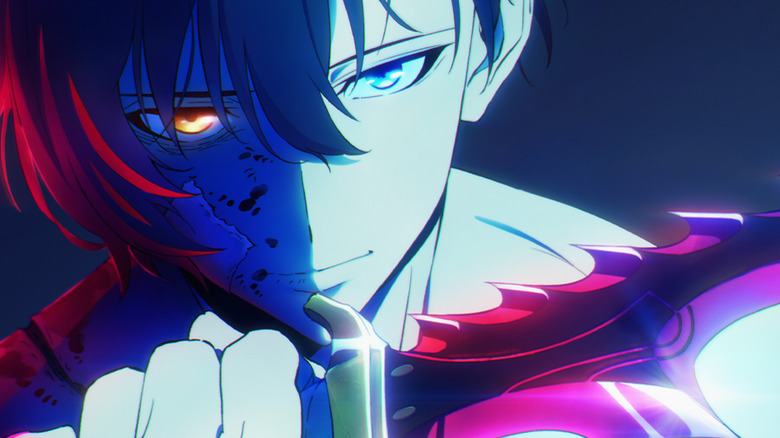 A-1 Pictures
Anime adaptations of Korean webtoons have had a mixed track record. "Tower of God" was a decent anime but also a rushed adaptation, while "The God of High School" anime was visually beautiful but narratively lacking. "Solo Leveling" originated as an online prose novel by Chugong, but it was the webtoon adaptation illustrated by the late DUBU that became internationally popular. Crunchyroll announced the "Solo Leveling" anime, premiering sometime in 2023, as specifically an adaptation of the webtoon.
The anime's director, Shunsuke Nakashige, doesn't have many directorial credits to his name, but his work on "Sword Art Online" gives him some background in the genre of power fantasy with heavy video game influences. It's unclear from mixed reports whether the "Solo Leveling" anime will take the form of a series or a movie, but given the comic's popularity, this is sure to get attention in whatever form it takes. Hopefully, it will be worthy of all the hype.
FLCL: Grunge and FLCL: Shoegaze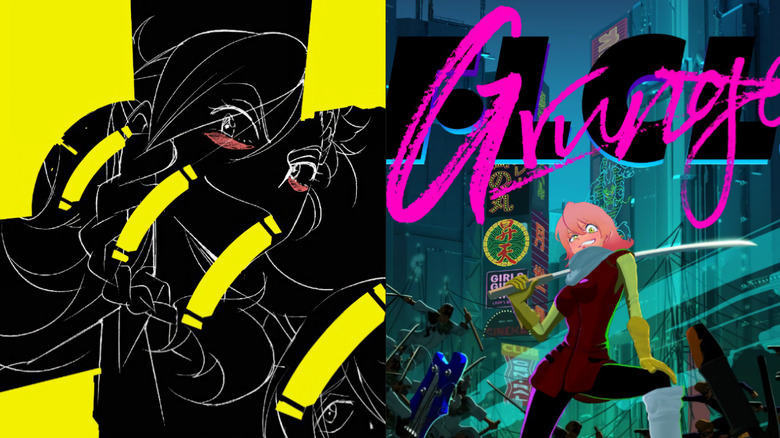 Adult Swim
The original 2000-2001 "FLCL" OVA series is a classic. Its two 2017 sequels produced for Adult Swim, "FLCL: Progressive" and "FLCL: Alternative," had their high points (any excuse for new Pillows music is a good one), but weren't on the same level as their predecessor, and could never fully overcome the skepticism around their need to exist. Nonetheless, Adult Swim is bringing "FLCL" back for two new seasons in 2023, "FLCL: Shoegaze" and "FLCL: Grunge."
"Shoegaze" is being directed by Yutaka Uemura, the director of "Alternative," and traditionally animated by Production I.G. and NUT. "Grunge" is a decided shift in style, a CG series directed by Hitoshi Takehiko and animated by a new studio, MontBlanc Pictures. Regardless of the quality of these new seasons, it is a good sign that the producers are willing to do new things with this robots-and-rock-n-roll franchise, treating it as an anthology series in the same spirit of experimentation that allowed the wacky original to thrive. If nothing else, you can rest assured that the soundtrack will be awesome.
Rick and Morty: The Anime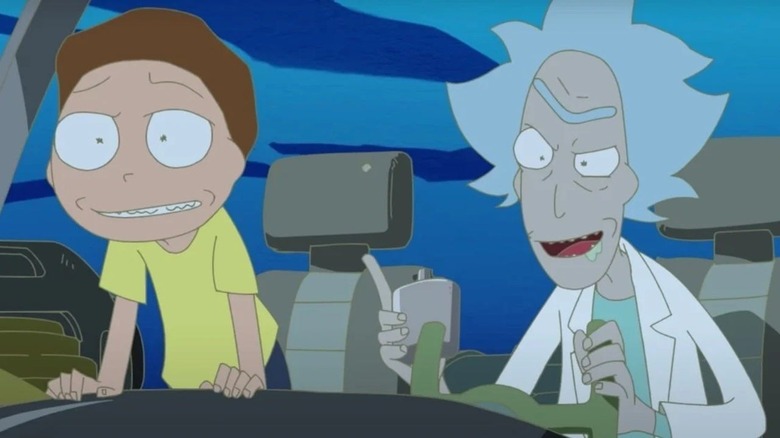 Adult Swim
There have already been five "Rick and Morty" short films from Japanese animators, the best of which ("Rick and Morty vs. Genocider" and "Summer Meets God (Rick Meets Evil)") were written and directed by Takashi Sano. The success of these shorts is now giving Sano the chance to make "Rick and Morty: The Anime," promising fans 10 full episodes of his distinctive take on the cynical, alcoholic mad scientist Rick Sanchez and his anxious, well-meaning grandson Morty Smith.
Based on the shorts, we expect "Rick and Morty: The Anime" to have a slightly sweeter tone than the American series while still delivering the edgy humor and sci-fi creativity that made it a phenomenon. As part of the anime series announcement, Sano said, "The multiverse-straddling exploits of Rick and the gang pose challenges to the family bond, but they always rise to the occasion. It's such a life-affirming sight, and Jerry is no exception. I am honored to have been given an opportunity to tell a new story about this amazing family. I hope you enjoy their adventures!" (via TVLine)
Uzumaki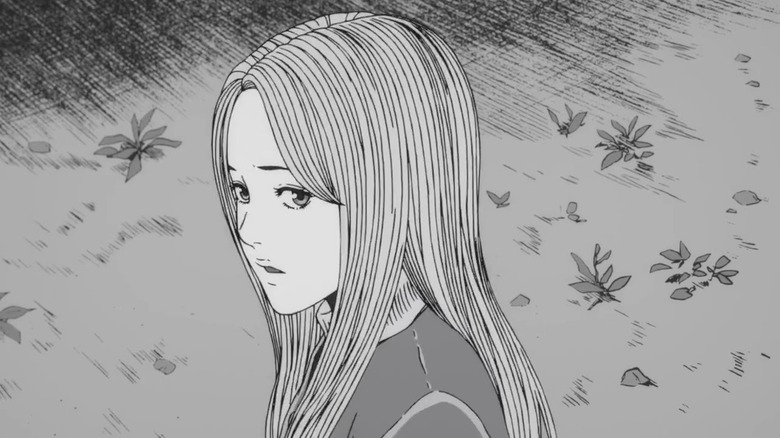 Adult Swim
The anime adaptation of Junji Ito's horror manga "Uzumaki" has previously been featured on lists of the most anticipated new anime of 2022, and of 2021, and of 2020. Though it's only four episodes long, this co-production from Production I.G. and Adult Swim is taking its time to get the hyper-detailed style of Ito's artwork done properly in animation, resulting in extensive delays. If it's still not ready by the end of 2023, there might be a genuine reason to be worried we'll never see it.
That said, we're guessing the wait will be worth it. The teaser clips that Adult Swim has released so far perfectly capture the beautifully eerie tone of Ito's spiral-based horror. Hiroshi Nagahama has proven his skill at directing arty atmospheric anime such as "Mushishi" and "The Flowers of Evil," and the soundtrack from Colin Stetson, who also composed "Hereditary" and "The Menu," is sure to be brilliantly disturbing.
Phoenix: Eden17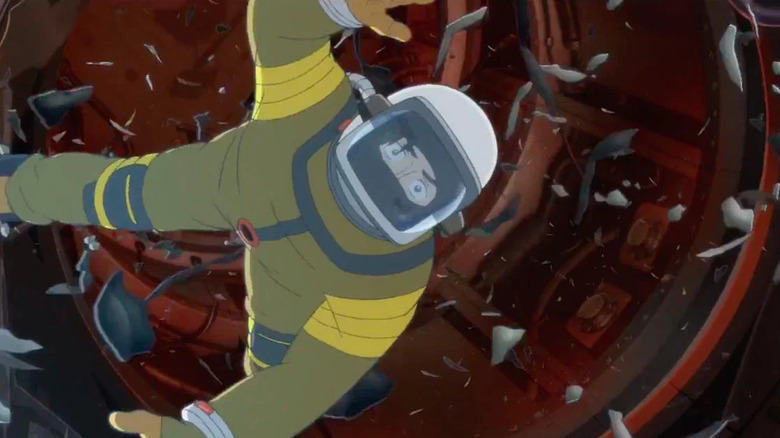 Studio 4°C
One of the more unexpected moves in the anime business in 2022 was Disney getting more aggressive about licensing anime for streaming, releasing the likes of "Bleach: Thousand-Year Blood War," "Black Rock Shooter: Dawn Fall" and "The Tatami Time Machine Blues" on Hulu in the US and Disney+ internationally. Disney+ recently announced its 2023 slate of original anime, and the title we're most intrigued by of the bunch is "Phoenix: Eden17."
Osamu Tezuka's "Phoenix" manga is one of the defining epics of the medium, an unfinished masterpiece consisting of 12 books set in different time periods. The "Eden17" story being adapted for this new anime is set in the future, during an age of space colonization. Names of attached talent have yet to be announced, although we do know that it's being produced by Studio 4°C. The trailer showcases some exceptional animation: If it's as good as it looks, it will almost certainly end up being one of the year's critical favorites.