Vinland Saga Season 2 - Everything You Need To Know
"Vinland Saga" is a historical anime series set during the time of the Vikings. It tells the fictionalized story of real-world Icelandic explorer Thorfinn Karlsefni, the young son of a legendary ex-warrior named Thors. Despite his prowess, Thors has become a pacifist and he sacrifices himself protecting members of his village. The young Thorfinn pursues the mercenaries who killed his father in an effort to one day duel their leader, Askeladd. The story is roughly based on actual history, though it takes many liberties regarding its characters and events.
The original manga, written and illustrated by Makoto Yukimura, was first published in 2005. In 2019, Japanese animation studio Wit (known for shows like "Seraph of the End" and "Attack on Titan") produced a 24-episode anime adaptation of the manga all the way up to its 54th chapter. Confirmation that a second season was in production came in July 2021, and in May 2022, we learned that MAPPA (the studio behind "Terror in Resonance" and "Jujutsu Kaisen") had taken over from Wit. The first episode dropped in January 2023, but has the second season been as well received as the first? What's it about, exactly? Here's everything you need to know about "Vinland Saga" Season 2.
What is the plot of Vinland Saga Season 2?
The finale of "Vinland Saga" Season 1 left both the story's characters and its fans spinning. Askeladd conspired to overthrow King Sweyn and put Canute in power. To do this, he feigned madness and beheaded the king, sacrificing himself to allow Canute an opportunity to seize control. With Askeladd dead, Thorfinn was unable to carry out his lifelong quest for revenge. He was carried away to an unknown location before he could hurt the newly-crowned Canute.
This event proves to be a major turning point in the manga, which undergoes a time-skip shortly after. Thorfinn is sold into the Scandinavian slave trade. He has lost both his life's purpose and his will to live. Unwilling to even try and resist his masters, Thorfinn labors until he meets an English slave named Einar. Together, they work to earn their freedom and establish a new, peaceful life. This is where the second season of the anime picks up, with the so-called Slave Arc. It opens with Einar's village in Northern England getting attacked by Vikings, and we see Einar taken back to Denmark after his mother and sister are killed.
Einar is bought by a Danish landowner named Ketil, who also happens to own the broken Thorfinn. The two men strike up a bond over the course of the season, though Einar — who detests war and violence — is shocked when he learns that Thorfinn is a former warrior who has killed more people than he can remember. For his part, Thorfinn is haunted by the things he has done in the name of vengeance, suffering terrifying recurring nightmares. With Einar's help, Thorfinn snaps out of his funk and starts doing his bit to end all the bloodshed.
Who stars in Vinland Saga Season 2?
The major addition to the cast for Season 2 of "Vinland Saga" was Shunsuke Takeuchi, who stars as Einar. He's best known for "Yu-Gi-Oh! Vrains" (he voiced Revolver in 120 episodes between 2017 and 2019), though he also has the likes of "Akudama Drive," "Tokyo Revengers," and "Demon Slayer" on his resume. Reprising the role of adult Thorfinn from the first season is Yûto Uemura, who is otherwise known for the role of Tamaki Amajiki in "My Hero Academia." He also plays Shinki in "Boruto: Naruto Next Generations," Shônen Grisha in "Attack on Titan," and Motoya Komori in the beloved volleyball anime "Haikyuu!!"
Kenshô Ono and Akio Ôtsuka also reprise their roles as Canute and Thorkell in Season 2. Like Uemura, Ono is known for his work on "Boruto: Naruto Next Generations" (in which he voices Shikadai Nara) and "Attack on Titan" (in which he voices Floch Forster). He has also worked on the likes of "Spy x Family," "Dr. Stone," and "A Silent Voice," widely regarded as one of the best anime movies of all time. Ôtsuka is also a veteran of the anime industry who has worked on some iconic anime films, including "Ghost in the Shell" (in which he voices Bako), "Tokyo Godfathers" (in which he voices Isha), and Satoshi Kon's "Paprika" (in which he voices Detective Toshimi). Ôtsuka has almost 500 credits to his name in total.
How did critics and audiences respond to Vinland Saga Season 2?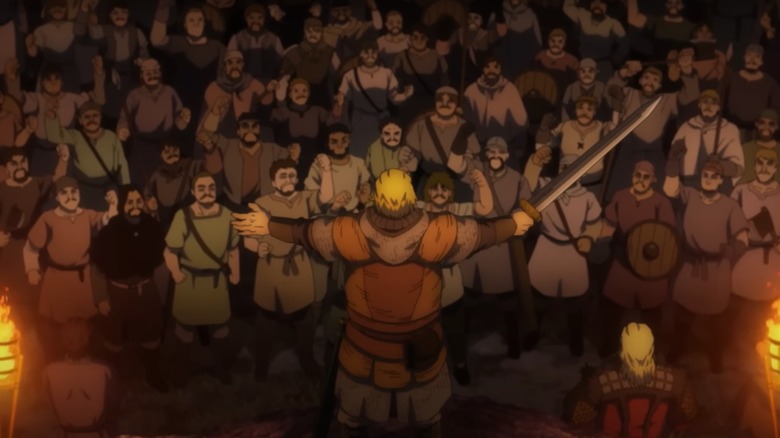 MAPPA
With a rating of 8.74 on My Anime List, the first season of "Vinland Saga" remains a firm favorite among fans. While there's still a few episodes left to air at the time of this writing, it's pretty clear that many people think Season 2 isn't as exciting as the first one. The nature of the source material meant that this was always likely to be the case — Season 1 follows Thorfinn's vengeance-fuelled warrior exploits, while Season 2 sees him reflecting on his life choices while quite literally slaving away on a farm. However, some fans still think that it could have been handled differently. "It's like we waited this whole time for some filler episodes," said Redditor u/Tmf-Bailey. "Character development is cool and all but let's [be] real, this is a straight up 180 from season 1. I mean it's not terrible but a good amount of us don't wanna see this s***."
For some fans, Season 2 is just "incredibly boring," as u/TEntire put it. However, while some have taken to mockingly calling Season 2 "Farmland Saga," others have enjoyed the change of pace. "The point of this arc is all about character growth, Thorfinn becomes more of a human than an individual driven by purely anger," said u/JLChamberlain42. "I knew season 2 would definitely split anime fans but the anime has done an amazing job of animating this arc and conveying the key aspects from the manga." This opinion has been echoed by critics, who generally appreciate that Thorfinn's overall arc was always heading in this direction. "In retrospect, Vinland Saga season one truly does feel like the prologue to this, the actual story it always wanted to tell, and we are all better off for it," said IGN in a glowing review.
Where to watch Vinland Saga Season 1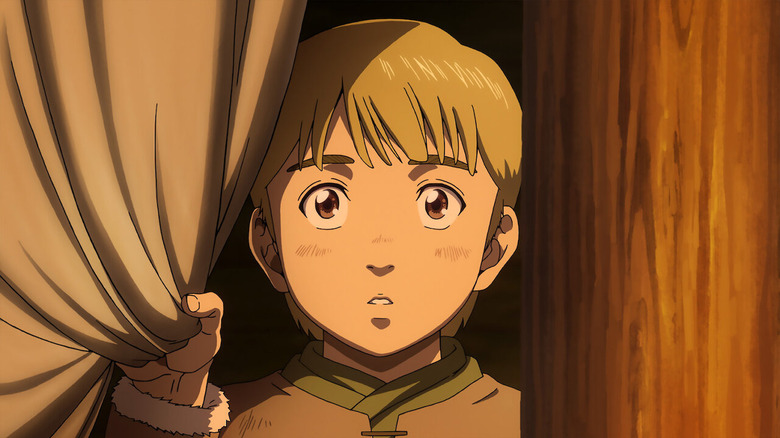 Wit
If you haven't seen the first season of "Vinland Saga" yet, or you just want to go back and wash down all that farming stuff with some good old fashioned Viking violence, then you have a few options. It's available to stream on Netflix in the United States, and you can also watch it on Amazon Prime Video — the latter offers a 30-day free trial, which should be enough time to get through all 24 episodes. The show is also available on Crunchyroll, and there are plenty of different dub options: On top of English, there's Spanish, German, French, Italian, Russian, and Hindi, as well as Latin American Spanish and Portuguese. If you prefer to watch your anime with the original Japanese audio using subtitles, they're available in all the aforementioned languages.
However, while Crunchyroll does offer some shows for free, you will need to be a premium user to watch "Vinland Saga." The good news is that there's a 14-day free trial. If you want to continue with a membership after that, there are three different plans. The basic package costs $7.99 a month and gives you access to new anime episodes just one hour after they've aired in Japan. The Mega Fan package is $9.99 a month and comes with more benefits, such as offline viewing and being able to stream on up to four devices at a time. The top tier Ultimate Fan package gives you even more: For $14.99 a month, you get all the perks of the Mega Fan plan but you can stream on up to six devices and you get an annual swag bag full of anime goodies. You also get discounts on purchases in the Crunchyroll store.