Joseph Kosinski Loved Working With Tom Cruise On Top Gun: Maverick
Director Joseph Kosinski is no stranger to high-octane action sequences. A CGI specialist, he made his feature-length directorial debut in 2010 with the neon behemoth "Tron: Legacy." Kosinski collaborated with Tom Cruise for his 2013 follow-up, the sci-fi thriller, "Oblivion." Retrospectively, Kosinski realized that "Oblivion" shared some of the same DNA as "Top Gun: Maverick," his next project with Cruise.
Having worked with Cruise before, Kosinski knew how to sweeten the pot when it came to pitching "Top Gun: Maverick" to the actor. "Knowing Tom, I knew that he would be reluctant to go back to that character unless there was a real strong emotional reason to go back" (via Variety). Luckily, the pitch struck a chord in Cruise, and "Top Gun: Maverick" went on to become the highest-grossing film of 2022 and receive a Golden Globe nomination for Best Motion Picture – Drama. Moreover, the movie confirmed how much Kosinski appreciated his working relationship with Cruise.
Cruise's curiosity and enthusiasm makes him a dream collaborator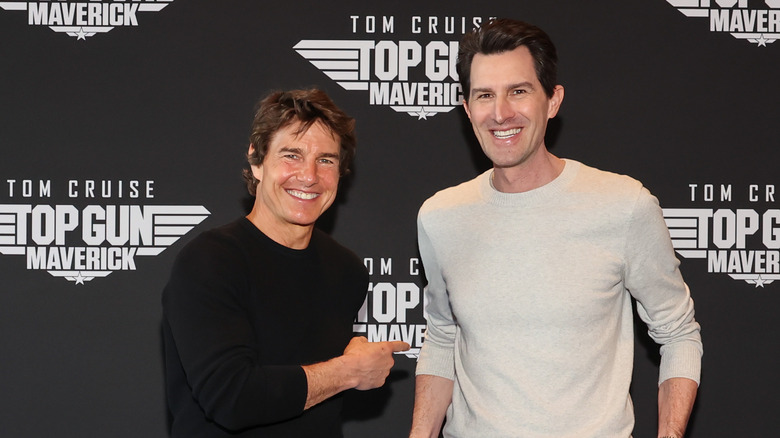 Hector Vivas/Getty Images
In a conversation with Rian Johnson for Variety's Directors on Directors series, Joseph Kosinski sang the praises of "Top Gun: Maverick" star Tom Cruise, likening the actor to a film school unto himself. "There's no one like him," said Kosinski. "He's worked with literally all of my heroes from a director point of view ... so it's my closest connection to a lot of the directors I admire because he's been through it with each of them." Indeed, Cruise has worked with a veritable Mount Rushmore of cinematic talent, including Francis Ford Coppola, Martin Scorsese, Stanley Kubrick, and Steven Spielberg.
According to Kosinski, Cruise is preternaturally curious and enthusiastic, making him an asset on set. "Every single day there is always a conversation, a very collaborative conversation, where you're just pushing every scene, every shot, every idea in the film to its max," Kosinski said. "It's an incredible relationship for [a] director. Tom could direct if he wanted to but he loves that collaboration, he loves the push and pull of that creative relationship."
For anyone who has followed the actor's career, his commitment to the filmmaking process should be no surprise. On "Top Gun: Maverick," Cruise practically functioned as a co-director, and had the cast reshoot scenes in which he didn't approve of the first take. Cruise has brought a similar tenacity to the upcoming "Mission: Impossible" films, as evidenced by behind-the-scenes footage of the actor's death-defying stunt work.