Top Gun: Maverick Had To Film That Beach Scene Twice Because Tom Cruise Didn't Approve Of The First Take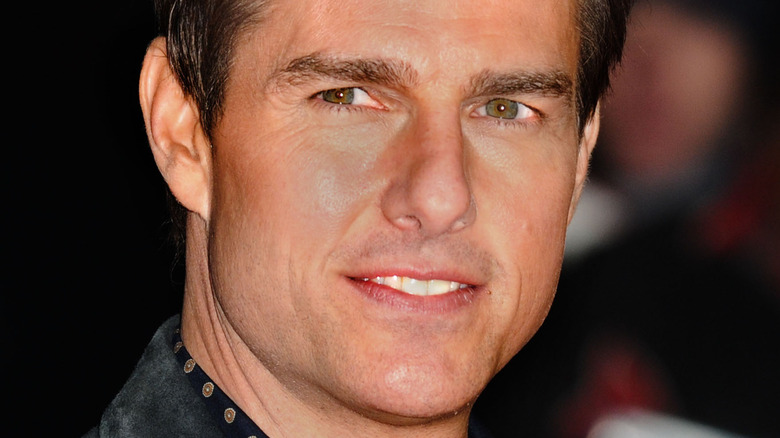 Featureflash Photo Agency/Shutterstock
It took 36 years for "Top Gun" and Pete Mitchell (Tom Cruise) to finally get the sequel they deserved. However, "Top Gun: Maverick" turned out to be well worth the wait, and the follow-up to Tony Scott's aviation adventure knocked it out of the park with fans and critics alike, according to Rotten Tomatoes. "Top Gun: Maverick" not only became Cruise's first film to surpass a billion dollars, but it grossed nearly $1.5 billion worldwide (via Box Office Mojo).
So, with all of "Top Gun's" memorable moments, why did it take so long for the sequel to become a reality? "For years the studios wanted me to do it, and audiences wanted me to do it," Cruise explained in an interview on "The Graham Norton Show." "There was just a moment where Jerry Bruckheimer wanted to do it." And it was that moment of collaboration that led to the ideas which became the genesis for the storyline of "Top Gun: Maverick."
"Top Gun: Maverick" is loaded with unforgettable moments, from Pete's heart-wrenching visit with Iceman (Val Kilmer) to Maverick making the canyon run to the climactic rescue sequence. However, another of those memorable movie moments didn't quite live up to Cruise's filmmaking standards on its first shoot.
Cruise insisted on reshooting the football scene
A tremendous amount of work went into shooting the football scene on the beach because it was an homage to the volleyball scene in the original "Top Gun." And all the performers brought their A-game physically. "There was more pressure leading up to that scene than any in the whole movie," Glen Powell — call sign Hangman — said in an interview with Entertainment Weekly. "It was every cast member, until about midnight the day before, in that gym, trying to do crunches and pull-ups."
After filming the sequence, the cast was elated that they had pulled off the football game flawlessly, and the setting sun bolstered the cinematography. So, everyone went out to celebrate, according to Vudu. Miles Teller — call sign Rooster — brought plenty of beer on set to celebrate, and then the cast visited downtown San Diego to continue the party. "We order pizza, wings, beers," Jay Ellis — call sign Payback — said in the same interview. "Everybody's celebrating."
Unfortunately, upon returning to the set the next day, the cast was informed that the football scene would have to be shot again in a couple of weeks. Tom Cruise wasn't pleased with how the footage looked after watching the dailies. "Tom was like ... 'Guys, we've got to shoot it again,'" Powell told Scooper News (via Showbiz Cheat Sheet). "And then everyone was back in the gym ... day and night."