Zach Bryan's Yellowstone Appearance Turned Into A Weird Twitter War About Plagiarism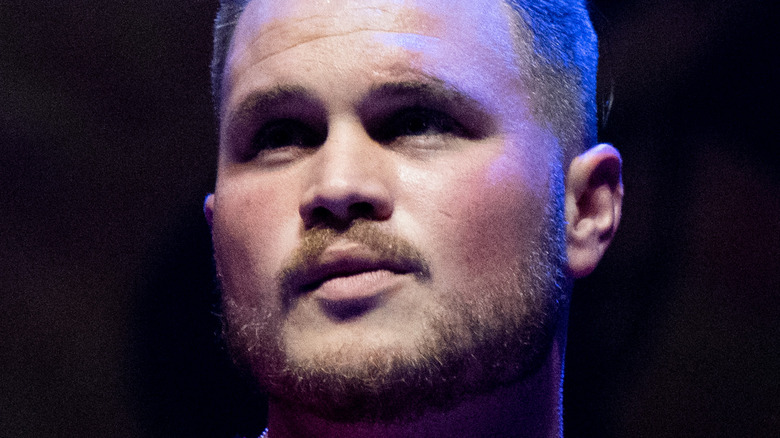 Scott Dudelson/Getty Images
This article contains mild spoilers for "Yellowstone" Season 5, Episode 7
The untold truth of "Yellowstone" has been told with a pretty hefty country music soundtrack over the years, but Episode 5 of the show's fifth season throws its 10-gallon hat in the ring as one of the most musical episodes of the modern cowboy drama yet. This comes courtesy of real-life country music star Zach Bryan, who appears in the episode as a country fair performer.
As you'd imagine, the combination of an Americana-adjacent singer-songwriter and "Yellowstone" is a pretty natural one. After all, one of the show's long-running characters, Walker, is played by musician Ryan Bingham. However, as Bryan found out when he posted about his guest role on Twitter, even a seemingly straightforward thing like a cameo on such a thematically appropriate show can turn into a strange problem on social media. Let's take a look at how the artist's "Yellowstone" Season 5 appearance turned into a weird Twitter war about plagiarism. 
A plagiarism accusation and a sarcastic retweet confused some fans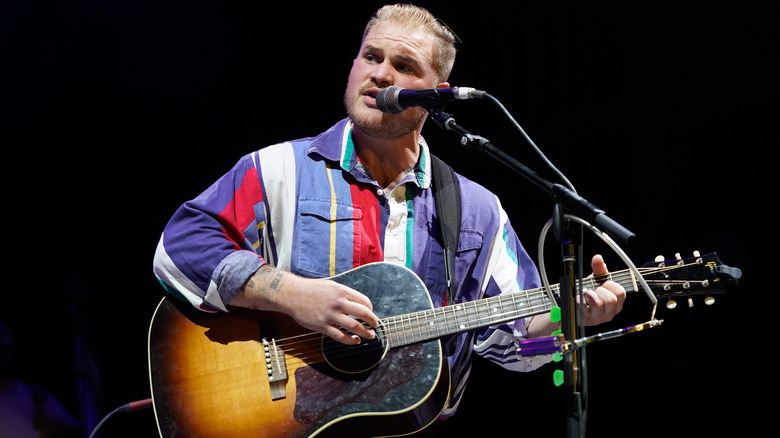 Mickey Bernal/Getty Images
It all started with a perfectly ordinary tweet from Bryan, who thanked the show for having him. "Thank you so, so incredibly much for having the boys and me, @Yellowstone. Humbled and honored and don't know what I did to deserve it," the musician wrote. 
However, things soon took a surprising turn when Bryan addressed a tweet by another musician called Rich O'Toole, who thought that one part of a song Bryan performed on the show was identical to one of O'Tooles own works. Bryan sarcastically called himself out by quote-tweeting O'Tooles post. "ZACH BRYAN EXPOSED!!!" he wrote. This turned out to be a mistake, as the replies to this sarcastic post feature all sorts of takes about the nature of his supposed plagiarism. 
"You've obviously shown you don't know how to write songs. You just put into chatGPT 'Write me a song kind of like rich Otoole but not the same so I don't get sued'," user @BLED_ tweeted at Bryan. "Eh who cares. We all know you write amazing songs! Plus a lot of artists get inspirations from other songs. It's okay Zach Bryan!" @eminemnessa wrote, implying that they believed that Bryan was seriously stating that he's been exposed, but also that they didn't particularly care. 
Meanwhile, @jeanniereeddem appeared to seriously consider the chance that Bryan had indeed taken a significant chunk of the other song. "Can still legally lift 16 bars of a song?... totally F'ed up," they wrote.
While many Twitter users who replied to Bryan's quote tweet understood the musician was joking, some clearly thought differently. It just goes to show that even celebrities aren't always safe from social media misunderstandings.