Action Fans Have Finally Crowned A Winner In The Schwarzenegger Vs. Stallone Debate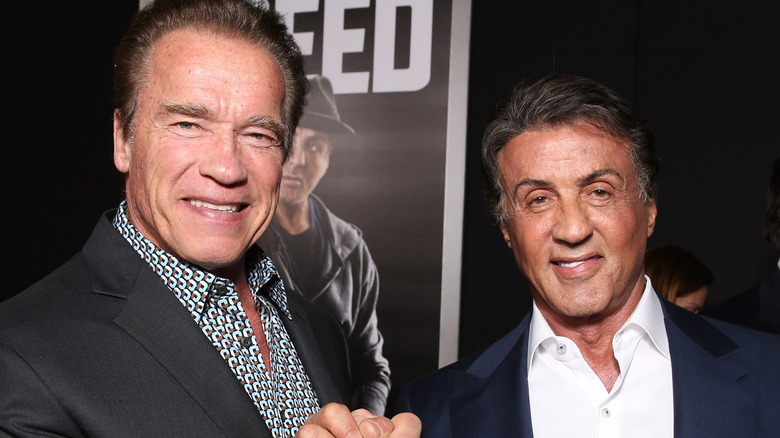 Todd Williamson/Getty Images
In the 1980s and '90s, Sylvester Stallone and Arnold Schwarzenegger were the two biggest action stars in the world, starring in one blockbuster after another. From the "Rocky" movies to "Terminator" to "Rambo," the two established some of the most lucrative action franchises in film history. Their success led to a bitter rivalry between the two of them, which Stallone described in detail in an interview with Forbes. "We really disliked each other immensely because we were ... this may sound a little vain, but I think we were pioneering a kind of genre at that time and it hasn't been seen since really," Stallone told Forbes. "So the competition, because it's his nature, he is very competitive and so am I ... and I just thought it actually helped, but off-screen we were still competitive and that was not a healthy thing at all, but we've become really good friends."
One of the most hilarious results of their rivalry was the critically panned 1992 film "Stop! Or My Mom Will Shoot," which, according to Hollywood legend, Schwarzenegger tricked Stallone into doing by pretending that he was also interested in the film. In a recent interview with The Hollywood Reporter, Stallone brought up this rumor, and Schwarzenegger confirmed it. "It's 100 percent true," Schwarzenegger said. "In those days we did all kinds of crazy things to get ahead in our rivalry. Luckily for us and everyone else, today, we root for each other. Thank God, because we sure don't ever need another 'Stop! Or My Mom Will Shoot.'" But in the historic rivalry, where do the fans stand on the issue of who's better? Well, it would seem that fans are somewhat divided.
Fans think Stallone is the better actor, but Schwarzenegger is the bigger star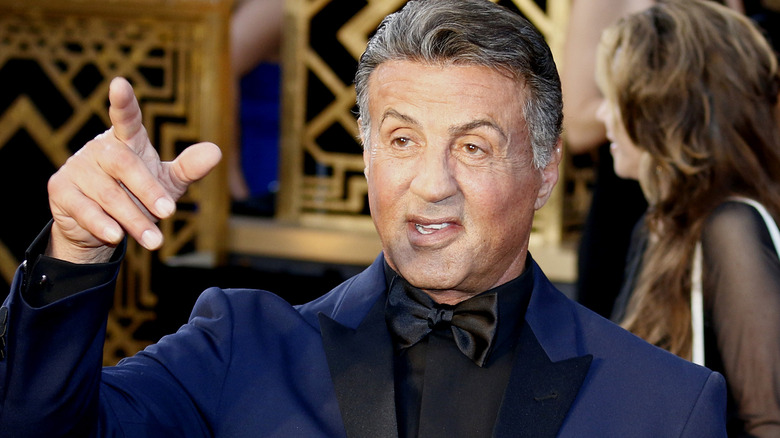 Tinseltown/Shutterstock
In the r/movies subreddit, u/Steakhouse42 started a thread saying that it was time to admit that Schwarzenegger is better than Stallone. Fans in the thread, however, had more complicated opinions. Redditor u/Onkel_B brought up Stallone's acting talent. "That's a toughie. Arnold has great comedic chops on top of his action prowess, but dramatically, Sly has him beat by a mile. The end scene in First Blood, crying for Mickey in Rocky 3, talking to his son in Rocky 5, i don't think Arnold has delivered a comparable performance on screen." Then u/ColonelKillDie asserted a point that many people agreed with, that Stallone is the better actor and Schwarzenegger is the better action star.
Many in the thread seemed to take this as a fair compromise — u/trylobyte chimed in with, "I think what you listed down means Arnold has better movies and better career (from bodybuilder to actor to governor), not necessarily better actor. I think Stallone is generally a better actor." Redditor u/Soranic also brought up that Stallone has a talent for writing and directing, which they were pretty certain Schwarzenegger has never done before. According to Schwarzenegger's IMDb page, he has directed one made-for-TV movie called "Christmas in Connecticut" and one episode of "Tales from the Crypt" but has never written for film or television or directed a theatrical feature.
Fans seem to have a point that Stallone has been a great actor, not to mention an outstanding writer and director, even netting two acting noms at the Oscars, but Schwarzenegger has star power to be reckoned with. Regardless of where fans stand on the action stars, everyone seems to agree with what u/ICLazeru said in the thread: "They were both better than [Steven] Seagal."