1923 Fans Are Left Looking For Answers After Two Lives Are Left On The Line In The Premiere's Final Moments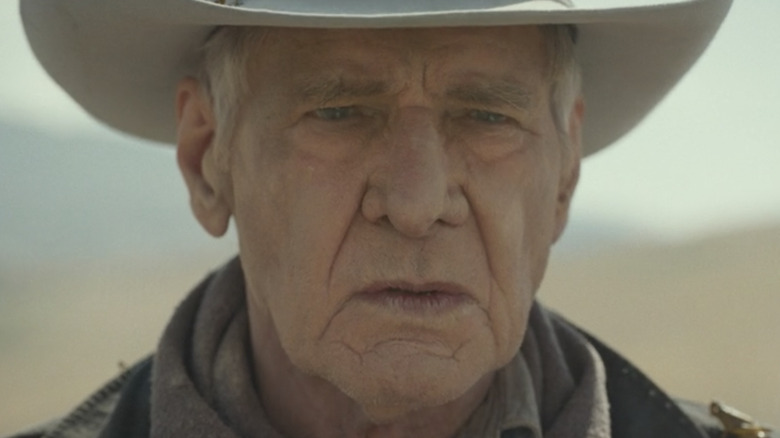 Paramount+
Warning: This article contains spoilers for the "1923" season premiere.
The season premiere of Taylor Sheridan's "1923" introduced "Yellowstone" fans to a brand new generation of the Dutton family led by the family patriarch Jacob Dutton (Harrison Ford) — who is hell-bent on protecting the land that his brother, James Dutton (Tim McGraw) settled during the events of "1883."
Following James' death and the passing of his wife Margaret (Faith Hill), Jacob took over as the de facto head of the Dutton clan in Montana alongside his wife Cara (Helen Mirren). The two have spent more than 30 years working to secure the Yellowstone ranch from the host of schemers and criminals who surround them. In addition to James' dutiful guard over the land, the premiere also explores the parallel storyline of his nephew, Spencer Dutton (Brandon Sklenar) — a big game hunter recently hired to protect a safari lodge from a leopard.
Because both of these stories center around a Dutton man trying his hardest to ward off unwelcome guests, it should come as no surprise that the episode ends in bloodshed for both Spencer and James — leaving two lives on the line by the episode's end. Although this cliffhanger is certain to drive up the excitement for the forthcoming second episode of "1923," fans online simply can't believe that two of the main cast might be dead already.
The fates of Jack and Spencer Dutton are up in the air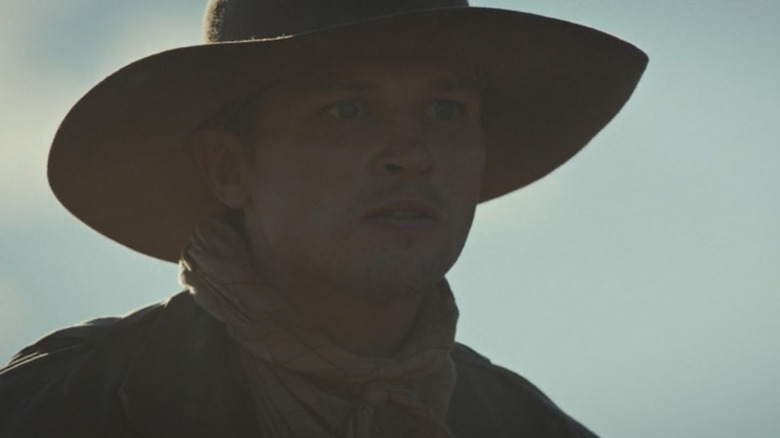 Paramount+
The last time we see Spencer Dutton in the premiere of "1923," it's the exact moment that a rogue leopard attacks him after killing its mate. Shortly after that happens, we watch Jack Dutton (Darren Mann) stumble upon a patch of Yellowstone land that has been devastated by a rival sheepherder named Banner Creighton (Jerome Flynn).
Jack only stares at this decimation for a moment before a shot is fired in his direction, and the episode ends before we know whether or not he survives the attack. Fans online were up in arms about these abrupt cliffhangers, with many searching for answers about where the story could go if Jack and Spencer were dead. "So I'm left here for one whole week wondering if Jack got shot and what happened to my beloved Spencer," tweeted @DoritsTwin. "This. Episode. Ending," echoed @_thegoodonesgo. "Spencer better be alive next week!!!!!"
Although it might seem odd for "1923" to kill off two of its main cast this early in the series, fans of "Yellowstone" know that the franchise has never shied away from killing important characters at a moment's notice. Indeed, the pilot episode of "Yellowstone" famously killed off eldest child Lee Dutton (Dave Annable) after continually emphasizing just how important he was to the ranch — an event which has been almost completely forgotten by "Yellowstone" writers since it first occurred. As such, it's entirely possible that both Duttons could actually be in grave danger already, as heartbreaking as that might be for his new bride Elizabeth Stratford (Michelle Randolph).
Jack Dutton might actually be dead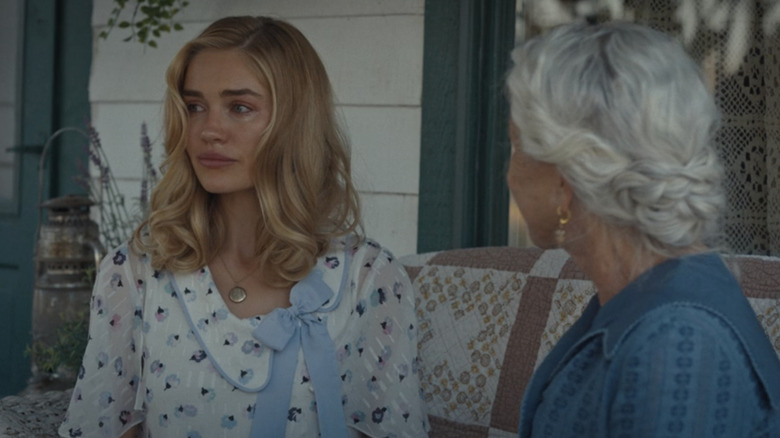 Paramount+
Indeed, several fans online theorized that Jack's potential death is actually teased in the opening moments of the episode — and that he might be leaving behind more than he knows.
As pointed out by @MiddelEarthElf4 on Twitter, the episode's opening monologue (narrated by Isabel May, who played Elsa Dutton in "1883") asserts that at least one of the Dutton boys never got to see his children grow up, which could point to Jack Dutton never knowing his kids. On top of that, Jack Dutton's fiance Elizabeth Stratford (Michelle Randolph) might already be pregnant, as the same user also pointed out that another character makes an offhand comment about "not doing the math or looking at a calendar" about Elizabeth and Jack's wedding.
"I think Jack is dead but his bride to be is pregnant," wrote @darlbrownie, providing a possible explanation for how the Dutton family tree can live on even if both Spencer and Jack perish (especially since we have yet to meet John Dutton Jr., the father of Kevin Costner's John Dutton III). In any case, it's clear that these explosive cliffhangers have left fans of "1923" extremely worried for some of their favorite Duttons — especially because Taylor Sheridan has frequently killed off major characters at a moment's notice.