Is Silver Surfer In Avengers: Infinity War?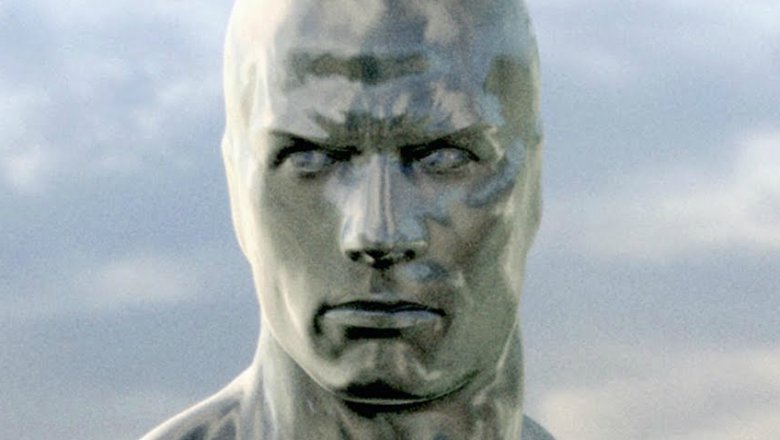 A new rumor has been making the rounds regarding the potential presence of the Silver Surfer in Avengers: Infinity War — but don't start waxing up your boards just yet.
The rumor has its roots in a purported cast list for Infinity War posted to Metacritic, which alleges that the usual suspects of Chris Evans, Chris Pratt, and Chris Hemsworth will be joined in the Disney tentpole by the celestial herald of Galactus, the Silver Surfer. 
If true, it would be a landmark first appearance for the character in the Marvel Cinematic Universe, with the film rights for the Surfer having historically been owned by 21st Century Fox. 
The report is currently uncorroborated. If Marvel Studios truly managed to keep the secret of that character for this long only to completely blow it one month out from the finish line, it would be among the most anticlimactic moments in MCU history. Luckily, the odds are considerably greater that it's just not true at all.
There are a number of reasons why this rumor is not just unlikely, but exceedingly unlikely. For one, the Metacritic page that sparked the rumor lists the actor playing the Silver Surfer as being Curt Clendenin — aka, "Can you repeat that?" 
According to Clendenin's IMDB page, the actor has spent decades in the industry working in bit parts as a performer, along with extensive crew work on smaller productions. While Clendenin does appear to have the track record of a consummate professional, nothing in his working past would seem to indicate a career on track for a role this big, especially compared to the world-renowned pedigree of the movie's confirmed stars. 
Secondly, the report's validity relies entirely on the inner workings of the Fox-Disney merger, a $52.4 billion megadeal that's still in the process of being hammered out. Inevitably, the deal will bring almost all of 21st Century Fox's major media properties over to Disney's control, including superhero franchises like X-Men, Fantastic Four, and all of the characters legally associated with those titles, such as the Silver Surfer.
The deal, considering its creative implications, is one of the primary reasons why theories such as this have been able to take hold. But the merger doesn't work by way of magic — while the deal has been settled in a broad sense, the actual legal wrangling that goes along with decoupling so many revenue-generating properties from one megacorporation and attaching them to another takes considerable work and time, and while the deal is now in progress, it is not yet complete. 
To put it simply, until every bureaucratic aspect of the deal is well and truly done, the creative implications of the deal will not go into effect. According to what we understand about the deal, all of this cool stuff will happen — it just has not happened yet.
Considering that production on Avengers: Infinity War and its untitled sequel began over a year ago in January and the Disney-Fox merger didn't kick off until three months ago, well after Avengers: Infinity War wrapped production, there is simply no reason to believe this report is possible, strictly on a corporate level.
Additionally, high-ranking creative people on both sides of the corporate rearrangement, including Kevin Feige at Marvel Studios, have said recently that they are not involved with and have no idea of the status of the merger. 
Feige said in January, speaking to Vulture, that there has been "no communication" involving him with his corporate higher-ups regarding the creative implications of the deal. His statements on the topic seem to clearly indicate that as far as he's concerned, he and Marvel Studios do not yet have the rights to use the Silver Surfer in a movie — full stop.
"We're not thinking about it," Feige said. "We're focusing on everything we've already announced. If and when the deal actually happens, we'll start to think more about it. Until then, we have a lot to do."
In summation, Silver Surfer is probably not in Avengers: Infinity War, despite reports. Admittedly, it'd be neat if we were wrong — but the evidence adds up against it.
Avengers: Infinity War will be out in theaters on April 27.