Wardrobe Malfunctions That Ended Up In The TV Show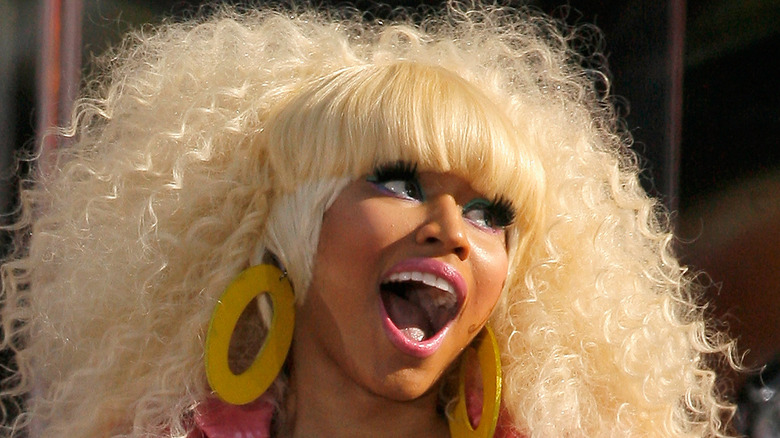 Getty Images
A TV show (or televised event) is a huge, costly endeavor with many moving parts. There are props, sets, lighting cues, sound effects, make-up, costumes, and, of course, lots and lots of people, both behind and in front of the camera. It's the specific combination of costumes and human beings that can sometimes cause a surprising amount of problems for a TV show. When those elements literally move in tandem, things can go very wrong, sometimes resulting in the broadcast of images that the government has made very clear should not be broadcast on free, over-the-air network television. We're talking wardrobe malfunctions here, people. These egregious oopsies may offend the viewing public and embarrass TV performers. And, of course, they're preserved for posterity on the internet.
Here are some times when things got dicey, and some accidental, partial, near, or actual nudity made its way in television shows and televised events.
This episode of Three's Company was nuts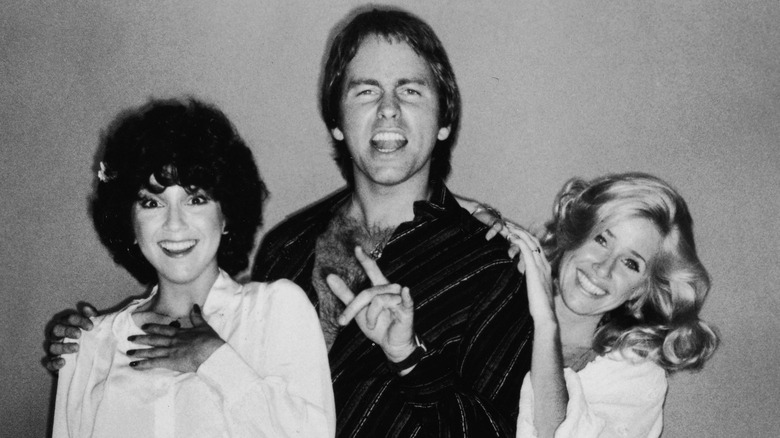 Getty Images
Today, programming that's shot and presented in high-definition, combined with the ease by which one can capture a video clip and then set it loose on the internet, means that an accidental flash of nudity isn't going to be overlooked by viewers, even if it got past network censors. In the early 1980s, however, TV wasn't as crystal clear as it is now, and while many people had a VCR at that point, it wasn't easy to disseminate footage of a particularly salacious moment. Case in point: in a 1983 episode of "Three's Company," John Ritter wore a pair of short-shorts (which were the style at the time), and when he sat on a bed, part of his scrotum briefly escaped. Evidently, nobody noticed ... until 2001, when the episode aired on Nick at Nite and an extremely eagle-eyed viewer saw that bit of offending skin. When Nickelodeon got word, the network edited the episode so that the old footage of Ritter wouldn't offend anyone going forward.
A not-so-good morning for Nicki Minaj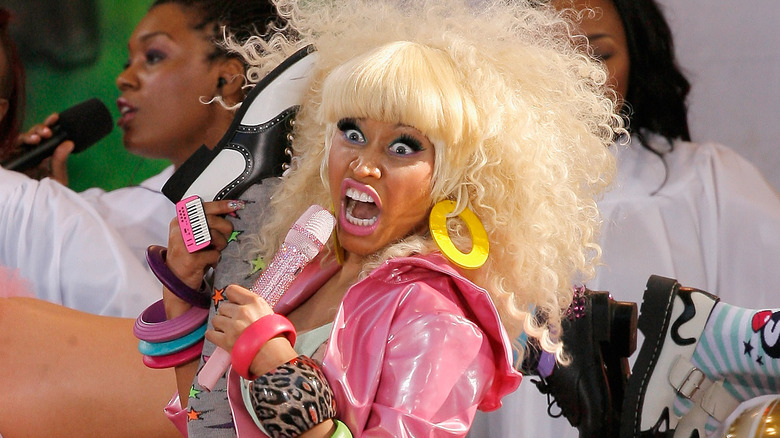 Getty Images
When musicians perform, they get in "the zone" — they get lost in the moment and focus on the performance. They're not thinking about clothes, because they're not supposed to be thinking about clothes. That mindset generally serves rapper Nicki Minaj very well, but it also made her completely oblivious when she exposed herself while rapping live on TV in August 2011. For an outdoor performance on "Good Morning America," Minaj wore the kind of outfit one expects Minaj to wear: a massive head of blond hair, a shiny pink jacket, a ton of bracelets, and a green sports bra that left little to the imagination. As Minaj performed, what was concealed under that bra became concealed no more.
When she realized what had happened, she put everything back where it was supposed to go. Minaj later apologized on ABC's "Nightline," and also denied that the wardrobe malfunction had been a publicity ploy. "I'm so sorry about that," Minaj said. "People are ridiculous if they think I would use that as a stunt."
LeBron James was too cavalier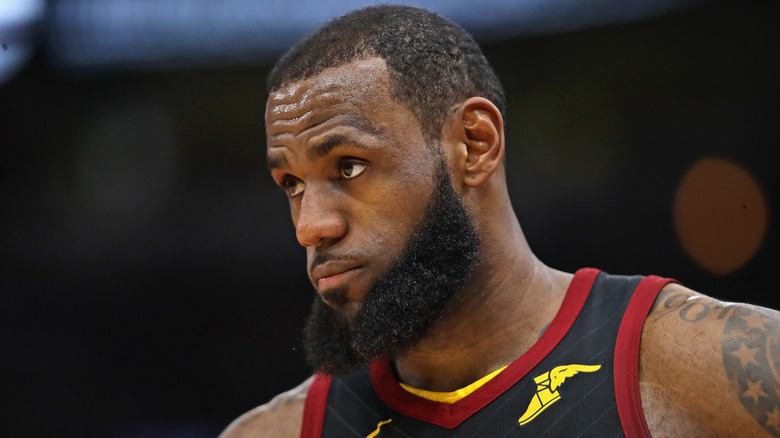 Getty Images
LeBron James simply had his head in the game, so much so that he didn't even think about how he might expose another part of his body to a huge television audience. In Game 4 of the 2015 NBA Finals, James' Cleveland Cavaliers faced off against the Golden State Warriors. Right after Usher performed the National Anthem, and right before the game was about to start, the camera focused in on James as he prepared to play, vigorously and thoroughly adjusting his jersey, shorts, and other items of clothing. There was just enough movement on the shorts — and enough time — for King James to show his penis to the world.
It wasn't James' only unfortunate incident involving a camera that night. After a play, he lost his balance and fell into a TV camera, but that time he didn't expose any private parts. (Even worse for James: the Cavaliers lost by 21 points.)
Fifty shades of embarrassing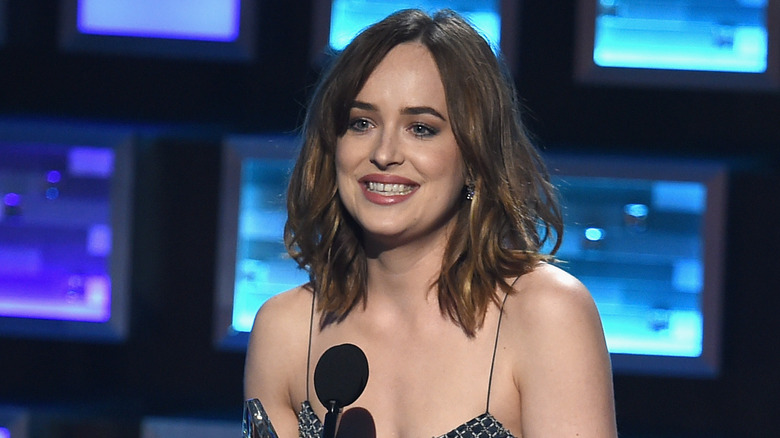 Getty Images
The "Fifty Shades of Grey" movies haven't won a lot of awards — critics trashed them — but they were very popular. The first film in particular delivered such a perfect blend of romance and riding crops that star Dakota Johnson won a People's Choice Award in 2016 for Favorite Dramatic Actress, one of the few acting awards voted on by the public at-large. Johnson took the stage at the CBS-televised event, and as she made her way to the microphone to give her acceptance speech, presenter and friend-of-Johnson Leslie Mann gave her a hug ... and in doing so broke the zipper on the back of the halter-type top of Johnson's outfit. Mann and fellow presenter Alison Brie made sure Johnson's garment didn't fall all the way off. The award-winner took it in stride, wryly referring to the movie for which she just won a trophy: "Well, it's not like nobody here hasn't already seen my boobs."
Super suit snaps then flaps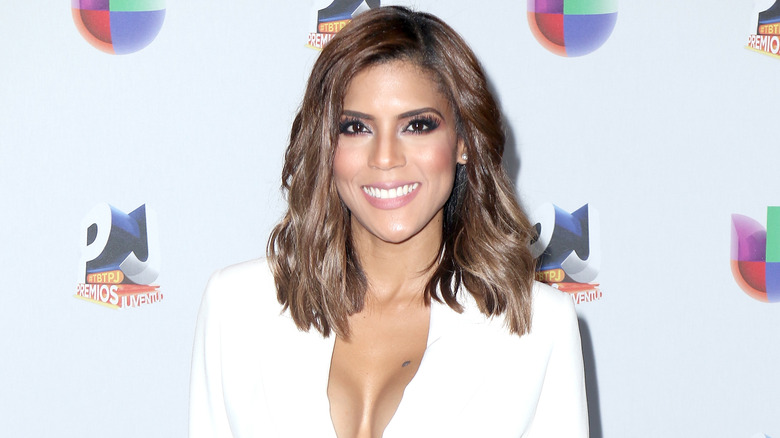 Getty Images
The whole point of a skintight article of clothing is that it's supposed to be, well, skintight. That means it should lock everything down where the wearer wants it to stay, and so that no stray body part can pop out at an inopportune time. That's probably why so many superheroes favor this adult equivalent of the one-piece garment worn by babies: no loose hanging bits of fabric to get in the way of crime-fighting (capes, of course, never get in the way).
Francisca Lachapel is not a superhero; she's an actress, beauty queen, and one of the hosts of Univision's popular morning show, "¡Despierta América!" It was for a comedy sketch on that program in October 2017 in which Lachapel found herself sporting a silly, spandex-y, turquoise, superhero one-piece. As she ran in place in front of a green-screen background, the load-bearing zipper snapped. The suit flopped loose, exposing Lachapel's pink bra to viewers at home.
Dancing with the stars...and almost without clothes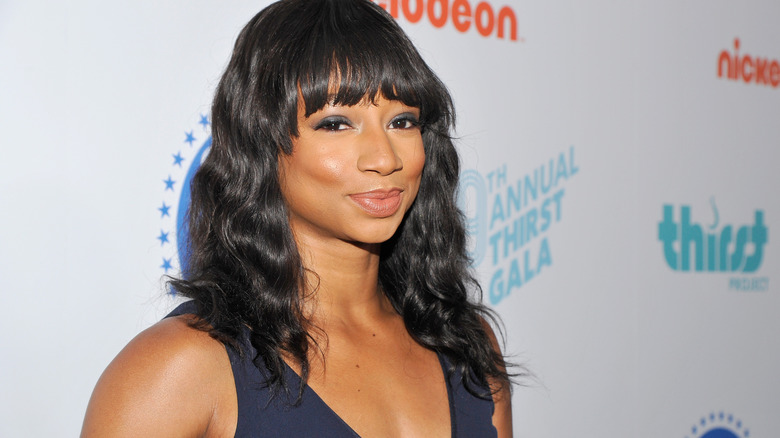 Getty Images
The unique ingredients that make "Dancing with the Stars" so popular are the same unique ingredients that make it surprising there aren't more wardrobe-related mishaps and instances of minor nudity on the long-running ABC competition series. "Dancing with the Stars" features women performing acrobatic and athletic dance moves while wearing very little clothing. It's a recipe for trouble. In 2006, Monique Coleman, best known for "High School Musical," competed on the show. While doing the jive, Coleman jumped into partner Louis Van Amstel's arms, as one does, and the heel on her shoe caught a piece of dangly fringe on her skirt. As Coleman kept on trying to dance, her shoe pulled down the skirt just a little, but enough to expose her rear end to the studio audience and millions watching at home. After the number, host Tom Bergeron quipped to Coleman, "I know that jump scared the 'everything' out of you." Coleman's reply: "It did. It scared my clothes off, apparently."
Avoiding accidental nudity with the stars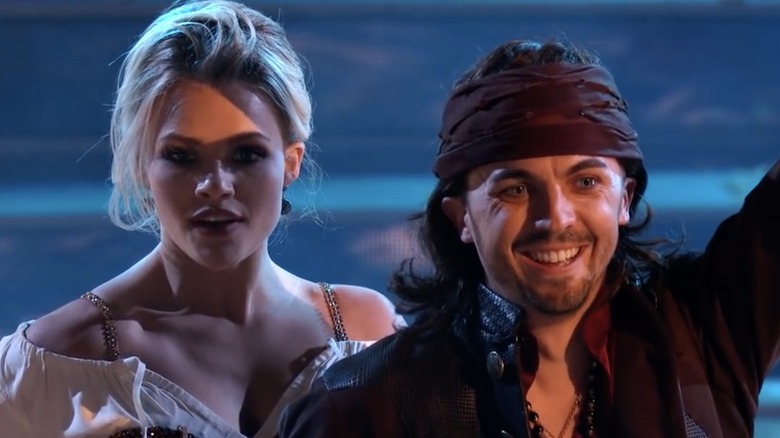 ABC
Okay, so maybe costume snafus on "Dancing with the Stars" aren't all that rare. In 2017, celebrity contestant Frankie "Malcolm in the Middle" Muniz found himself in the middle of an awkward TV moment involving his professional partner, Witney Carson. During an episode, Muniz and Carson danced a "Pirates of the Caribbean"–inspired Argentine tango. Carson has of course danced on TV many times before, but not with a heel stuck on her skirt. She had no choice but to kind of hop and spin around on one foot. "It would just not come out," Carson told People, which meant Muniz was "literally dragging" Carson through the routine. Muniz confessed he didn't actually know there'd been an accident at first. During rehearsals, he says he "messed up in that spot every single time, so we got to it, and I thought, 'Just do this last thing and we're done.'" When he realized Carson was off, he briefly thought he'd been the one that had made the error, and not some kind of skirt-shoe conspiracy.
A second X factor on The X Factor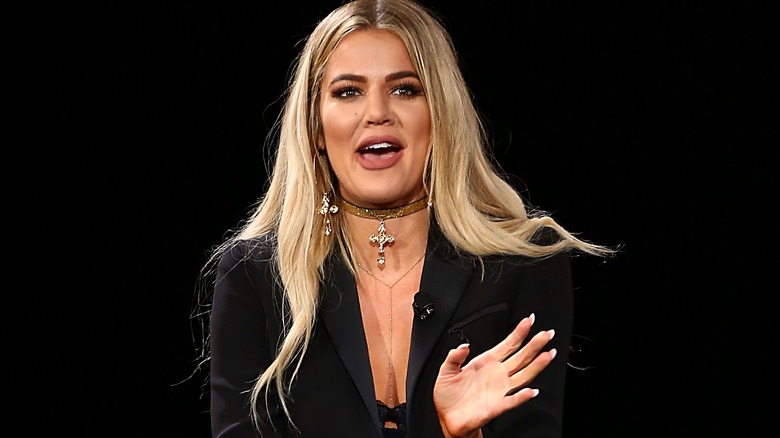 Getty Images
"The X Factor" was a huge hit in the UK, so Fox broadcast a version stateside. Singers singing shouldn't lead to too many instances of wardrobe malfunctions and/or accidental nudity ... but that doesn't factor in the hosts and their love of revealing garments. Khloe Kardashian, she of the royal family of reality TV, co-hosted with "Saved by the Bell" hunk-turned-talking head Mario Lopez. One night in 2012, Kardashian performed her "X Factor" hosting job as usual, talking about the performers, throwing to commercials, etc. All the while, the sheer top with privacy-providing panels Kardashian chose to wear did not do its job as usual. Those modesty panels didn't exactly stay in place. The end result: Kardashian's nipples were quite visible throughout an entire episode of "The X Factor." (It's not quite Kim Kardashian-levels of nudity, except that this was network television, not a private home video.)
Zip it!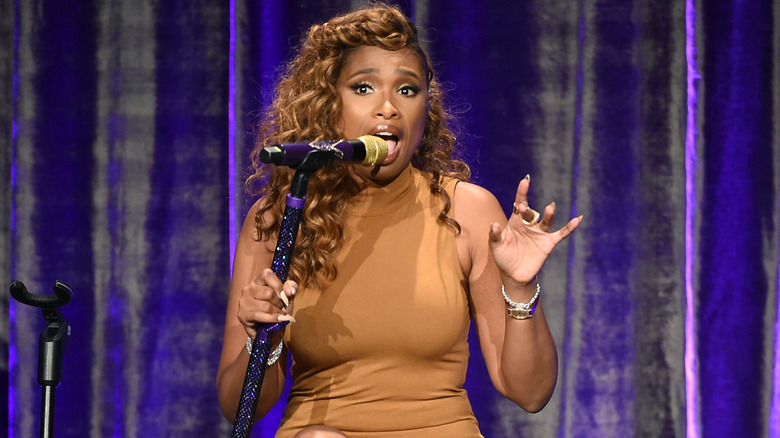 Getty Images
Jennifer Hudson made one of the all-time great career turnarounds. The magically voiced singer was eliminated early on in the third season of "American Idol" in 2004. But unlike most "Idol" also-rans, Hudson didn't fade into obscurity: she went into acting, landing a role in the 2006 film adaptation of the Broadway musical "Dreamgirls." Hudson won an Oscar on the strength of her powerful rendition of the showstopper "And I Am Telling You I'm Not Going."
While appearing as a guest on the cable talk show "Chelsea Lately" in 2013, the zipper on her skirt told Hudson that it definitely was going: as she sat down across from host Chelsea Handler, her dress burst open in the front. Fortunately, the broadcast had gone to a wide shot of host and guest so there was no close-up of the incident. Plus Handler jumped up to assist Hudson and block what needed to be blocked before things could get any worse.
It somehow survived the cutting room floor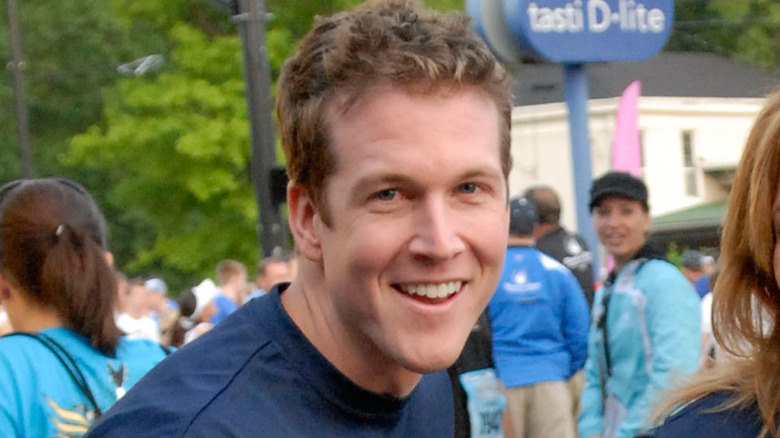 Getty Images
What do most of these television wardrobe malfunctions have in common? Most of them occurred during live broadcasts, or live-to-tape broadcasts. Pre-taped shows and events in which a zipper suddenly breaks or a private body part busts forth will likely never be seen by the public; if a director can call cut and get another take with a functioning garment, they'll go ahead and do that. Or, if it's a reality show that will air months in the future, they've got the time and technology to edit out, blur, or pixelate such offending moments.
That's why it's perplexing how a brief bit of male nudity on "Survivor" made it through the edit bay, past CBS' "standards and practices" (in other words, censors), and all the way to primetime television. During the two-hour premiere of "Survivor: Gabon" in 2008, contestant Marcus Lehman chased a giant ball during an immunity challenge ... and that's when his genitals popped out of his shorts.
A Regency Pandemic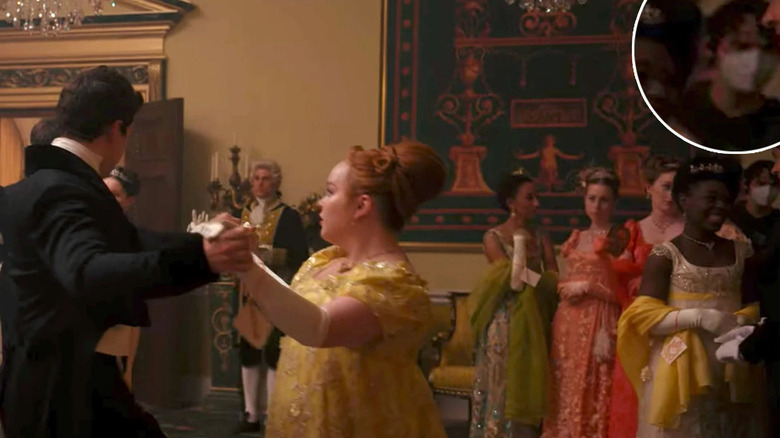 Netflix
Colin Bridgerton and Penelope Featherington, a couple of 18th-century British aristocrats set to take center stage in the next season of Shonda Rhimes' Netflix original series "Bridgerton," danced together in the Season 2 finale of the hit show. It was one of several important scenes that set them up as the dramatic leads for the next season, but some eagle-eyed fans of the show (most likely on one of their many binge rewatches) spotted an unfortunate anachronism in the background. 
In the back on the far right of the frame, you can just make out that one of the London season partygoers is wearing a disposable mask. "Bridgerton" Season 2 was filmed in the midst of the COVID pandemic and the cast and crew were probably required to keep masks on between takes in order to reduce the possibility that the set would become a super-spreader hotspot. 
It's too bad that the editing team didn't catch the masked extra, but we'd definitely prefer they keep folks safe during filming than worry about risking a mask in the background of a fun little period show that also features string-instrument covers of 21st-century pop songs.
Kelly's Ripa'd dress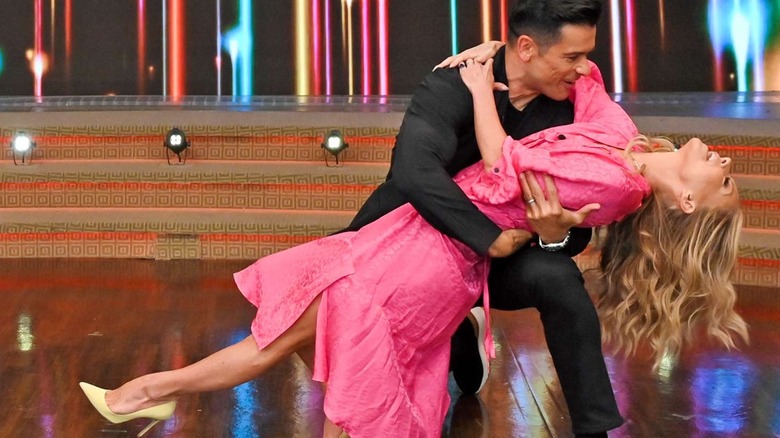 ABC
Spring 2023 has brought a change to the daytime television landscape. After the departure of Kelly's co-host, Ryan Seacrest (who hosted with Kelly for six seasons after Regis Philbin's retirement), ABC took on her husband, Mark Consuelos, as Kelly's permanent "Live!" co-anchor. In their second-ever episode as permanent cohosts on April 18th, Kelly and Mark practiced a couple's ballroom dance alongside their guests, Jenna Johnson and Val Chmerkovskiy. Turns out her wardrobe team should have put her in something a little more durable!
Kelly and Mark made a good show of practicing the dance with Jenna and Val only for Kelly's dress to rip down the back as Mark bowed her over his knee. Kelly is a consummate professional, though, and brushed off the malfunction almost immediately. "It's just a breakaway dress. Who cares!" She said, laughing with her guests and the audience. Apparently, later on, when Kelly and Mark were practicing again during a camera break, she also kicked off her shoe. There are many more hazards than one might expect in the life of a daytime television host.
Miley Cyrus's New Year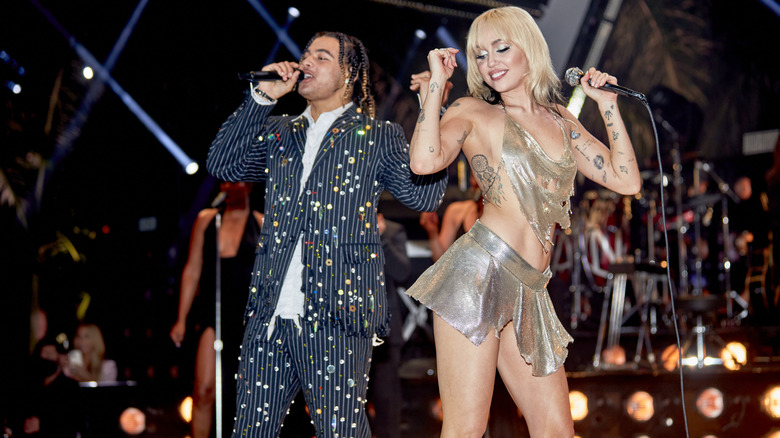 Peacock
Miley Cyrus and Pete Davidson hosted a live-streamed New Year's Eve for Peacock in 2021. It was a big hit, featured a lot of performers (like Brandi Carlile, Jack Harlow, and more), and led to a repeat venture for 2022 New Year's Eve. Cyrus is a comfortable performer and she barely missed a beat, even when her fabulous silver mesh two-piece outfit from Akna proved less supportive than planned. 
Her already-precarious top (which was designed to look distressed and partially destroyed) snapped while she performed "Party in the USA." She continued to sing while holding her top up and didn't seem nervous at all. She handled it like a seasoned pro and her team was onstage minutes later to help facilitate a makeshift costume change for the singer. Cyrus wore an oversized blazer with nothing underneath for the rest of the night and the show was (and still is considered) a huge success.
Tom Daly loses his shorts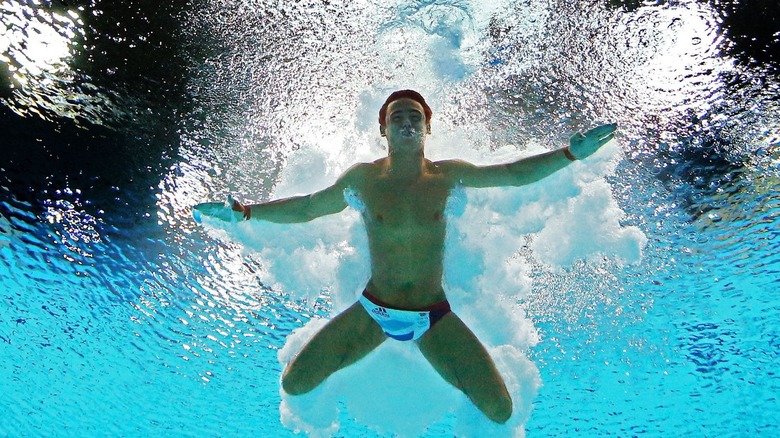 NBC
Obviously, jumping off of a plank of thick plastic that sits at least 10 meters above a swimming pool is going to come with bodily risks. Because they need to make it look spectacular as well, divers are often not focused on anything except controlling every part of their body, so it's not uncommon to see divers lose their trunks after a powerful dive. Tom Daley, an Olympic gold medalist from Britain, has experienced it several times on live television, most notably during a televised diving event in 2015. 
Daley, like many Olympic athletes, has attracted many amorous fans thanks to his charming good looks and winning attitude, but that doesn't mean it's not still difficult to deal with the public exposure of his bum on a regular basis. "As a diver, you're up on the diving board and you're so naked, so visible, so it's quite hard to be content with your body, because you always want to be better," said Daley on the "Table Manners" podcast. 
Camila Cabello on The One Show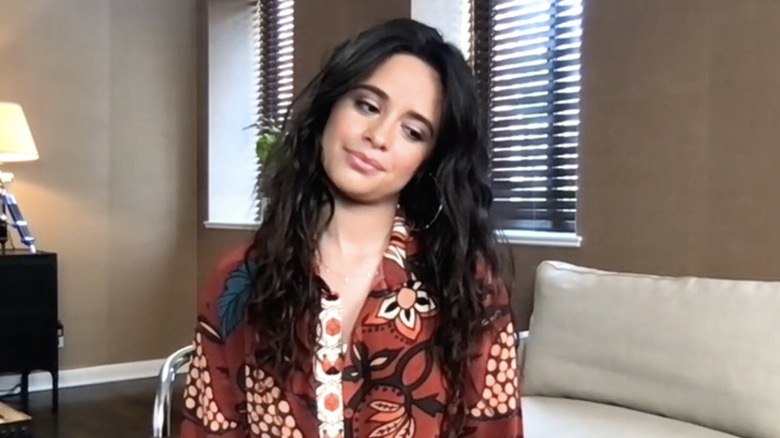 BBC
Singer and performer Camila Cabello appeared as a guest (remotely via Facetime) on BBC-1's "The One Show" in 2022 to promote her then-new single. One of the show's hosts, Alex Jones, asked Cabello to perform her favorite dance move from the "Bam Bam" video she had recently collaborated on with fellow performer Ed Sheeran. 
Unfortunately, Cabello's button-down shirt was loosely secured and she accidentally flashed a nipple as she readjusted herself to stand up and do the move. Thankfully, society has moved forward quite a bit from the barrage of shaming that Janet Jackson received after her own accidental nipple reveal during the 2004 Super Bowl halftime show. Cabello was able to laugh it off with Jones and Alan Carr, the show's other guest. 
Cabello mentioned on air that her mother was probably in the next room "probably freaking out about" her daughter's wardrobe malfunction.
Sarah Jessica Parker's torn sleeve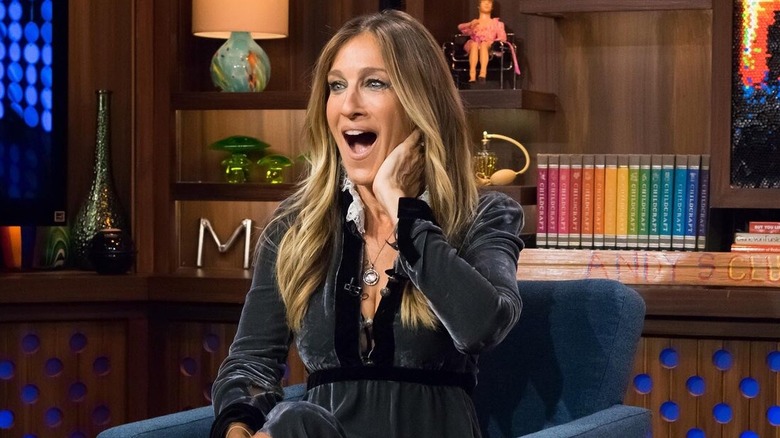 NBC
Anything can happen on "Watch What Happens Live" with Andy Cohen. People fight, tea is dropped, and fashion icons suffer awkward wardrobe malfunctions. Sarah Jessica Parker, famed "Sex and the City" actress, has appeared on "Watch What Happens Live" a few times, and during her 2016 spot on the show, she came out donning a blue, velvet Alberta Ferretti number. Unfortunately, she was also sporting a big rip in the sleeve of the dress.
Sarah Jessica Parker's "Sex and the City" character Carrie Bradshaw experienced many of her own wardrobe-related snafus on the HBO show, and it seems like they probably gave Parker the confidence to carry on through awkward moments in her own life, as she proudly displayed the tear to Andy Cohen and his audience. Parker also took the time to protect the dress's designer, saying, "This in no way reflects on the House of Ferretti."
Blake Lively doesn't sweat it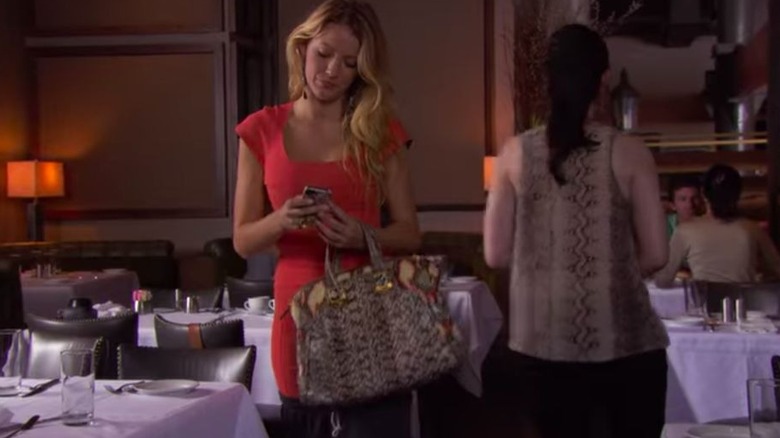 HBO
"Gossip Girl" is a TV show known for its outlandish plots, outrageously wealthy characters, and impeccable (and nearly always impractical) fashion. The actors who worked on the show have all had their share of ultra-glam moments in their lives as Hollywood stars, but even "Gossip Girl" actors like Blake Lively and Leighton Meester don't spend as much time dressed in uncomfortable couture as their on-screen counterparts, Serena van der Woodsen and Blair Waldorf. 
"Gossip Girl" set photos were known for showing the actors dressed in clashing sweatpants and jackets between takes in order to stay warm, but for the most part, they managed to present a cast of characters who seemed to hate comfortable, weather-appropriate garb. Except in Season 6, Episode 4, of course, where Lively's Serena is shown wearing black sweatpants under a very tight, salmon-pink day dress. 
Fans of the show spotted the sweatpants in a wide shot of Serena as she stood texting someone in the middle of a fancy restaurant. Most likely, the people shooting the scene assumed that the editing team would crop the show so that folks were none the wiser to Lively's temperature hack.
Mariah Carey's strap snap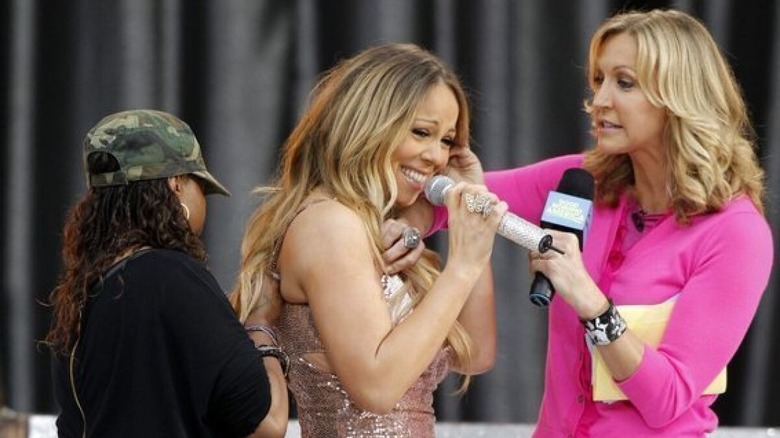 ABC
Mariah Carey appeared on a 2013 episode of Good Morning America to give a live, outdoor performance. Carey was wearing one of her signature body-hugging, sequined frocks the color of rose gold and, in this particular case, designed by Versace. Just as she was about to begin her performance after a glowing introduction from GMA host/correspondent Lara Spencer, one of the straps on Carey's dress snapped.
It's not too difficult to find a clip of the wardrobe malfunction moment on YouTube. Carey was certainly taken aback by the snap, actually swearing into the mic as it happened, but Spencer immediately reassured her and held up the broken strap, and someone from the wardrobe team was onstage in moments to fix the issue. Carey caught her dress before revealing any skin that wasn't already showing, and the performance went on a few minutes later.
Given Carey's diva reputation, it seems like everyone on hand at GMA that day was prepared to support her through any potential snafus and they did a great job handling what could have easily been a much bigger problem.
Lil Nas X performs on SNL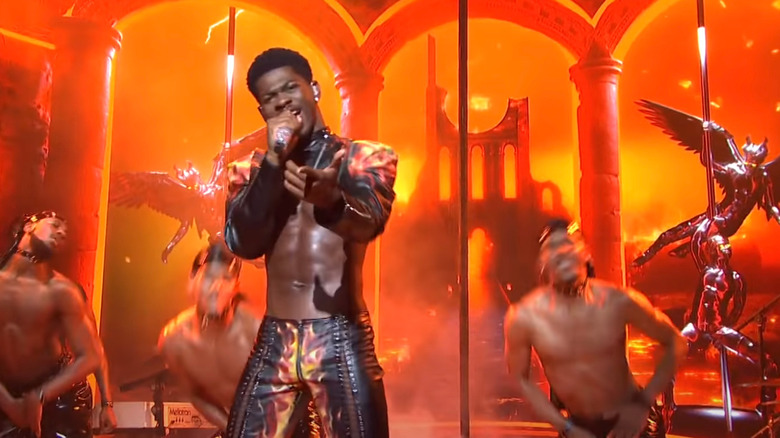 NBC
Lil Nas X shot to a new level of success in 2021 with the release of his hit album, "Montero." It was no surprise that Lil Nas was invited to perform on Saturday Night Live as the musical guest for the Season 46 finale hosted by Anya Taylor-Joy. 
During his performance of "Montero (Call Me By Your Name)," which is one of the raciest tracks on the album, Lil Nas wore a very low-cut pair of leather pants decorated with flames and a matching hyper-cropped motorcycle jacket that showed off his entire chest and abdomen. The song, wardrobe, and choreography were all impeccable and well-coordinated, but unfortunately, Lil Nas committed a little too much thrust to his dance, causing his pants to rip right down the front of his inner thigh.
Lil Nas kept his pants up and together for the duration of the performance, but later on, after the song was over, he Tweeted, "NOT MY PANTS RIPPED ON LIVE ON TV. OMFG NO. I wanted to do my pole routine so bad this what i get lmaoo."
Ryan Seacrest's many malfunctions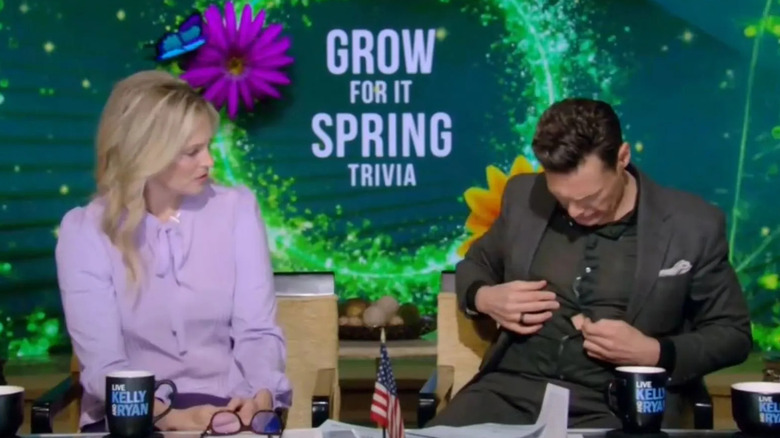 ABC
Kelly Ripa may have had the most recent wardrobe malfunction on ABC's "Live!" but Ryan Seacrest holds the record for the total number of wardrobe mishaps ever had on the show. Seacrest, who hosted "Live!" with Kelly Ripa for six seasons (he recently left the show this past year), had more than a few wardrobe malfunctions during his tenure. 
Seacrest discovered that his tight button-up shirt was being reinforced by duct tape during a broadcast of the show alongside Kelly Ripa's fill-in, Ali Wentworth. A few months before that, Seacrest's button had popped off as he was introducing a segment, and it's likely his team wanted to avoid another incident. Seacrest seems to like his clothes very tight, and as a result, he's lost multiple buttons, acknowledged several gaps of exposed skin, and even torn his pants over the course of his six seasons as  "Live!" co-host. 
It's unclear if Seacrest's many wardrobe mishaps contributed to his decision to leave the show, but it does seem like the universe was trying to tell him something.