What Songs Were Featured In Yellowstone's Midseason Finale?
Now mid-way through Season 5, Paramount's time-slot-dominating primetime cowboy-soap "Yellowstone" shows no signs of losing a TV audience ravenous for its proven mix of intrepid western ranch owners versus the corruption and greed of basically the rest of the entire non-ranching world.
An instant hit with viewers, the series chronicles the exploits of patriarch John Dutton (Kevin Costner) and his immediate and extended families as they battle to hang onto a cattle-raising Montana spread the size of a small Eastern U.S. state. Fueled by often super-charged interpersonal drama among the Dutton clan and beyond, the series also incorporates political machinations ranging from local issues concerning land rights on the ranch all the way up to John Dutton's recent move into the Montana governor's mansion. As with any contemporary TV undertaking, "Yellowstone" backstops its action and drama with a musical score drawn from a variety of chart-topping popular musical names, as well as the occasional classical music entry. In this respect, the series' midseason finale episode boasts a number of recognizable names and songs.
Yellowstone's recent episode features some fave country music performers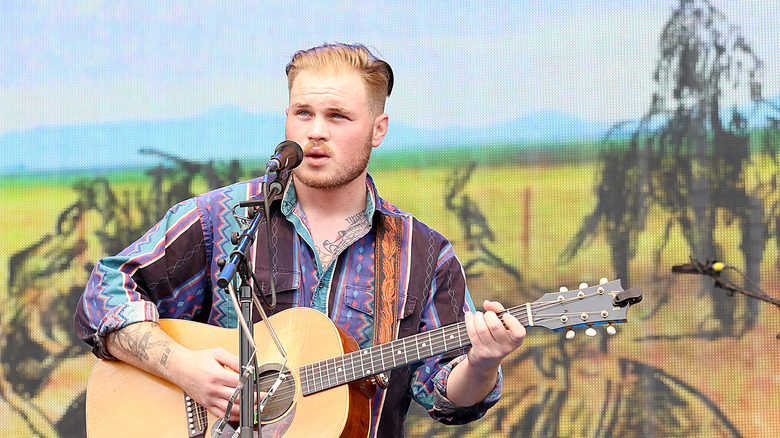 Gary Miller/Getty Images
During Season 5 of "Yellowstone," fans have heard songs from artists including Robert Earl Keen, Dolly Parton and, confirming the show's eclectic musical tastes, Fredrick Chopin, whose "Nocturne Opus 9-1 in B-Flat Minor" played during an interlude at the show's Deerfield Club Lounge in the episode "The Sting of Wisdom" (per SavingCountryMusic.com). As for the midseason finale, songs from artists including Flatland Cavalry and L.A. Edwards were part of the mix.
But one country music phenom in particular had a stellar midseason showing as singer-songwriter Zach Bryan turned the "The Dream Is Not Me" episode into his own personal showcase. Toward the conclusion of this seventh installment of the current season, Bryan and his band were seen providing the tunes at the county fair. And while many musicians might find their working relegated to providing a sonic backdrop for the action in a given scene, Bryan and his music more or less take center stage in this installment. Seen performing live in the county fair scenes, Bryan's songs in the episode include "Motorcycle Drive-By," "Quittin' Time," and "Summertime Blues" (via SavingCountryMusic.com).