What Elsa's Voiceover Meant In The 1923 Premiere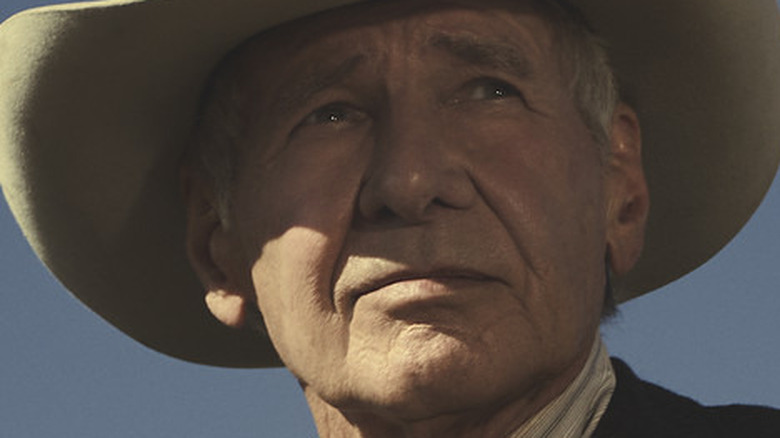 James Minchin III/Paramount+
Contains spoilers for "1883" Season 1, Episode 10 ("This Is Not Your Heaven") and "1923" Season 1, Episode 1
As fans of "1883" are aware, James Dutton (Tim McGraw) and his wife, Margaret (Faith Hill) ride from Tennessee to Montana with their two children, Elsa (Isabel May) and John, nicknamed "Jack" (Audi Rick). They make the difficult and arduous journey because they are seeking a better life, but by the time they arrive in Montana many in their traveling party have died, including Elsa. While the family is grieving the loss of their daughter, they decide to settle on the land where she dies. In a moment of deja vu, the tree she took her last breath under would become the scene of the saddest death in "Yellowstone" Season 1.
Viewers were devastated by Elsa's arc, as so much of the series had revolved around her. Many fans had been convinced that, after falling in love with Ennis (Eric Nelson) and losing her virginity to him, the family would discover she was pregnant by the end of the season. Unfortunately, that wasn't the case and Ennis also died, trying to protect them. "We could have conquered the world together," Nelson told TV Insider. "But it wasn't in the plans." He also went on to praise the realistic portrayal of the time period. "We just see how quickly things can change, and so you can't take a single second or day for granted," he said. 
Just as she took viewers on the family's perilous journey to Montana in "1883," Elsa will be narrating her family's journey even beyond death, foreshadowing what's to come for the remaining Duttons.
Elsa ominously explains that violence and the Duttons are intertwined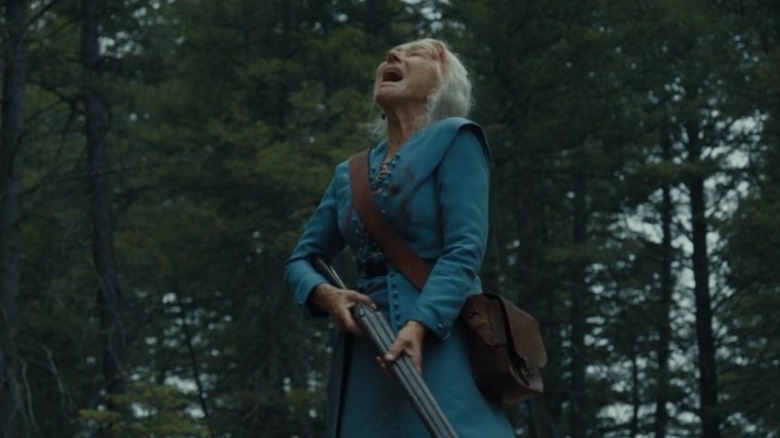 Paramount+
The "1883" season finale ends with Elsa reuniting in death with Sam (Martin Sensmeier), the Comanche man she fell in love with after Ennis died. While the pair race through the plains Elsa's voiceover explains that "There is a moment where your dreams and your memories merge together and form a perfect world. That is Heaven." Elsa may be gone, but isn't quite done talking about her family, or the difficulties they face.
"1923" opens with the same brutality that we've long begun to associate with the "Yellowstone" universe, and it doesn't waste time with silly introductions, but immediately jumps into action. We start with an unknown man limping and trying to run, obviously having been shot in the leg. We quickly realize that he's not supposed to be on the Dutton land, and any sympathy we have for him dissipates when we realize he's about to shoot our protagonist, Cara Dutton (Helen Mirren). While she screams in anguish after killing him, it's clear she's done this before.  A voiceover by Elsa begins ironically with the statement, "Violence has always haunted this family" reminding us that this sentiment is kind of the Dutton's motto. Cara, like the Duttons before and after, isn't afraid to do what's necessary for the ranch and family.
We learn that one Dutton son will die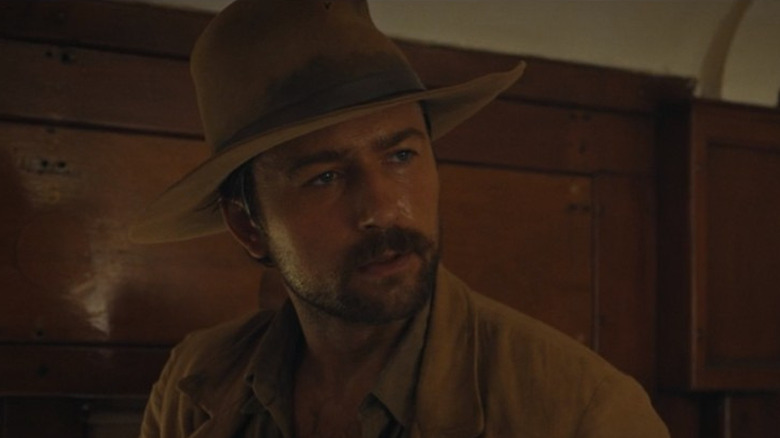 Paramount+
From Elsa's voiceover we then learn the tragic fate of her parents, James and Margaret, and that a second son, Spencer, was born. After their deaths, James' brother Jacob (Harrison Ford) and his wife Cara "raised them as his own, then took my father's dream and made it into an empire." Viewers are given a major clue as to what "1923's" plot is when she states that "My father had three children. Only one would live to see their own children grown." While the season begins with both brothers alive — Spencer (Brandon Sklenar) in Africa and John Sr. (James Badge Dale) about to oversee his son's wedding — we now know one won't survive the season.
But despite getting a hint about what's to come, fans may want to take it with a grain of salt. Taylor Sheridan is known for his lack of warm, fuzzy endings, and for taking storylines places no one expected. It's never what you think, and [the other shows] we have coming up this year, there's never anything that's on the nose," producer David Glasser told The Hollywood Reporter about the "Yellowstone" world. "Taylor believes in dropping you right into a world, and you're going to be immersed in that world, and whatever you think is going to happen is not going to happen."