Mark Harmon Is 'Still Very Present' On The NCIS Set, According To Diona Reasonover - Exclusive
Michael Tullberg/Getty Images
It was a tough pill to swallow when Mark Harmon left "NCIS" in 2021 after 19 seasons on the popular show.
As supervisory special agent Leroy Jethro Gibbs, the veteran actor was a leader both on screen and off, leaving behind a legacy that won't soon be forgotten. In fact, "NCIS" co-star Diona Reasonover, who plays forensic specialist Kasie Hines, says the star is "still very present" on the set, even though he's no longer in front of the cameras.
On the series, which is currently airing its 20th season Mondays on CBS, Harmon left things open-ended when his character decided on a whim to stay in Alaska and retire after pursuing what was his last case. Despite exiting in the fourth episode of the 19th season, he remained in the cast credits until Season 20 premiered, and he's still an executive producer of the show.
So, is there a chance Harmon will return to the series in the future? Reasonover shared her thoughts during an exclusive interview with Looper.
Reasonover is really hoping Harmon appears on NCIS again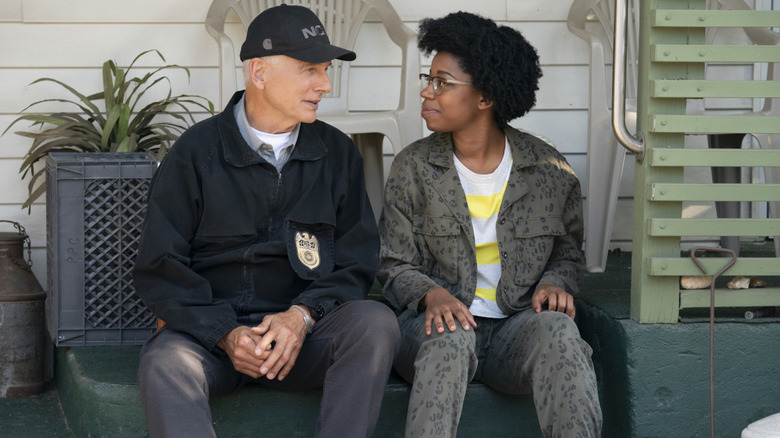 Erik Voake/CBS
As the patriarchal leader of the NCIS, Mark Harmon saw a lot of action on the show, which follows the highly trained Washington, D.C.-based team of agents who investigate crimes connected to Navy and Marine Corps personnel. He and Diona Reasonover had a great on-screen relationship as Gibbs and Hines, and that camaraderie flowed off screen too.
"Mark is so funny," said Reasonover. "He's always super respectful when you're doing your takes, but he's also very funny. He has a very natural sense of humor that cracks you up. [He's] such a sweetheart. I always call him the quarterback of our show, which is not exactly original because he is literally a quarterback. But he is an amazing leader, and I do miss that. I miss it so much."
Still, Reasonover revealed that Harmon comes to the "NCIS" set even now that he's hung up his badge. "He's still there," she said. "He still comes. He came to tell me how much he loved the ['Turkey Trot'] script [that I wrote]. I'd love to think that I am the sole reason he drove up. I don't know if that's true, but he definitely is still very present."
As for whether fans will see Harmon return as Gibbs anytime soon, Reasonover is holding out hope, just like many "NCIS" fans out there.
Season 20 of "NCIS" airs Mondays at 9 p.m. ET/PT on CBS.