Tom Cruise Thanks Top Gun Fans While In Free Fall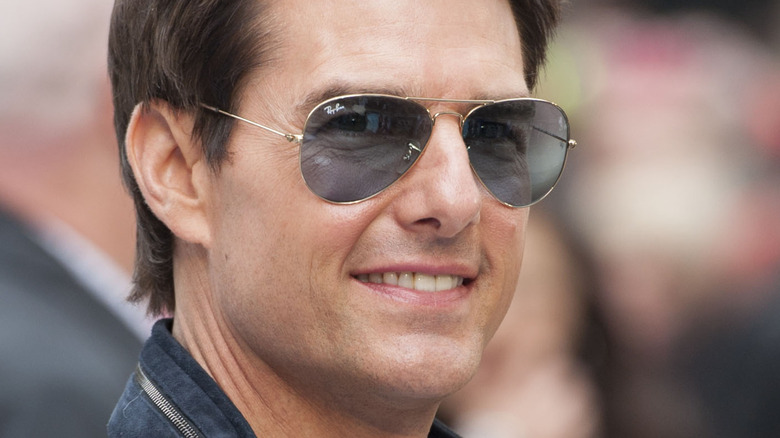 Featureflash Photo Agency/Shutterstock
It's no secret that "Top Gun: Maverick" has had an absolutely massive year at the box office. In fact, it is on track to close out 2022 as the highest-grossing movie of the year, domestically and worldwide (via Box Office Mojo). Whether it can hold on against "Avatar: The Way of Water" as the definitive winner of the year remains to be seen, but the fact of the matter is that "Maverick" has earned its place as a bona fide blockbuster by breathing new life into Cruise's beloved action classic from 1986.
That success is clearly not lost on the film's star, Tom Cruise. In fact, while the actor is still in the process of filming "Mission: Impossible – Dead Reckoning," he took a break from filming to shoot a quick thank you video to "Top Gun" fans, expressing his gratitude for their support and wishing them a happy holiday season. In true Cruise fashion, the video continues to prove his status as one of the great all-time action icons and stunt performers by having him deliver his thank you while in free fall.
Tom Cruise jumped out of a plane to thank fans for supporting Top Gun: Maverick
Tom Cruise has had little time for rest in 2022. Between the massive blockbuster success of "Top Gun: Maverick" and the continued work on the seventh and eighth installments in the "Mission: Impossible" franchise, he has kept himself quite busy. However, a video was recently shared to the "Top Gun" Twitter account, in which the actor takes a moment to thank fans for supporting "Top Gun: Maverick" and helping catapult its enormous success. However, Cruise is known for his stunts these days, so this video could not be filmed with him simply sitting at a desk.
The video begins with Cruise sitting in a plane and thanking audiences for their support of "Top Gun." Eventually, the camera pans over to find director (and longtime Cruise collaborator) Christopher McQuarrie sitting beside the actor, telling him that they have to get back to shooting –- at which point Cruise hurls himself out of the plane and continues his speech.
Addressing the camera, the actor says (mid-freefall), "Thank you for supporting 'Top Gun: Maverick' and thank you for allowing us to entertain you, it truly is the honor of a lifetime. Very lucky ... You have a very safe and happy holiday. We'll see you at the movies." From there, the actor spins off into the distance, presumably on a quest to film yet another outrageous stunt to support his upcoming action franchise.
This is not Tom Cruise's first stunt to promote Mission: Impossible - Dead Reckoning
At this point, Tom Cruise has practically made a hobby out of pulling wild and crazy stunts on the set of "Mission: Impossible – Dead Reckoning" and filming them for fans' enjoyment. In fact, this is not the first major aerial stunt he has pulled off behind the scenes to generate excitement for his projects. At CinemaCon 2022, he delivered a similar video (via Paramount) to audiences that was later rolled out to social media.
In the video, Cruise appears on top of a biplane traveling over South Africa. He laments not being able to attend CinemaCon in person but shares his excitement for the project. Chris McQuarrie then joins him from the cockpit of an accompanying aircraft and informs Cruise that they are losing light and need to get back to work, at which point Cruise agrees, turns to the camera, and once again utters the "see you at the movies" catchphrase to the camera. While we still know very little about the overall plot of "Dead Reckoning," it's clear that the upcoming "Mission: Impossible" sequel (along with the successful "Top Gun: Maverick") is part of Cruise's continued commitment to preserving the theatrical experience for fans.