Avatar: The Way Of Water Fans Foresee A Budding Romance Between Spider And Kiri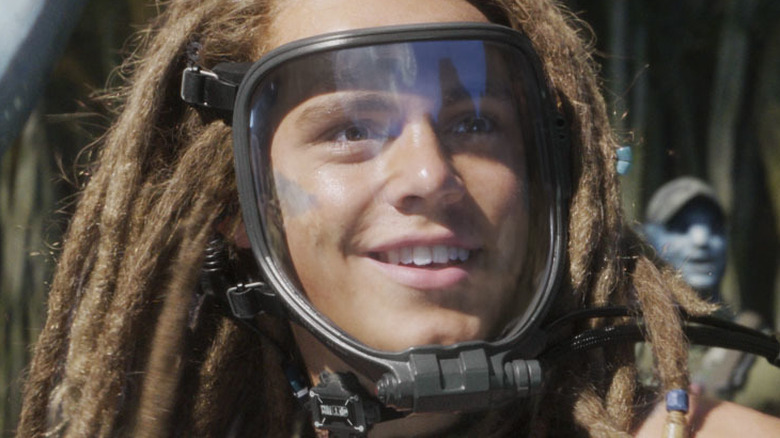 20th Century Studios/Disney
"Avatar: The Way of Water" introduces a new crop of characters to the ever-expanding world of Pandora. While much of the film does focus on the returning Jake Sully (Sam Worthington), Neytiri (Zoe Saldaña), and Colonel Miles Quaritch (Stephen Lang) from 2009's "Avatar," the majority of the James Cameron-directed sci-fi fantasy epic follows Sully's children and their new found friends from the ocean-dwelling Metkayina tribe. But, as interesting as it is to see how Sully's biological family — consisting of Lo'ak (Britain Dalton), Neteyam (Jamie Flatters), and Tuk (Trinity Jo-Li Bliss) — adapt to their new home, possibly the most intriguing of these new additions are not genetically linked to Sully's family whatsoever. 
Kiri (Sigourney Weaver) and Miles "Spider" Socorro (Jack Champion) were easily some of the greatest highlights of "Way of Water." The orphan children of Dr. Grace Augustine (Weaver) and Colonel Miles Quaritch (Lang) respectively, both characters were some of the most compelling additions to the cast and had great chemistry together. The chemistry between the two characters is so strong, in fact, that fans see the two being more than friends in the future. 
Are Kiri and Spider to be or not to be?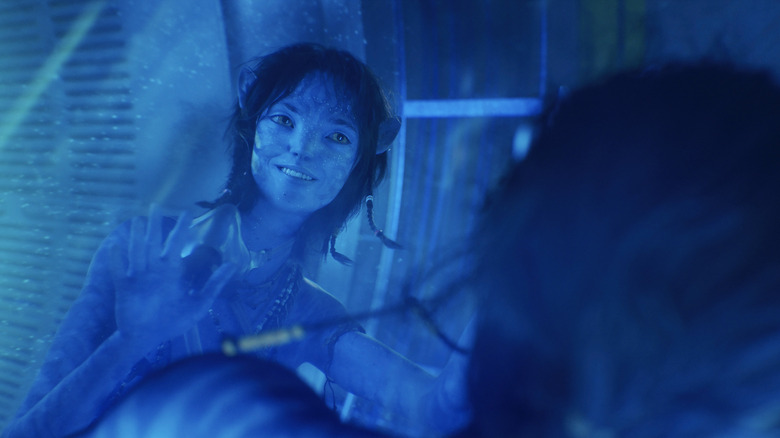 20th Century Studios/Disney
Kiri and Spider are established as having an especially close bond in "Avatar: The Way of Water," providing not only much of the three-hour blockbuster's beating heart, but also birthing immense intrigue from fans. Their closeness has piqued the curiosity of fans, wondering what the two will become in "Avatar 3" and beyond. 
A Reddit thread created by Redditor u/HerAttemptPending about the character of Spider saw a comment from Redditor u/HerAttemptPending asking the group, "To you, does it seem Kiri and Spider are more brother-sister or set up to be romantic?" The question was met with a series of passionate responses. Some took a more neutral stance on the subject, such as Redditor u/juesea who said, "I think Spider will definitely have a close relationship with Kiri. There are many parallels to be drawn between them. Both have strained relationships with their parent, and feel weird/like outsiders." 
However, others like u/whatudontlikefalafel remain skeptical, saying, "Their relationship is not necessarily romantic, but Kiri cares about him a lot and is very comfortable with him." On the other end of the argument, u/JurassicGinger fully ships the two, saying, "I'm thinking romantic eventually. They both are fish out of water and they share so many tender moments that right now are more friendship. But hinting at something more." Thankfully, it's not only fans who want to see the relationship grow. 
Spider and Kiri's relationship is crucial to the saga moving forward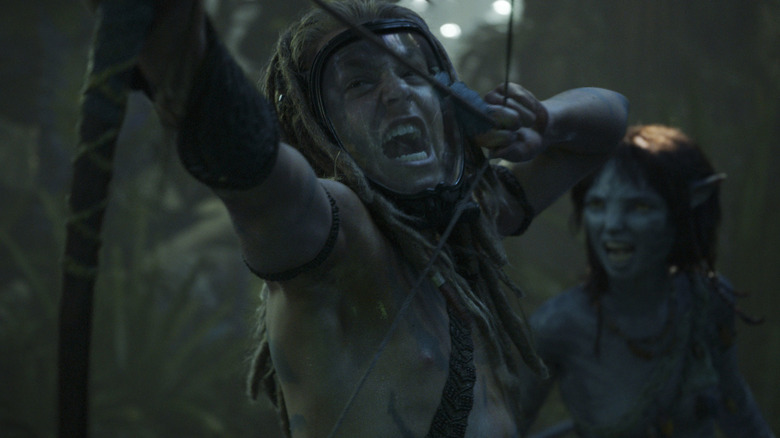 20th Century Studios/Disney
Spider and Kiri offer a lot of intriguing possibilities when looking at the upcoming "Avatar" sequels. The personal struggles of both characters, who face their own difficulties in accepting themselves given their human heritage, as well as both having unknown parents open plenty of doors to places to take the characters on their own. But having them overcome their hurdles together, while also possibly helping put an end to the war between the Na'vi and humanity, could bring out an unexpectedly emotional conclusion to their arcs, and the greater story "Avatar" hopes to present. 
In an interview with Collider, Sigourney Weaver described how much Kiri's relationship with Spider means to the future, saying, "I don't see that he's human. He doesn't see that I'm Na'vi ... So, I love that friendship and I think it's an important relationship for the saga." 
Spider actor Jack Champion also says that his character, "considers himself one of the Na'vi people, even though he's a human" (via The Hollywood Reporter). Spider certainly still has a lot to learn from Pandora. Still, one thing is for certain: regardless of whether his relationship with Kiri turns romantic, they will always stand by each other to take on their challenges together.