Quentin Tarantino Confirms He Wrote An Inglourious Basterds Role Specifically For Adam Sandler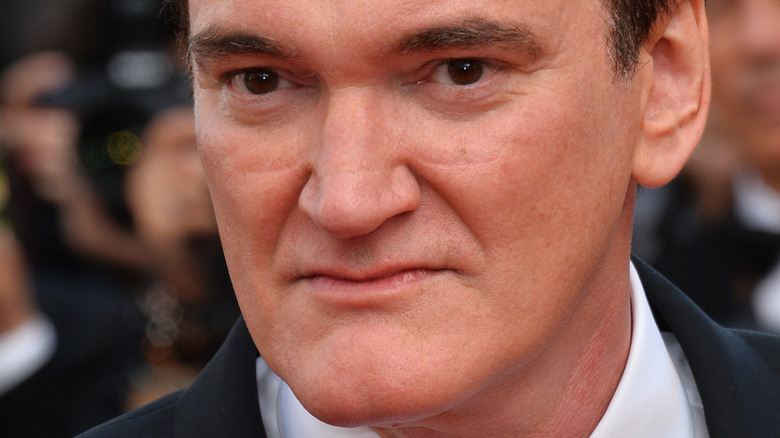 Featureflash Photo Agency/Shutterstock
Throughout his career, Quentin Tarantino has worked with some of Hollywood's most prominent stars. For his debut feature "Reservoir Dogs," the film buff-turned-creative managed to bring industry veteran Harvey Keitel on board for a knockout performance. He later assembled a motley crew of talent for his sophomore flick "Pulp Fiction," which featured heavyweights Samuel L. Jackson, Bruce Willis, Uma Thurman, and John Travolta in a career-defining role that saved his career. After nabbing an Oscar for his second feature, the likes of Robert De Niro, Leonardo DiCaprio, Jamie Foxx, and Lucy Liu all lined up to work with the celebrated director.
While it may look like there's no shortage of A-listers who are ready to work with the auteur, there are several instances of actors who simply couldn't work with Tarantino, for various reasons. Perhaps one of the biggest misses in Tarantino's career is not being able to work with funnyman Adam Sandler, whose screen exploits include comedic classics such as "Happy Gilmore" and "The Wedding Singer."
The two couldn't make it work but Sandler's DNA is all over one of Tarantino's most iconic characters. In a recent interview, the director revealed that an "Inglourious Basterds" role was written specifically for Sandler.
Adam Sandler couldn't work with Tarantino because of scheduling conflicts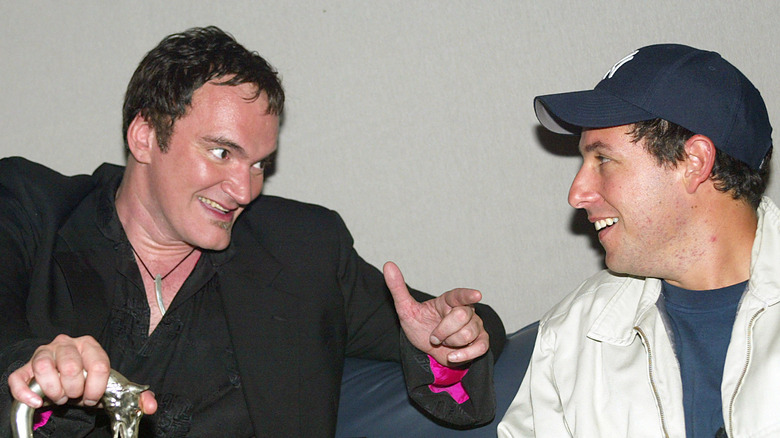 Kevin Winter/Getty Images
Quentin Tarantino recently appeared on Bill Maher's "Club Random" podcast, where he confirmed that the character of Sergeant Donny Donowitz, commonly referred throughout "Inglourious Basterds" as the "Bear Jew," was written for "Billy Madison" actor Adam Sandler. Sandler first got word of the character when Tarantino stopped by the set of "Little Nicky" to film a brief cameo.
Joining Maher on the podcast was co-interviewee Judd Apatow, who directed the Sandler-starring "Funny People" in 2009. With Sandler signed on to star in Apatow's comedy nearly two years before the start of production, Tarantino wasn't able to bring the "Mr. Deeds" actor on board for his war epic. "I feel bad because when I did 'Funny People' with Sandler, I wasn't aware that that was the exact time you were trying to use him for 'Inglourious Basterds,'" Apatow told the "Kill Bill" director. Tarantino replied by saying Sandler was better suited for "Funny People" because it featured archival footage of the comedian and director, which made the comedy more sentimental.
"But yeah, the Bear Jew was going to...I wrote the Bear Jew for Adam Sandler. When I was doing 'Little Nicky,' he's telling me like, "Oh man, I get to [expletive] beat up Nazis with a bat?" Tarantino said, confirming that the part was written specifically for the "Uncut Gems" star. The director continued by discussing how enthusiastic Sandler was when he was first revealed details about the Bear Jew. "[Expletive] script! [Expletive] awesome! I can't [expletive] wait! I can't [expletive] wait!"
The role eventually of the Bear Jew eventually went to Eli Roth.