Avatar: The Way Of Water's Sam Worthington Offers His Own Take On The Unsettling Underwater Training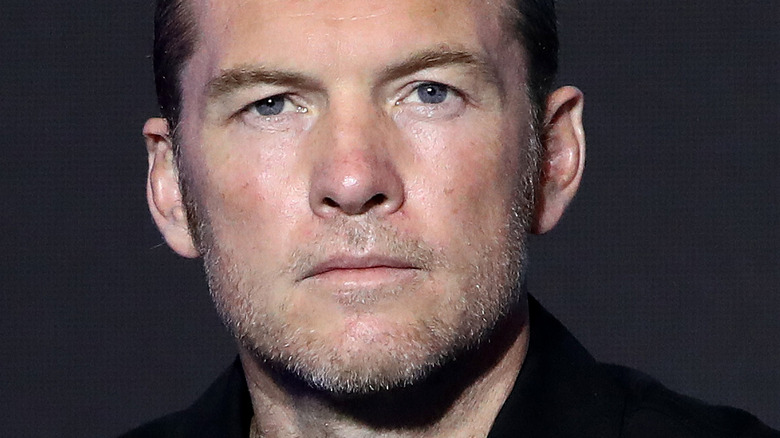 Chung Sung-jun/Getty Images
Audiences are ready for another Pandora adventure, and director James Cameron is more than happy to oblige. The filmmaker will be debuting the long-awaited sequel, "Avatar: The Way of Water," 13 years after the original became an instant box-office success. Its story sees Jake (Sam Worthington) and Neytiri (Zoe Saldaña) building a family as they respect Na'vi traditions; dangers from the past threaten their way of life as the couple fight side-by-side with new allies.
Bringing the new project to theaters became a monumental effort for Cameron. Years of writing and delays pushed filming on the sequel to 2017. At that time, the notable filmmaker put together some of the industry's most cutting-edge techniques and visual effects to bring his vision to life; it also took some unique production aspects that would push the "Avatar" cast to their limits.
One of the most demanding parts for the cast came in the form of a giant tank that could hold over 250,000 gallons of water. Measuring over 30 feet deep, this enormous set provided the perfect spot for special performance capture suits. The tank additionally gave Cameron a chance to control every detail — something he couldn't do in an ocean setting (via Newsweek). All of this made actors go past the usual comfort level, which is something Worthington has definitely thought about.
Worthington thought of it as a challenge
Sam Worthington is one of the original cast members to return for this second outing; the "Avatar" franchise established the actor, introducing him to a worldwide audience. However, he had to overcome some surprising challenges in "The Way of Water" while showing devotion to his character. Doing extended takes underwater meant the cast had to do extraordinary things — balancing the demands of a worthwhile performance with the all-too-real fears of drowning. The actor said it was a scary experience while speaking to reporters during the film's international press tour.
Some of the more notable moments in "The Way of Water" included scenes that focused on the character's relationship with his sons. Worthington described the lack of communication between the on-screen male family members as heartbreaking. The addition of an element of danger only raised the stakes in each emotional moment. "It's hard enough to do on land and we put it underwater where your oxygen is depleting and it's kind of risky, but that's what Jim [Cameron]'s good at," Worthington told GQ.
For the actor, Cameron's approach is geared toward two groups — audiences and creatives; the former has benefitted from decades of Cameron creations ranging from "Titanic" to "Terminator 2: Judgment Day." Now, "Avatar: The Way of Water" is pushing new boundaries in on-screen technology. To make the most out of it, the filmmaker used these extreme methods to create visuals that are winning rave reviews, and Worthington was more than ready for the task.
The cast found various ways to embrace filming underwater
The film's shoot went beyond any previous epic and required the cast to be prepared for anything. Worthington decided on an intensive training regimen, spending a year with Navy SEALs; that time helped him develop techniques and methods crucial to long periods underwater. Being 30 feet down at certain points, the actor found a helpful way to stay calm."My trick was [to] forget how deep I was, forget that I was running out of air, and just do my job," Worthington told Extra.
Cast members would be underwater for upwards of 15 or 16 hours, but they were not alone. They were joined by teams related to safety and freediving — in addition to camera crews. For Worthington, it may have seemed dangerous but Cameron was committed to everyone's welfare. "...he's never going to put us in trouble," Worthington said during an Empire interview. "He's done enough missions that he understands that this was kind of a mission-based approach to filmmaking."
Co-star Kate Winslet also found herself delving into the potential danger, but ultimate safety of filing with Cameron. She pushed the limits of cinematic underwater breathing, breaking the record previously held by Tom Cruise (via Total Film).