Kate Winslet Details Heartwarming Moment With Julie Christie Upon Being Cast In Titanic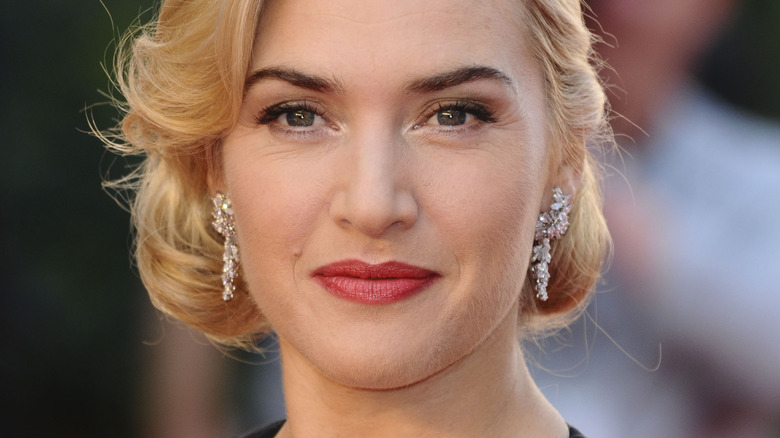 Featureflash Photo Agency/Shutterstock
It has been around 25 years since James Cameron's "Titanic" crushed it at the worldwide box office, becoming the third highest-grossing movie of all time. The historical epic stars Leonardo DiCaprio and Kate Winslet, the latter of whom has reunited with Cameron for his latest release, "Avatar: The Way of Water." When she first worked with the iconoclast director, Winslet was far from an unknown. In fact, during her audition process to play Rose Dewitt Bukater in "Titanic," she was filming Kenneth Branagh's star-studded adaptation of "Hamlet." 
During a recent appearance on the "Happy Sad Confused" podcast, Winslet spoke about the surreal feeling of filming "Hamlet" alongside a cast of bonafide acting legends who, as she detailed, were all supportive and hopeful that she would get the "Titanic" role. "I'm talking Julie Christie, Derek Jacobi ... Jack Lemmon, Charlton Heston," Winslet said. "I mean it was absurd ... they were all in on this thing." 
According to Winslet, when she finally got the call that she'd been cast, she was staying at a bed-and-breakfast in a room next door to Christie. And that is how the "Doctor Zhivago" star became the first person Winslet told about her life-changing career news. 
Kate Winslet received life changing news in pajamas
As Kate Winslet told the "Happy Sad Confused" podcast, when she received the phone call that would change the course of her career, the closest person to her (in proximity) ended up being one of her co-stars from 1996's "Hamlet." 
"On the occasion that I received the phone call telling me I had got the part in 'Titanic,'" she recalled, "I was in a bedroom in this bed and breakfast next door to Julie Christie." And if you think that Christie's legendary status would somewhat suppress Winslet's reaction to the news of receiving the "Titanic" job, you would be far from the truth.
Winslet details that she got this fateful call at an eye-rubbing hour. "I received the phone call in the morning, at 5:00 am or something," she said, "and I banged on the door, banged on through the wall [screaming], 'Julie! Julie, wake up I got the part! I got the f****** part!'" Both of them ended up face-to-face, celebrating in their pajamas, and, as Winslet clarified, Christie was the first person she told about the role. Without a doubt, this moment will be something Winslet looks back on for many years to come. She admitted, "If I ever did do a memoir one day ... that's gotta go in there, somewhere."