Sadie Sink's Little Sister Had A Small Part In The Whale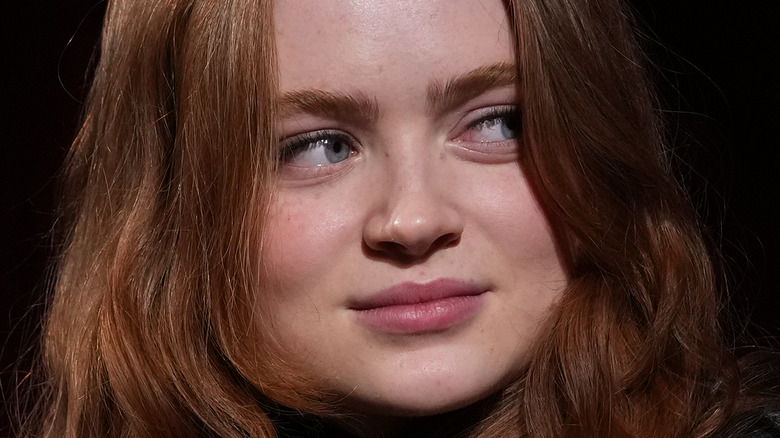 Bennett Raglin/Getty Images
The following article contains spoilers for "The Whale."
Sadie Sink is certainly becoming a well-known and well-respected name in the world of entertainment over the past few years. Becoming popular because of a little show called "Stranger Things," Sink plays the tomboy Max, a skateboarding and opinionated individual who quickly integrates herself into the circle of friends on the popular show. Even though she isn't exactly versed in Dungeons & Dragons terminology, much to the chagrin of Mike Wheeler (Finn Wolfhard), Max is important to the trials and tribulations of the group, and thanks to Max and the most recent season of "Stranger Things," now we are all singing Kate Bush's "Running Up That Hill."
Besides "Stranger Things," Sink lends her acting skills to Darren Aronofsky's "The Whale." This particular movie focuses on Charlie (Brendan Fraser), an exceptionally overweight and generally housebound English professor. Though Charlie still maintains his job by teaching remotely, he feels tremendous shame at his physique, avoiding and shunning most human contact. Yearning to reconnect with his distant daughter, Ellie (Sink), Charlie convinces her to come and spend time with him and offers the entire sum of his bank account. However, Ellie adds that she wants him also to help him write a paper, and as an English teacher, he is more than capable of doing so. Surprisingly, Sink's younger sister makes a brief appearance in the movie, but why and when?
The Whale uses Sadie Sink's younger sister during a flashback
Throughout "The Whale," the fulcrum of the story hangs on Charlie's struggle to make sense out of his life, and bring back the warmth and compassion of his family, which he has lost. Most of the time, Ellie can be fairly antagonistic towards her father, and towards the end of the movie, it is revealed that Charlie has replaced Ellie's writing assignment with one that she had written in eighth grade. Confused, Ellie wonders why Charlie has done such a thing, but he explains that it is the most honest writing that he has ever read. Charlie then asks Ellie to read out loud the essay and struggles to walk around her as she does so. This is a call back to a previous scene where he was unable to do so, and in these final moments of "The Whale," Charlie dies from the strain of the physical exertion, and the last thing he sees is a visage of his family at the beach.
In an interview with Variety, Sadie Sink explained that the little girl at the beach was actually her younger sibling, saying, "Yeah that's my little sister. It was added like a year after we wrapped and Darren [Aronofsky] was like, 'Your little sister looks like you right?' and I'm like, 'Yeah, she does,' and he wanted to use her as like the young me in a flashback." She continued, "I said, 'Yes, she will be there,' so I took my sister to the beach, and we did that scene." So, if one finds themselves watching "The Whale" and wondering how they pulled off that younger version of Ellie, they simply used the younger sister in the Sink family.