Dwayne Johnson Apparently Wanted No Part Of A Black Adam Cameo In Shazam 2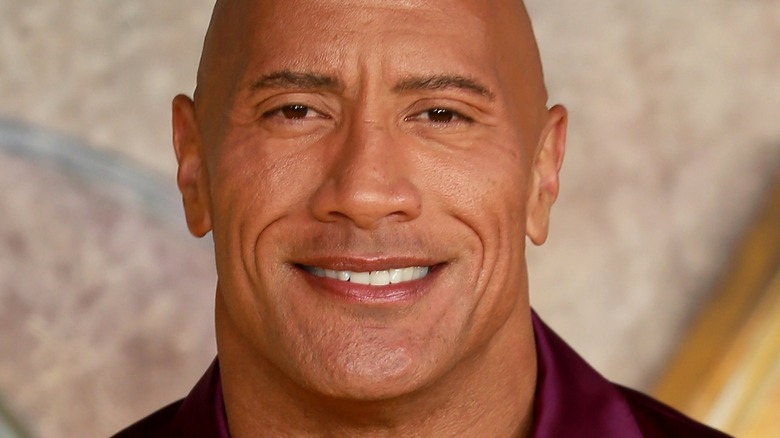 Fred Duval/Shutterstock
The release of "Black Adam" in 2022 signaled the culmination of several years of production, beginning with Dwayne Johnson being cast in the titular role years ago. Black Adam's arrival to the big screen, however, was preceded by the 2019 film "Shazam!," which followed the story of a foster child named Billy Batson as he was infused with superpowers by a wizard that gave him flight and invulnerability, among other powers. In the comics, Shazam and Black Adam are arch-enemies, having gotten their powers from the same source, but opting for different paths thereafter.
With both characters now officially in the DC Extended Universe, many comic book fans have been eager to see when the two would square off against each other. However, it seems that a confrontation between the two will have to wait, as news has now emerged that Johnson nixed an appearance by Black Adam in "Shazam! Fury Of The Gods," the sequel to the 2019 film.
Johnson has worked to separate Black Adam from Shazam before
Over on Twitter, film reporter Umberto Gonzalez revealed that there were plans to have Black Adam cameo in "Shazam! Fury Of The Gods," but the idea was nixed by Dwayne Johnson himself.
Johnson's decision appears to be part of a long-standing issue the performer has with the character of Shazam. The 2019 film "Shazam!" was also poised to introduce Black Adam in a scene where the new superpowered individuals sat on their thrones before realizing there was a seventh seat that sat empty. Johnson, however, was responsible for nixing the scene and any reference to Black Adam in "Shazam!" (The Wrap, via The Direct).
In an interview with Vanity Fair, Johnson himself spoke about "Shazam!," noting that the initial draft had Black Adam as a prominent part of the movie as well. Johnson noted that the script originally served as an origin story for both characters, but he wasn't open to such an arrangement. "When I read that, I just knew in my gut, 'We can't make this movie like this," he said. "We would be doing Black Adam an incredible disservice.' It would've been fine for Shazam having two origin stories converge in one movie, but not good for Black Adam."
Johnson went on to say that he made a call to the executives and insisted they separate the characters, allowing "Shazam!" to develop its own tone independent of any concerns about Black Adam.
Zachary Levi is up for a showdown between the two characters
At a Comic-Con event in Portugal earlier this year (via Fandom Wire), Zachary Levi, who plays Shazam, was asked about Black Adam, and how his version of the character would fare against Dwayne Johnson's incarnation of the comic arch-nemesis.
Levi responded that he has no idea whether the two characters would get a chance to interact onscreen. He noted that he felt lucky to get the role, and had no influence over how the story would be written or which additional characters would be involved. He did playfully point out, however, that if he had the opportunity to punch Dwayne Johnson in the face, he would take it.
With the announcement that "Black Adam" would not be getting a sequel, Levi was also asked about the possible cinematic future for his character. Levi responded that James Gunn and Peter Safran, the two current stewards of the DCEU, are friends of his and that friendship would be in jeopardy if they didn't have Shazam as a part of their plans for DC going forward (per CBR).
In an interview with Collider, "Shazam!" and "Shazam! Fury Of The Gods" director David F. Sandberg was also asked about plans for Black Adam and Shazam to interact in future films. He responded that he has not been involved in any conversations about the two characters coming face to face, adding that both movies were on their own trajectories at the moment.