The Complicated History Of The South Park Theme Song
"Goin' down to South Park..." If you think about "South Park" for long enough, the show's iconic theme song is sure to pop into your head. While the song has taken on a few different iterations throughout the show's run, the twangy guitars and the undeniable voice of Primus' Les Claypool have always been intrinsically tied to the long-running show. The theme song had a bumpy road to eventually ending up in the opening credits of the show.
"South Park" co-creators Trey Parker and Matt Stone make no qualms about working with or homaging those that inspired them. For example, Parker and Stone loved sitcoms created by TV super-producer Norman Lear, such as "All in the Family," when they were growing up. They asked the then 80-year-old to serve as a creative consultant on some episodes of the show in 2003, and what they got out of that collaboration was one of the most talked-about episodes of the entire series, one in which aliens watch Earth like it's a reality show (via The New York Times).
When it came time to find a band to make a theme song for the show they were creating in 1997, Parker and Stone turned to the rock band Primus, which they loved in college. While Primus was more than willing to help these guys out after seeing their "Spirit of Christmas" holiday short, which was one of the first examples of a viral video, there were challenges with getting the theme song just right for the show.
The first song Primus delivered for South Park actually plays over the show's outro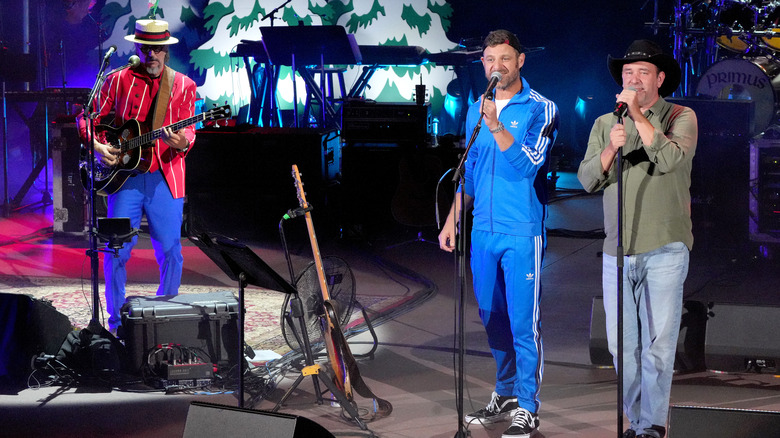 Kevin Mazur/Getty Images
According to a retrospective interview with The Hollywood Reporter, "South Park" co-creators Matt Stone and Trey Parker, detailed the journey of getting the theme song for their hit show from Primus. They had initially approached Primus lead singer/bassist Les Claypool about doing the song for the pilot, which was taking three months to make, but since Primus had just added a new drummer to their lineup, Claypool suggested his band take a crack at it.
Claypool said, "We had watched their Christmas thing that was going around, and we realized these guys were pretty clever, but there was no way in hell that they were going to be able to get something like that on television. More than anything, it was just an excuse for us to go into the studio and start experimenting." The song that the band delivered is actually the song that plays over the end credits of each episode of the show.
Les Claypool recorded the opening title track over a tape recorder while Primus was on tour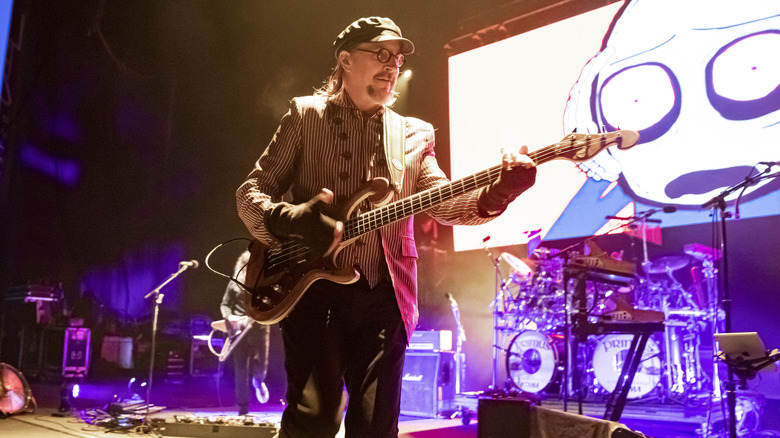 Scott Legato/Getty Images
The network behind "South Park," Comedy Central, wasn't thrilled with the Primus track as they thought it was too slow, and they asked the band to re-record a peppier song for the opening. "At that point, we were like, 'You know, we did this for you guys, we're out on the road, we're too busy to do this right now," Les Claypool told The Hollywood Reporter. We can't just go into a studio and re-record this.'"
With no opening theme song and after getting the cold shoulder from Primus' management, Matt Stone tracked down Claypool at a concert and begged him to re-record the song. While Claypool stated they were too busy with touring to stop and make a new song, Stone got creative. The team sped up the tune of the song and Stone sent a high school friend to record new vocals from Claypool into a tape recorder when Primus made a stop in Colorado. That is how the theme fans know and love today was created. Guess it's true what they say, especially for the "South Park" gang — pressure makes diamonds.