Who Played Trudy Slaughter On Blue Bloods?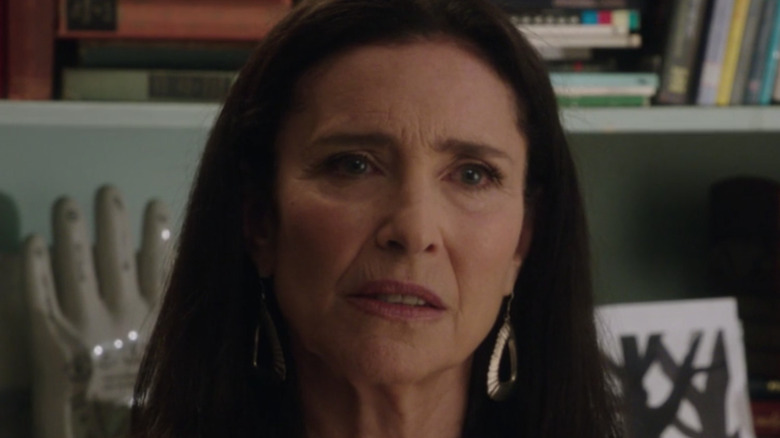 CBS
Now in its 13th season, CBS' "Blue Bloods" has long balanced the dual themes of service and family. Each episode is anchored by a criminal investigation and a Reagan family dinner. Other plotlines work as a point of entry to better understand the various members of the Reagan clan. In the Season 8 episode "Brushed Off," Frank (Tom Selleck) reconnects with a figure from his past.
Trudy Slaughter is an artist fighting an eviction notice, and the episode opens with her angrily throwing art supplies out of her studio loft's window, including a paint can that splatters on Jamie and Eddie's police car. When Frank heads to the apartment to help smooth things over, he suggests she paint his portrait instead of mandated community service. After spending some time together, Frank admits that the pair had first met and kissed during the 1977 blackout, and he had kept up with Trudy's work over the years. It's a heartfelt admission from Frank and one that gives us some insight into his days as a young cop. Fans, however, may be left wondering who plays the spunky artist, Trudy Slaughter.
Mimi Rogers is a prolific TV and film actress
Trudy Slaughter is played by Mimi Rogers, whose acting credits go back to the early 1980s. That decade, she made notable film appearances in Ron Howard's "Gung Ho" and Ridley Scott's "Someone to Watch Over Me." More film roles followed in the '90s, including "Reflections on a Crime," "The Mirror Has Two Faces," and "Austin Powers: International Man of Mystery." She received critical acclaim for her performance in 1991's "The Rapture," for which she was nominated for an Independent Spirit Award for Best Female Lead (via IMDb). She also earned an Emmy nomination for "The Devil's Arithmetic," in which she performed and served as a producer.
In addition to her work in film, Rogers is a prolific television actress, and actually worked alongside Tom Selleck in a 1982 episode of "Magnum, P.I." Rogers later had recurring roles in "The X-Files" and "Two and a Half Men," but she secured her longest-running role to date in the Amazon series "Bosch," portraying Honey "Money" Chandler, a cutthroat civil rights attorney.
When Chandler was in a gunshot-induced coma, Rogers feared for her character's future. Chandler lived another day to appear in the spin-off series, "Bosch: Legacy." "We gathered together, me and two or three of the producers, and they gave me the news that we had a new life and a new show, and I was not going to die," Rogers told Looper. "I literally cried happy tears and went on from there."