Avengers: Infinity War Fan Posters Make Up For Missing Hawkeye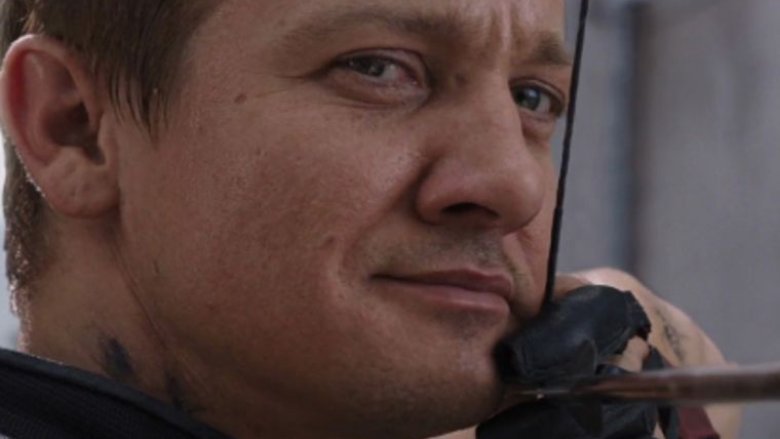 Avengers: Infinity War is set to include a mile-long list of Marvel Cinematic Universe heroes and villains, including Jeremy Renner's Hawkeye. Despite being penciled in to star in the film, however, Hawkeye has been missing from the movie's trailers, posters, and even the 15 Infinity War-centric Entertainment Weekly magazine covers. 
Marvel fans are now making up for the bow-and-arrow-wielding hero's absence by creating revised versions of the most recent Avengers: Infinity War poster, Photoshopping Renner's Hawkeye into the fun. 
Popular artist (and major superhero movie fan) BossLogic whipped up a Hawkeye-heavy poster that places the hero in nine different spots, replacing characters like Chadwick Boseman's T'Challa/Black Panther, Chris Evans' Steve Rogers/Captain America, Scarlett Johansson's Natasha Romanova/Black Widow, Chris Hemsworth's Thor, Chris Pratt's Peter Quill/Star-Lord, Robert Downey Jr.'s Tony Stark/Iron Man, Dave Bautista's Drax the Destroyer, Sebastian Stan's Bucky Barnes, and Tom Holland's Peter Parker/Spider-Man. BossLogic shared the new-and-improved poster on both Twitter and Instagram, tagging Renner's respective accounts in the caption, "Don't worry bro, @renner4real. We got you."
Irish illustrator Philip Kennedy took a more direct approach in including Hawkeye in Avengers: Infinity War's marketing: blending the lower portion of the newest film poster with the top of a photo of the fan-favorite archer. "I'm guessing that this is one large fold-out poster and we just haven't seen the bottom half yet," Kennedy tweeted as he shared his (admittedly hilarious) creation. 
Two other fans had similar ideas when deciding how Hawkeye would best fit into an Infinity War poster. Both Twitter user eugechicle and Reddit user Probatsy went wild with face-pasting and slapped Hawkeye all over the new Avengers: Infinity War one-sheet to craft some chuckle-worthy images. Where Probatsy replaced most of the faces that appeared in the poster with Hawkeye's mug — save for Rocket's (Bradley Cooper), Groot's (Vin Diesel), and Falcon's (Anthony Mackie) — eugechicle pushed the envelope, covering every pixel possible with Hawkeye goodness. 
Take a look at all four Hawkeye-focused posters below. 
Directed by Anthony and Joe Russo (Captain America: Civil War), Avengers: Infinity War will also feature Bruce Banner/the Hulk (Mark Ruffalo), Loki (Tom Hiddleston), Gamora (Zoe Saldana), Nebula (Karen Gillan), Mantis (Pom Klementieff), Scott Lang/Ant-Man (Paul Rudd), Stephen Strange/Doctor Strange (Benedict Cumberbatch), Vision (Paul Bettany), Wanda Maximoff/Scarlet Witch (Elizabeth Olson), James Rhodes/War Machine (Don Cheadle), Thanos (Josh Brolin), and many others. 
Fingers crossed that we'll see plenty more of Jeremy Renner's Hawkeye when Avengers: Infinity War arrives in theaters on April 27.
Don't worry bro @renner4real we got you #hawkeye #infinitywar @Avengers @MarvelStudios pic.twitter.com/pU40cRIYbY

— BossLogic (@Bosslogic) March 17, 2018
I'm guessing that this is one large fold-out poster and we just haven't seen the bottom half yet... pic.twitter.com/eaBrI3vaq5

— Philip Kennedy (@philipkennedy) March 16, 2018
fixed it #AvengersInfinityWar #Hawkeye pic.twitter.com/hoQrHQlzQe

— euge (@eugechicle) March 16, 2018