Tom Felton Is Open To The Idea Of Returning To The Harry Potter Franchise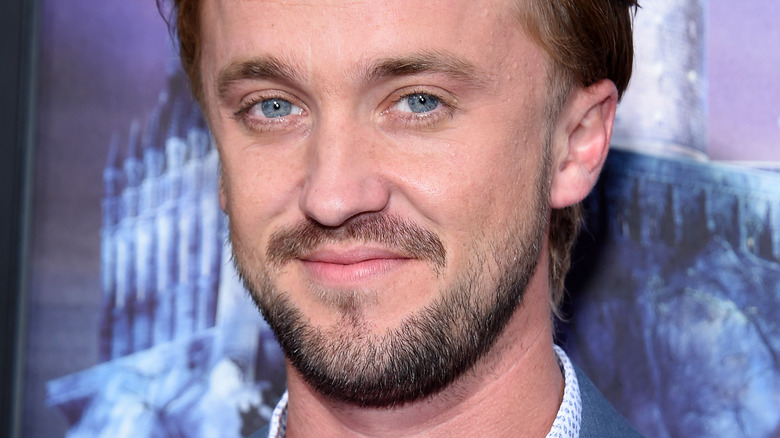 DFree/Shutterstock
The "Harry Potter" franchise has been a lightning rod of controversy of late. As creator J.K. Rowling has come under fire for her divisive beliefs, actors from all corners of the franchise have either aligned themselves with or distanced themselves from the author, creating a giant rift in the Potterverse. Interestingly, the divide has been mostly a generational one, with seasoned actors like Ralph Fiennes and Helena Bonham Carter joining Rowling, whereas younger stars like Eddie Redmayne and Bonnie Wright, the latter of whom played Ginny Weasley in the franchise, have stood by their trans peers. Most notably, the franchise's biggest young stars, Daniel Radcliffe and Emma Watson, have firmly entrenched themselves in the anti-Rowling camp, all but precluding any chance of them rejoining the franchise (via Us Weekly).
Of course, Radcliffe and Watson have no shortage of career prospects these days, and will no doubt continue to thrive without Rowling's name behind them. But one of their former co-stars, Tom Felton, is still keen on returning to the "Harry Potter" franchise in some form, as he revealed in a recent interview.
Tom Felton would come back for a Cursed Child series
Warner Bros. Pictures
In a recent conversation with Josh Horowitz of the Happy Sad Confused podcast, Tom Felton — who played Draco Malfoy in the long-running franchise — expressed interest in the idea of re-joining the Potterverse as his iconic character. Specifically, Felton said that he would consider signing on for Warner Bros. Discovery's rumored "Harry Potter and the Cursed Child" series, which is reportedly being pushed by Warner Bros. Discovery CEO David Zaslav (via Puck News).
However, when asked if he thought that such an event would convince Daniel Radcliffe and Emma Watson to rejoin the series, Felton didn't seem to think so. "I don't think it will be an 'all or nothing' thing," he told Horowitz. He even suggested that he could return in some other capacity other than Draco, claiming, "Honestly, if they do continue to make more films or TV shows in the Wizarding World, I'd be happy to pop up as an extra in the background ... I'd still just love to be part of the world, that would be cool enough."
Felton, who has avoided taking a public stance on J.K. Rowling's controversial views in the past (via The Telegraph), came off as a true Potterhead. The actor, who will next appear in "Lead Heads" opposite Rupert Everett (via Variety), admitted that he still has a Slytherin House phone case. Considering that tidbit, it might not seem so farfetched to imagine him returning as Malfoy in the near future.