National Treasure: Edge Of History's Lyndon Smith Says The Series Is An Expansion Rather Than A Reboot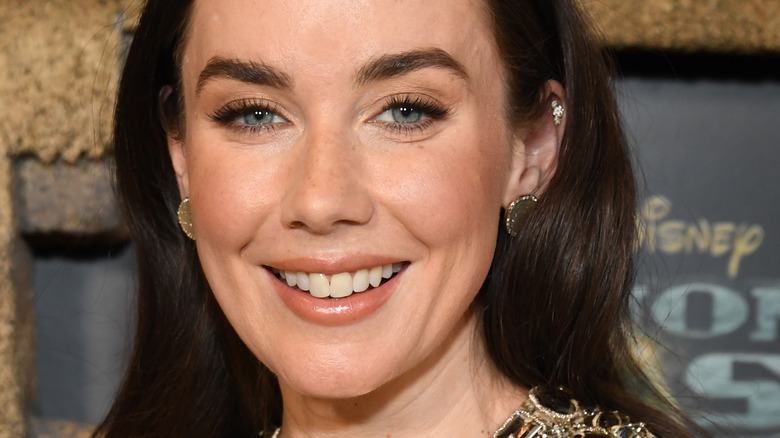 Jon Kopaloff/Getty Images
There are a couple of ways to get Americans interested in history, and it usually involves either aliens or some kind of heist led by Nicolas Cage –- sometimes maybe even a little bit of a column A and B. The "National Treasure" franchise was kicked off by the 2004 film of the same name, and it sees Benjamin Franklin Gates (Cage) run an absolutely amok through several famous American locations and reveal hidden secrets from America's past that eventually uncover a vast treasure. This is a turning point in Gates' life on account of a lifelong obsession with the aforementioned treasure, though the peace and fame he obtains at the end of the first "National Treasure" movie are short-lived.
2007's "National Treasure 2: The Book of Secrets" sees Gates' good name ruined by a rival treasure hunter, and once again Gates is forced to go on another adventure to clear his name and uncover yet another secret, and this time he and his allies go to locations in America, France, and England. Although there is another "National Treasure" movie on the way, in May 2020, Jerry Bruckheimer announced that a Disney+ series was in development, and it finally dropped on December 14, 2022. But given this show's younger cast and hipper feel, is "National Treasure: Edge of History" a reboot of Cage's films? One of the series' stars, Lyndon Smith, recently opened up on this topic.
The new Disney+ series isn't trying to replace the Nicolas Cage movies
The trailer for Disney's "National Treasure: Edge of History" over on YouTube starts off with a brand new — and significantly younger — protagonist named Jess Valenzuela (Lisette Oliviera). Losing her dad at a young age, Jess receives a clue that sets her and her friends on a very similar adventure that reveals that her family history isn't exactly what she has been told. Featuring snappy quips, dusty crypts, and plenty of secrets, this recently released show certainly runs through a checklist of what made the original "National Treasure" such a hit, but some fans may find themselves asking if this new series is a reboot or a continuation, but luckily there is an answer on this show's position within the "National Treasure" universe.
In an interview with Screen Rant, Lyndon Smith, who plays FBI Agent Ross, was asked directly how "National Treasure: Edge of History" is different from the first two movies of the "National Treasure" franchise. "It's an expansion, but it's not a reboot," Smith replied. "It's not a reimagining. We're just picking up 15–20 years down the line. All of those same characters that you know and love are there. We're just bringing in a young, modern, diverse group of people to kind of put this National Treasure world into modern day." 
In other words, it seems as if "National Treasure: Edge of History" exists in the same world as the Nicolas Cage movies, and represents just another story set in the same universe. This means that "Edge of History" isn't meant to supplant the movies, and it exists as a supplement and another chapter in the popular and growing franchise.