DC Seemingly Confirms That Michael Keaton's Batman And Christopher Reeve's Superman Share A Universe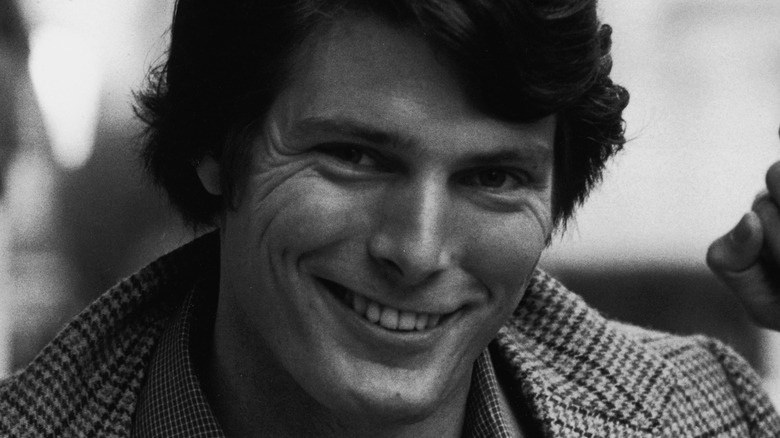 Jones/Getty Images
Given that both of them made their respective debuts well before our modern time — a time where superhero movies are as dominant at the box office as they are ubiquitous — it is notable that Christopher Reeve's Superman and Michael Keaton's Batman remain so well-respected.
Reeve's portrayal of the Man of Steel, starting in 1978 and lasting through four movies, helped essentially prove that superheroes could work on the big screen and be a big draw for audiences. "Superhero movies are here to stay," wrote Richard Newby in The Hollywood Reporter in 2018. "But there was a time when there were none. And then in 1978 there was one."
As for Michael Keaton, his Batman, rendered in Tim Burton's "Batman" (1989) and "Batman Returns" (1992), continues to be viewed fondly through several other subsequent portrayals of the caped crusader. So much so that he reprised it for the upcoming movie "The Flash."
That said, a lot has changed in the thirty years since Keaton last donned the cowl. Superheroes don't just occupy a single film or its sequels now, but whole universes that allow them to cross over and meet each other. It's just as prevalent in the DC Comics universe as it is with Marvel characters, as anyone paying even the slightest attention to popular culture will know by now. And according to a recent release from DC, it looks like Keaton's Batman and Reeve's Superman have occupied the same universe all along.
Earth-789
This revelation comes in the form of a DC Comics one-off release, "Dark Crisis: Big Bang." Less a comic book than an atlas, it draws on Joshua Williams' ongoing "Dark Crisis on Infinite Earths" series to map the various DC universes we have seen over the decades — including those portrayed in video games and movies — into one comprehensive canon of parallel worlds (via Games Radar).
One page, in particular, stands out. As the Flash breaks into a world known as Earth-789, we are greeted with a panel featuring what looks a heck of a lot like Michael Keaton's Batman and Jack Nicholson's Joker. The shape of Batman's cowl, the yellow-backed emblem, the color scheme of the Joker's suit, and even the shape of his trademark rictus; these are the iconography specific to Tim Burton's first movie.
The same universe is referenced again in an index in the back of "Dark Crisis: Big Bang." Earth-789 is where, as quoted in CBR.com, "Superman and Supergirl are Earth's only powered heroes [and] Batman's parents [were] killed by the Joker." Keaton's Batman's parents were indeed killed by the Joker –- or a pre-makeup Jack Napier to be more precise –- but the key is in the first half of that sentence.
Several times in the first four films, Superman is referenced as the only superpowered being on the planet Earth (not counting evil-doing interlopers such as Zod, Non, and Ursa) — unlike current DCEU media. And while the Reeve films make no reference to Supergirl, there was indeed a 1984 film starring Helen Slater in the eponymous role. Though a box office bomb and critical flop (via Rotten Tomatoes), it was indeed connected to the Reeve Superman films through the appearance of Marc McClure's Jimmy Olsen.