Star Wars' Adam Driver Would Swap Roles With Jabba The Hutt For A Relatable Reason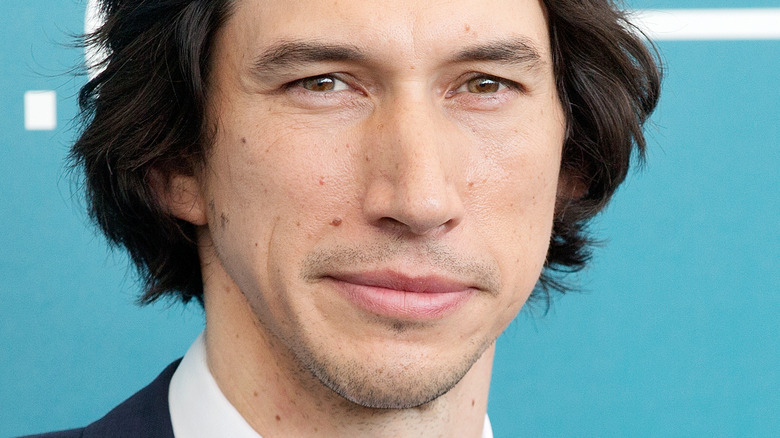 Andrea Raffin/Shutterstock
"Star Wars" fans are a different breed, knowing the ins and outs of every part of the massive universe. Since the franchise's inception with "A New Hope" in 1977, generations have grown up watching the Skywalker Saga. Chances are everyone knows their fair share of "Star Wars" fans. The series is so intertwined with pop culture — spanning movies, TV shows, books, video games, and more — that many actors were "Star Wars" fans before landing roles in the franchise. "Star Wars: Rebels" voice actor Freddie Prinze Jr. once went on an incredible but explicit rant about the meaning of The Force, while Darth Maul voice actor Sam Witwer eloquently broke down every detail of his fight against Obi-Wan in "Rebels." Kumail Nanjiana described his "Obi-Wan Kenobi" experience as "overwhelming." 
Another notable "Star Wars" fan is none other than Adam Driver, whose Kylo Ren is one of his best movie roles to date. The star of "The Force Awakens," "The Last Jedi" and "The Rise of Skywalker" spoke to Premium Magazine, reflecting on the surreal experience of filming the movies after growing up a fan of the series. "I remember working very hard not to be distracted by the fact that I was walking next to Harrison Ford and just pretending that this was another acting job in a regular movie. That was a very hard thing." While the actor wouldn't give a definitive answer if he'd ever return to the franchise, another interview may have provided an insight into the type of role he'd like to play in any future "Star Wars" appearance.
Adam Driver wants to be Jabba the Hutt for relatable reasons
In an interview with Collider, the outlet asked Adam Driver who he would swap "Star Wars" roles with if given the opportunity. The "Rise of Skywalker" actor had an incredibly interesting yet personal response, naming Jabba the Hutt as his choice. "He doesn't have to go anywhere," Driver said. "People give him grapes a lot. He has, like, a little guy that runs errands for him. He doesn't have to worry about weight or time or really anything, and he gets to watch a show where there's death and murder, and he just enjoys it." Driver quickly cut himself off as his answer started to take a dark turn, stating that personal reasons drove him to choose Jabba. The reporter revealed to Driver that most of his fellow cast members picked his character, Kylo Ren, aka Ben Solo, as the role they'd swap for, but he decided to go a more practical route that would allow him to lounge around all day.
However, if his sequel series stars had to wear Kylo Ren's mask, they might have responded differently to the question. Driver told BBC Radio 1 that the helmet wasn't as cool as it looked, and noted issues seeing and conversing with people while filming. However, that didn't stop his inner "Star Wars" fan from coming out, as he took two of the helmets home with him.