Kumail Nanjiani Describes His 'Overwhelming' Experience Filming Obi-Wan Kenobi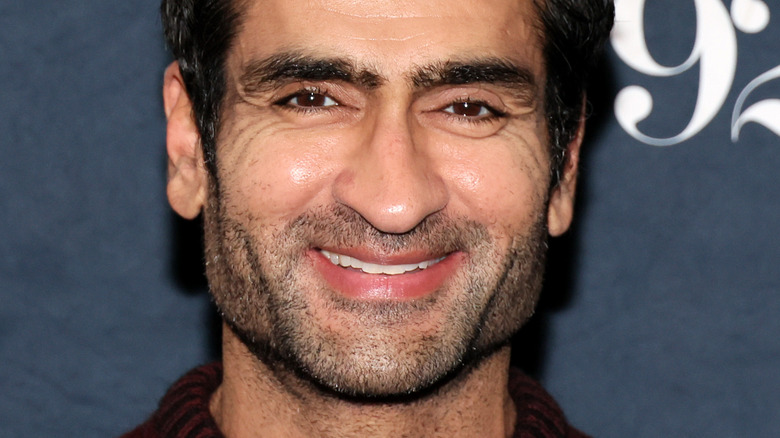 Dia Dipasupil/Getty Images
The "Obi-Wan Kenobi" mini-series came to fruition 17 years following the volcanic events of 2005's "Star Wars: Episode III — Revenge of the Sith," in which Anakin Skywalker (Hayden Christensen) — a guy who hates sand but builds his stronghold on a lava-smothered planet — succumbs to the dark side of the Force and takes up the mantle of Darth Vader. Fans were treated to not one but two memorable lightsaber duels between Vader and his former master, Obi-Wan Kenobi (Ewan McGregor), in the streaming series. While "Obi-Wan Kenobi" focused primarily on the heated feud between McGregor and Christensen's characters, a number of new players joined the "Star Wars" universe during the Disney+ show, including Kumail Nanjiani ("Portlandia," "Silicon Valley," "The Eternals").
Nanjiani's character, Haja Estree, didn't receive much screen time during the six-episode event or even show off his fake lightsaber hilt, but he had a couple of very memorable moments aiding "Star Wars" royalty. First, the con artist with a heart of gold — a kind of galaxy-far-far-away Robin Hood — posed as a Jedi, but when push came to shove, Haja did the right thing and helped Obi-Wan and young Leia Organa (Vivien Lyra Blair) to escape the clutches of the imperial Inquisitor known as Reva (Moses Ingram) in Episode 2.
And when Obi-Wan embarks to face Lord Vader for a final time, during Episode 6, Kenobi entrusts the safety of Leia to Haja. Given the mystique surrounding the "Star Wars" saga, which was created by George Lucas in 1977, it's not a surprise that Nanjiani found "Obi-Wan Kenobi" a mind-blowing experience.
Nanjiani found starring in Obi-Wan Kenobi 'overwhelming'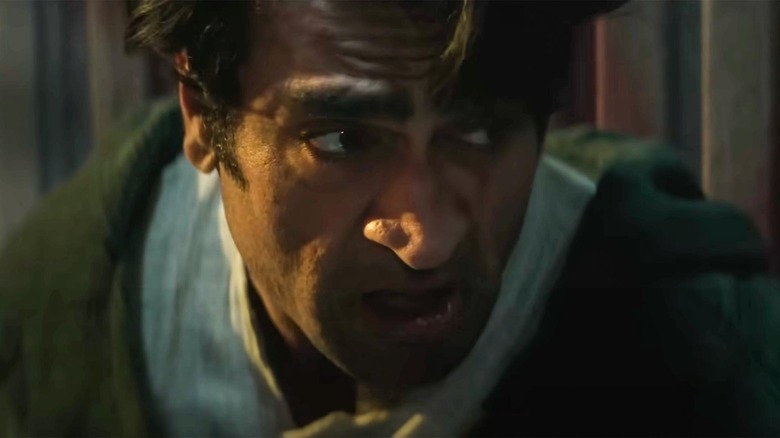 Disney Platform Distribution
"Obi-Wan Kenobi" star Kumail Nanjiani has a reputation in Hollywood for excelling in comedic roles, and his character, Haja Estree, certainly helped juxtapose the gravitas of the "Star Wars" streaming series with some much-needed levity. However, Nanjiani was understandably overwhelmed when it came to co-starring on the Disney+ show. "It's really, really overwhelming," Nanjiani said during the Happy Sad Confused podcast.
"If you realize what the responsibility is, it sort of paralyzes you and that's how this was," Nanjiani explained at around 43:14 of the interview. "I had to, you know, I wore the Jedi robes the first time, in a mirror took a secret picture. I wasn't allowed to do that, sent it to Emily [Nanjiani's wife], and then you had to forget that you're wearing Jedi robes. You just have to be like, 'Oh this is just a random scene I'm doing.'"
Nanjiani also told the podcast that he had a lovely time working with the series' lead star, Ewan McGregor, and the two actors got along swimmingly. However, there was a moment for Nanjiani and his character Haja in which they both felt the very real presence of the iconic Obi-Wan Kenobi character. "They yelled 'action' and he [McGregor] walks up to me, and he starts talking," Nanjiani continued. "And he does the Obi-Wan voice. And that was when I was like, 'Oh, this is impossible to ignore.'"