Vanessa Ray Had Never Fired A Gun Prior To Blue Bloods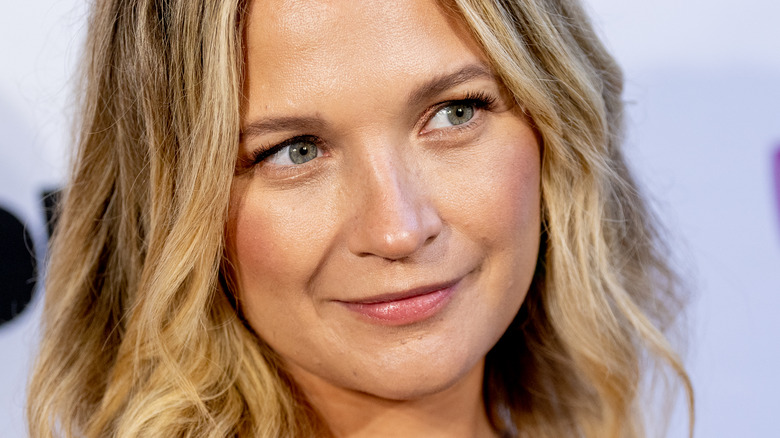 Roy Rochlin/Getty Images
Now 13 seasons into its primetime run, CBS' long-running procedural drama "Blue Bloods" remains a solid ratings-grabber for the network. The series also continues to provide its fanbase with loads of first-rate action and immersive family drama. The family in question is, of course, New York's fictional first family of law enforcement, the Reagans. And for the better part of the past nine seasons of "Blue Bloods," that family has included NYPD Officer Eddie Janko (now Janko-Reagan).
Played by Vanessa Ray, the tough-as-nails, fan-favorite character entered the Reagan family orbit in Season 4 of "Blue Bloods," and quickly became the romantic interest of her NYPD partner, and Reagan family golden boy, Jamie Reagan (Will Estes). The duo has essentially been inseparable ever since, making a cozy, if often tumultuous little off-duty life for themselves even as they continue busting bad guys on the streets of New York.
The on-the-job action has understandably been a big part of Eddie's story since Ray joined the cast of "Blue Bloods." And over the years, Ray has come to look quite comfortable with a gun in her hands. That's all the more impressive as the actor apparently had never fired one prior to her role on "Blue Bloods."
Producers quickly got Vanessa Ray into shooting shape for Blue Bloods
Vanessa Ray made that admission during a 2018 interview with Long Island Weekly. While it's not all that common for an actor to have never handled a firearm before taking on a role, given that Ray had been working in and around Hollywood for nearly a decade before her "Blue Bloods" casting, it is a little bit surprising. That being said, according to the actor's IMDb page, she really hadn't played many roles where a gun might be a necessary prop, with her highest-profile gig arguably coming via the beloved teen drama, "Pretty Little Liars." 
Though Ray had never fired a weapon prior to donning the NYPD uniform on "Blue Bloods," she quickly got up to speed before heading to set. According to the actor herself, one of the series' longtime producers made sure she did. "Our producer, James Niciforo, who is the unsung hero of our show, took Marisa [Ramirez], Will [Estes], and I to a shooting range," Ray told Long Island Weekly. She went on to confirm that trip to the range was her initiation to the world of firearms, noting, "It was the first time I ever shot a gun since I didn't really grow up with guns."
While the actor may have looked a little shaky pulling the trigger in the early days of her "Blue Bloods" tenure, few can argue Vanessa Ray doesn't look like a seasoned pro these days. And that's clearly the result of a lot of hard work on the actor's part.