Things Only Adults Notice In The Addams Family Movies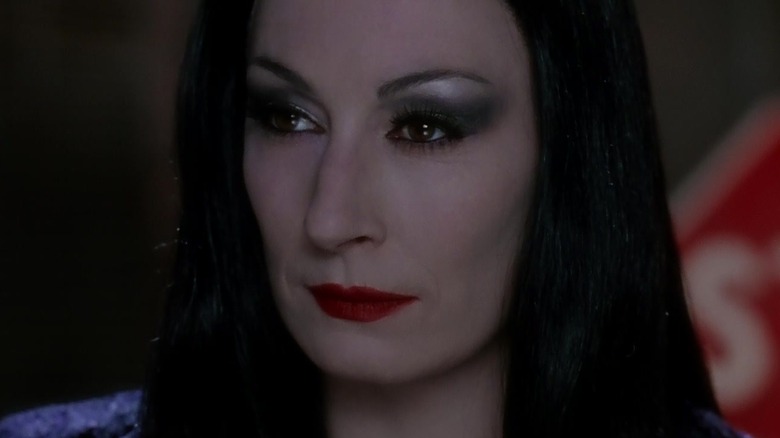 Paramount Pictures
"The Addams Family" franchise made a name for itself by testing boundaries and making "normal" families everywhere uncomfortable. The kooky family unit became a love letter to outcasts and people who challenge the status quo. However, the family led by Charles Addams has mass appeal — between equally nonconforming fans and those who want a break from the normalcy of their daily lives. Hell, even kids love the franchise and the two young Addams children, Wednesday and Pugsley.
Gomez and Morticia Addams have long since cemented their status as pop culture relationship goals, but the family has more than a few dark secrets that even the most discerning fans look past. Given the seedy and grim vibe of all five "The Addams Family" films — two theatrical, one direct-to-video, and two animated — it's only natural that young fans might miss some of the franchise's more adult references. Among implied cannibalism, mommy issues, sexual topics, or any combination of the three, here are some of the Addams Family's movie moments that only adults notice. 
Cannibalistic cauldrons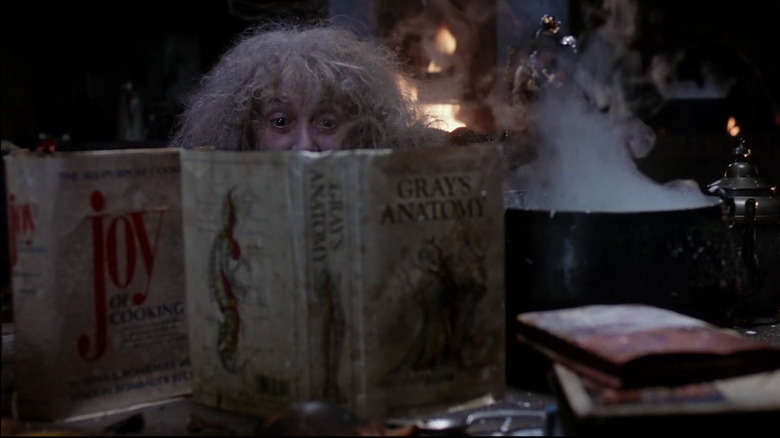 Paramount Pictures
The Addams Family isn't just the kooky family fans have come to love. They charmed the masses with their love of the macabre, but that passion for death extends beyond loving the color black and a passion for spiderwebs. In addition to the family's zero ethic quandaries about straight-up killing a bunch of people, there are some heavy implications that the family actually eats people as well.
In the 1991 movie "The Addams Family," Morticia's mom (Judith Malina) is either cooking up a spell or cooking up a human. Either way, there are people in that cauldron. In a blink-and-you'll-miss-it scene, Grandmama is reading "Gray's Anatomy" and "Joy of Cooking." The first is a book on, you guessed it, human anatomy, and the second is obviously a cooking book. Given the Addams Family's kill count, it's hardly surprising that they've actually eaten someone.
It's unclear whether Grandmama is using people in her spellwork or eating them, but the implication is pretty dire either way. It's not the last time the franchise muddies these waters, either. In the second live-action movie, the Addams Family bakes a human girl into a cake, and we never find out whether or not they eat her. Yet with the kind of hors d'oeuvres Grandmama passes around, the subtle nods speak for themselves.
Creepy mommy issues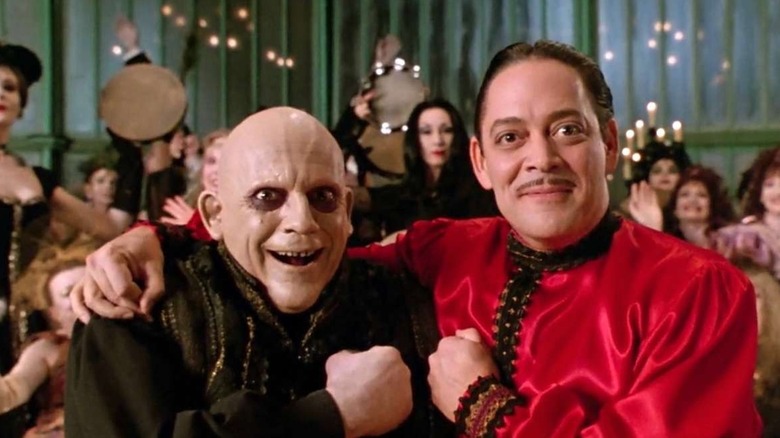 Paramount Pictures
"Addams Family Values" just might have the most disturbing scene in the entire franchise. If any group could use a heavy dose of family therapy, it's the Addams Family. Between the Freudian snafus and the fact that there are heavy implications of inbreeding, someone needs to get this family on a couch. 
The second live-action film centers on Fester's (Christopher Lloyd) loneliness and lack of a partner, and he's one of the very few members of the family who seeks a partner outside of the family. But before Fester meets Debbie (Joan Cusack), Gomez (Raul Julia) finds a raunchy magazine peeking out from his mattress. 
Now, that's perfectly normal, right? Sure, until they both wistfully say "Mom" when they open it up. Um, say what? Is Fester ... ahem ... to a pinup magazine of his mother?! Not only is there a disturbing incest component to this scene, but it further implies that the Addams Family keeps it in the family in the most horrifying way possible. Of course, were the film in general not so macabre and surreal, this would pose real concerns, but as it stands, it's probably the most extreme joke in either of the first two "Addams Family" films. Ah, to be a child and have this scene go over your head.
If you or someone you know may be the victim of child abuse, please contact the Childhelp National Child Abuse Hotline at 1-800-4-A-Child (1-800-422-4453) or contact their live chat services. If you or anyone you know has been a victim of sexual assault, help is available. Visit the Rape, Abuse & Incest National Network website or contact RAINN's National Helpline at 1-800-656-HOPE (4673).
Criticism of gentrification and class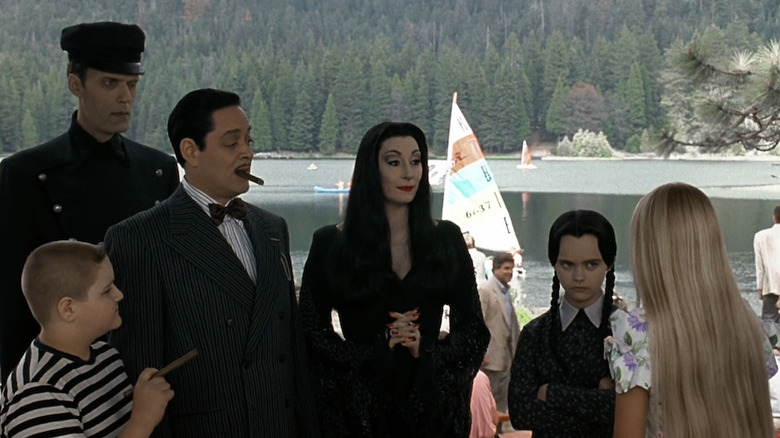 Paramount Pictures
Out of the five "The Addams Family" movies, "Addams Family Values" stands out among the rest. The movie's satirical tone centers on the criticism of gentrification and class. The film's exaggerated nature is palpable throughout, making it a brilliant parody. Not only does Wednesday (Christina Ricci) spend the bulk of her time at summer camp roasting the superficiality of her fellow campers, but moments where the camp forces the outsiders to watch a slew of Disney movies and partake in a whitewashed version of Thanksgiving history drive the message home.
On the other hand, the Addams Family's own wealthy status makes this stance a bit hypocritical. After all, they, too, spend $20,000 on this glorified camp that doesn't offer any additional camp perks beyond an entitled attitude and faux kindness. But that doesn't stop Wednesday's hilarious ghost story when the campers pressure her to share. Sure, Wednesday could come up with a haunting and perverse story that would make the campers' skin crawl. Instead, she plays to her peers' superficiality and spins a tale about a ghost making peoples' old noses grow back. Of course, this is a reference to reversing nose jobs, and it terrifies the campers far more than the scary story that came before. These kinds of exaggerated gems in the film may go over most kids' heads, but they make the movie stand out as arguably the best to feature the Addams Family.
Is Fester hooking up with Thing?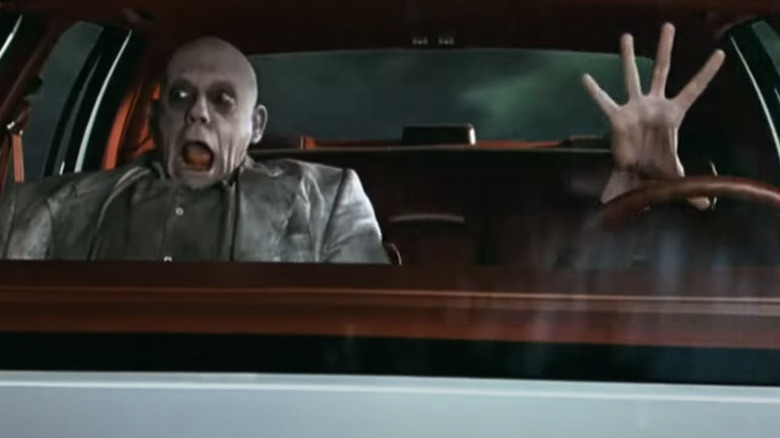 Paramount Pictures
There are some heavy implications that Fester might be hooking up with Thing (Christopher Hart), an image that just about no one wants to picture. When Debbie explains what a virgin is to Fester, she says it's someone who's never experienced physical love before. In response, Fester says, "Oh, you mean with another person?" At first glance, it seems like he's talking about self-love, but when you piece together a few other moments from the films, there's a much weirder explanation.
Earlier in the movie, Gomez remarked that Fester would always have Thing when he was worried about being alone forever. Sure, this could have been a wholesome pep talk about Fester's friendship with the sentient hand, but it might indicate a more perverse relationship between the two. Given that a good portion of the Addams Family doesn't appear human, there might be some cross-species breeding within the family.
So if you get the drift, it may not be Fester's own hand doing the loving. There's also a moment in the first movie where Thing sleeps on Fester's chest back before Fester gets his memories back, making the two reasonably close at the start of the series. It's also worth noting that Fester offered to "pay" for Debbie in the same virgin conversation scene, another allusion that definitely went over most kids' heads.
Michael Jackson shade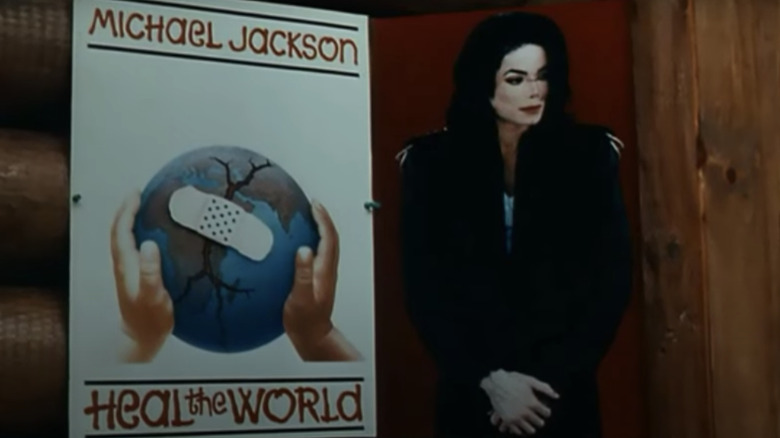 Paramount Pictures
Back when "Addams Family Values" came out in 1993, allegations against Michael Jackson began to emerge (via The New York Times). Just a few months before the movie's November premiere, August of 1993 marked the first accusation against Jackson — and the family of the 13-year-old boy sued Jackson in September of that year. The case wasn't settled until two months after the film's release, in January of 1994 (for $23 million), but the sequence of events that were in flux during the time of filming and the movie's release put a stop to the major Jackson-related storyline.
Fans might have noticed a scene in the film where Joel screams at the sight of a Michael Jackson poster, creating some pretty dark connotations given the allegations that have come to light since 1993. During a 20th anniversary interview with BuzzFeed, writer Paul Rudnick and Joel actor David Krumholtz shed some light on Jackson's intended involvement in the film. On the poster scene, Rudnick said that it "was a good joke when we began and then, after the scandal, it became an enormous laugh. It was just so in the air at the time."
It's less funny and more of a yikes moment, given the severity of the situation. Krumholtz remarked on the scene, "I don't want to speak out of turn here, but there was maybe some inkling of something, but it wasn't anything major."
Rudnick even said that there was a Michael Jackson music video that was planned to tie into the film: "I think he completed the video for it, but it was just a little too risky to include it in the final movie at that point." If Rudnick's memory is correct, the plot line apparently even had Jackson living in the mansion, resulting in the neighbors "storming the place with pitchforks and torches." Yikes.
If you or anyone you know has been a victim of sexual assault, help is available. Visit the Rape, Abuse & Incest National Network website or contact RAINN's National Helpline at 1-800-656-HOPE (4673).
The origin of Pubert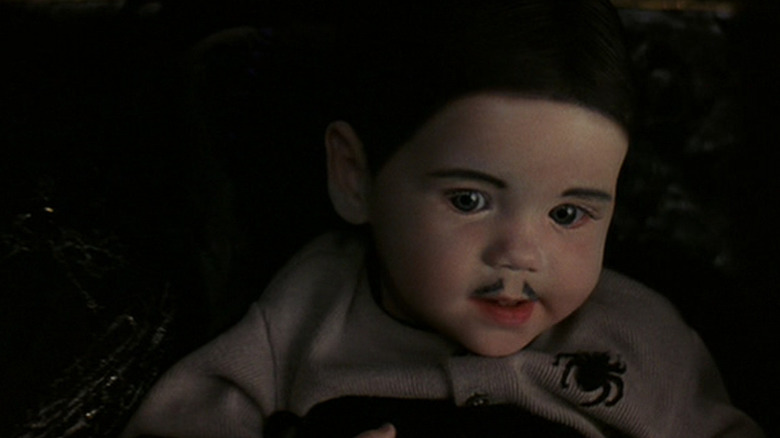 Paramount Pictures
While Charles Addams' original comic strip left the characters unnamed, ABC-TV enlisted Addams to help name the characters for "The Addams Family" TV show. Yet though Addams had a say in the characters' names, not all of his ideas panned out. According to the Nov. 24, 1991, edition of The San Bernardino County Sun, Pugsley was almost named Pubert. The newspaper noted on Addams' name choices, "For the boy, he suggested Pubert (as a wordplay on puberty), but it was rejected by the network and he became Pugsley." 
Kids undoubtedly wouldn't know this piece of '60s trivia, but the writers for "Addams Family Values" kept it in mind when Gomez and Morticia have a third child in the sequel. So as it turns out, Pubert wasn't the brainchild of the movie's writers but Addams himself. And the writers took Addams' vision further, giving Pubert a ridiculous (and unexplained) mustache as a metaphor for the puberty the baby's name hints at. And though Addams wasn't alive to see it (via The New York Times), his original plan for Pugsley is honored in a delightfully bizarre way that would no doubt please the father of this beloved and kooky franchise. 
Someone tried to buy Cousin It's baby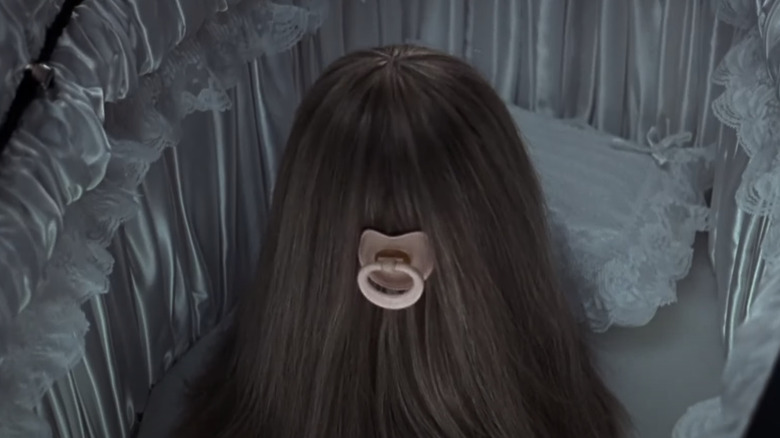 Paramount Pictures
It's not exactly a flex when someone tries to buy your baby, yet you'd never know based on Margaret's (Dana Ivey) brag in "Addams Family Values." When she shows off her and Cousin It's (John Franklin) baby, she proudly says, "We've had offers." The implications there are pretty grim because no one wants to "buy" a baby from their parents for any good reason.
Frankly, when it comes to Margaret, the novelty of the Addams Family seems to be her only interest. Does she actually care about her baby and Cousin It? It doesn't exactly seem like it. She reeks of the parents who force their kids into beauty pageants and live vicariously through them. Who knows just how high an offer would have to be for Margaret to say yes? But as it stands, it wouldn't be surprising if she started her own freak show with her child as the prize-winning subject. This moment would fly right past a kid's radar, but those three words are more telling than any of Margaret's past scenes.
A horror icon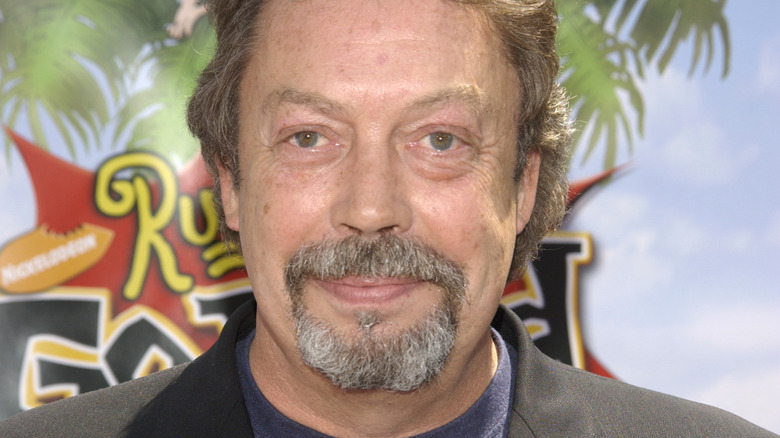 Featureflash Photo Agency/Shutterstock
No one is writing sonnets about the third live-action film, "Addams Family Reunion," but that isn't for lack of trying. It's always a risky move to recast iconic roles in beloved series, but doing so after the death of an actor takes things too far. Sadly, Gomez actor Raul Julia died of complications following a stroke before filming could begin for the third installment (via The New York Times).
The only significant returning actors were Christopher Hart as Thing and Carel Struycken as Lurch. Yet continuing the project with just one actor and one sentient hand from the original two films is precisely what prevented the film from reaching its potential. Rather than creating something new, fans can't help but compare the third movie to its predecessors, and it's just not the same.
Kids might not realize it, but iconic horror actor Tim Curry took over the role of Gomez. The actor played iconic horror roles like Pennywise in the 1990 TV movie "It" and starred as Frank-N-Furter in "The Rocky Horror Picture Show." This movie certainly wasn't up to the caliber that Curry is used to, but with a great cast, it could have been incredible if its producers had made different choices.
Morticia's makeup routine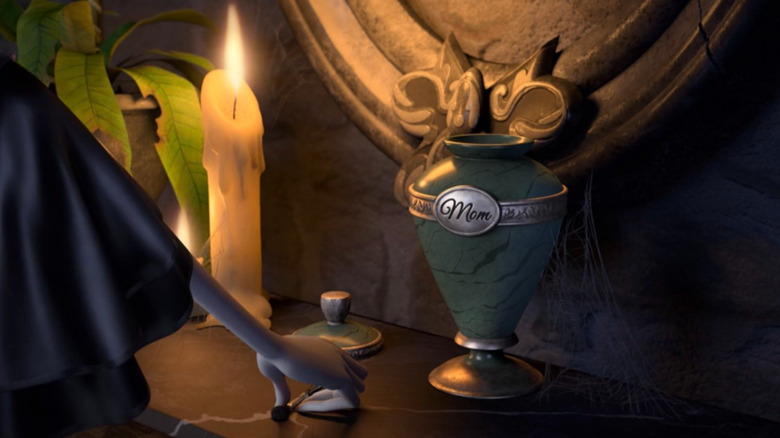 Universal Pictures
There's no denying that the Addams Family eats, sleeps, and breathes the macabre. This remains the case in the animated "Addams Family" films, though they're a bit less dramatic and homicidal than the live-action '90s ones. Nevertheless, there are still more than enough dark elements to keep the creep factor alive. It doesn't take long to tap into that dark energy, either. In Morticia's (Charlize Theron) first scene in the movie, she uses her dead parents as a fashion statement.
Kids may not notice that she's actually using the ashes from her parents' urn when she applies her makeup. Morticia uses her mom's ashes as eyeshadow and her dad's ashes as blush, which are somehow pink. But hey, her name isn't derived from the word "mortician" for nothing. It's also not the weirdest thing that the Addams Family has done with dead bodies.
A lesson in philosophy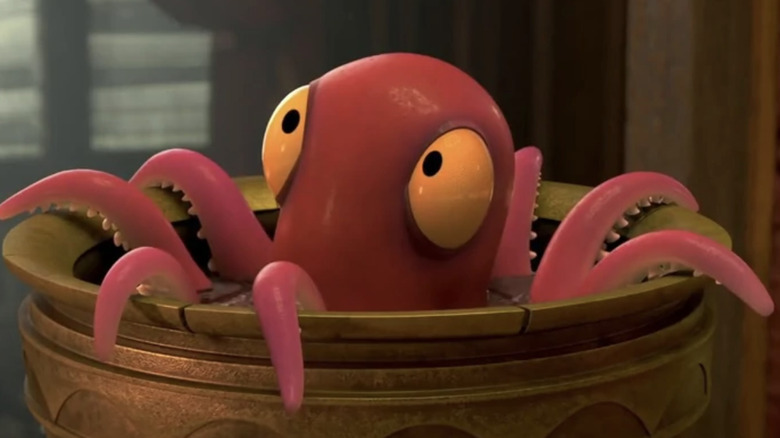 Universal Pictures
The Addams Family certainly draws a significant amount of inspiration from horror elements and the supernatural, but those aren't the only historical figures the family looks up to. While fans might expect the Addams Family pets to get their names from Stephen King characters, they are a worldly bunch. Wednesday's (Chloë Grace Moretz) pet octopus, for instance, doesn't have dark origins but philosophical ones. He's named after the ancient Greek philosopher Socrates. He helmed an entire branch of philosophy called the Socratic method — which basically consists of asking questions until someone comes to their own conclusion.
Yet though it's not inherently obvious, Socrates had his own dark ending to which Wednesday was likely drawn. Like most historical figures who questioned the status quo, Socrates wasn't exactly popular in his time. In fact, he was so detested that he accepted his fate of execution via toasting with a hemlock poison. It makes sense why Wednesday would be into that — it's kind of an iconic way to go.
Who's Wallace Shawn?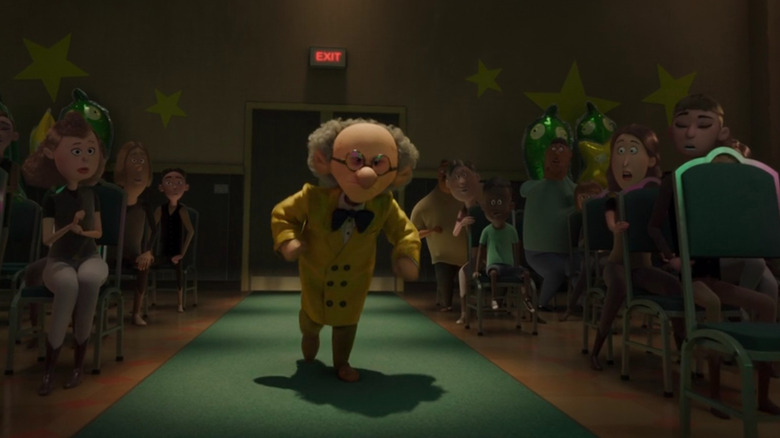 Universal Pictures
Anyone who grew up in the '80s or '90s will likely immediately recognize Wallace Shawn's voice any time he takes on a live-action or animated role. Shawn's greatest claim to fame was as Vizzini in the incredibly popular adventure film "The Princess Bride" — you know, the self-assured "Inconceivable!" guy. After his role in "The Princess Bride," he went on to star in the classic teen '90s movie called "Clueless." Wallace starred as Alicia Silverstone's on-screen teacher Mr. Hall. He got a lead role in "My Dinner with Andre" and is probably most recognizable today for his recurring role as Dr. John Sturgis in "Young Sheldon."
And though Shawn has been in more than a few animated kids' projects like "The Incredibles" (Gilbert Huph) and "Toy Story" (Rex), without the context of his early live-action projects, the identity of the actor likely went unnoticed by kids watching "The Addams Family 2" — where Wallace took on the role of a fiendish lawyer, Mr. Mustela. It's likely that only the parents delighted in hearing Shawn voice Mustela, but in time, everyone should eventually be introduced to the iconic classics he starred in — and the joys of Shawn's incredibly unique voice.
The Talking Heads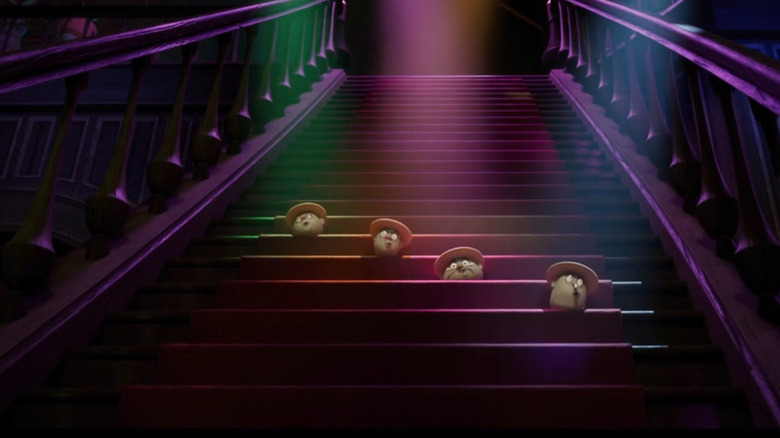 Universal Pictures
Most kids watching "The Addams Family 2" wouldn't get Grandmama's (Bette Midler) reference to the Talking Heads. In the film, the Addams Family throws a rager when the immediate family is gone, and two partygoers are excited to learn that the Talking Heads are performing. Their excitement diminishes when they realize that Grandmama is actually talking about a bunch of ... talking heads. The band consists of four animated shrunken heads that the attendees confuse for puppets. Given that the original Talking Heads lineup hasn't performed together since 2002 (via NME), a random performance in a creepy family's mansion would definitely be something to get pumped about.
Still, it's a joke for the adults. Doubtlessly, many kids will not have heard of the group. It's questionable whether kids will even recognize the song Lurch (Conrad Vernon, singing voice by Dominic Lewis) sings in the bar: "I Will Survive," the classic by Gloria Gaynor.
Gomez's saucy dream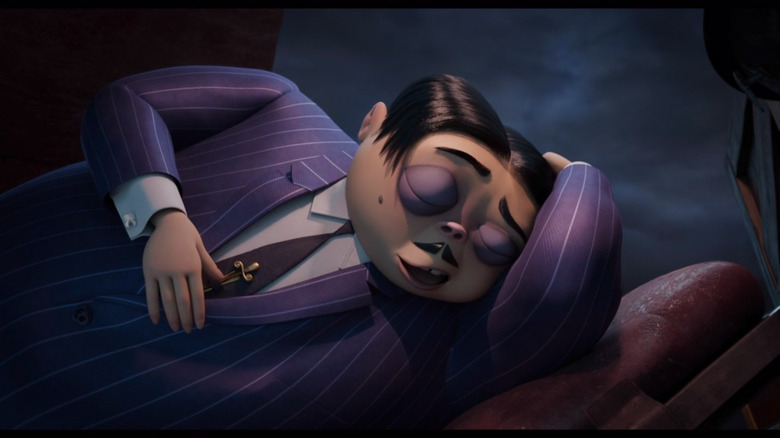 Universal Pictures
No one wants to witness their parent clearly having a wet dream, but luckily, most kids wouldn't realize what's happening anyway. In "The Addams Family 2," Wednesday collects some hair from her father, Gomez (Oscar Isaac), when he's sleeping, and his sleep-talking is more than uncomfortable to watch. While Wednesday is plucking Gomez's hair for her DNA experiment, he's muttering words like "tease" and "minx," on top of it being obvious that he's turned on.
Now, if Gomez wasn't in the presence of his daughter during the scene, it might be a funny moment for adults watching the film. But the fact that he's getting his rocks off while Wednesday plucks his hair is pretty creepy and unnecessary. It also lends some insight into Gomez and Morticia's sex life, which likely includes some hair-pulling, given Gomez's reaction. All in all, the scene is awkward and disturbing when you think about the context.
The queen of horror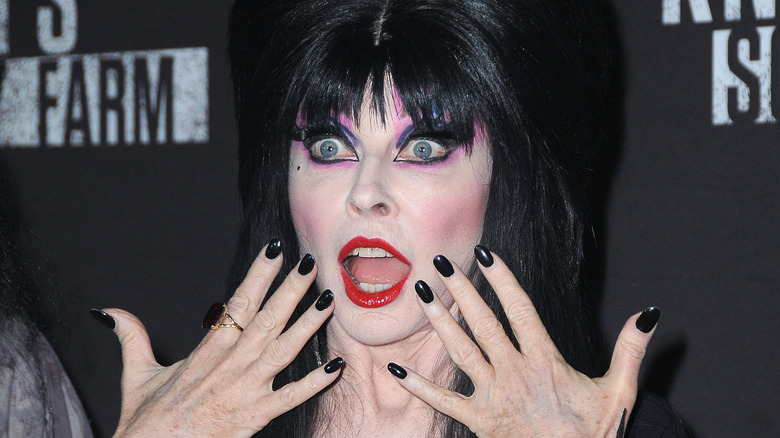 Barry King/Getty Images
Morticia Addams may be one of the OG queens of horror, but she's in good company when it comes to real-life horror icons. In "Addams Family 2," Dr. Cyrus Strange (Bill Hader) calls Morticia by the name Elvira, which he uses as a dig. Yet most horror fans would be honored by the reference. Given Morticia's similar aesthetic to Elvira, the comparison makes perfect sense. But young fans of the franchise might not recognize the name of the '80s horror icon.
Elvira actress Cassandra Peterson created an entire horror brand around her character, having performed for her weekly show, "Elvira's Movie Macabre," and appeared in films like "Elvira: Mistress of the Dark" and "Elvira's Haunted Hills." The character has become so ingrained in pop culture that Elvira has even appeared in projects like "The Goldbergs," " Scooby-Doo: Return to Zombie Island," and "The Super Mario Bros. Super Show!" In fact, most kids probably have seen Elvira in some iteration without knowing the history of the meta horror hostess. Elvira isn't the only classic horror reference in the show, however. During the Little Miss Jalapeño Pepper competition, one of the pageant girls dumps red paint on the other contestants to mirror the pig's blood scene in the Stephen King story "Carrie."