Brecken Merrill's Favorite Yellowstone Scene Includes A Hilarious Flying Fish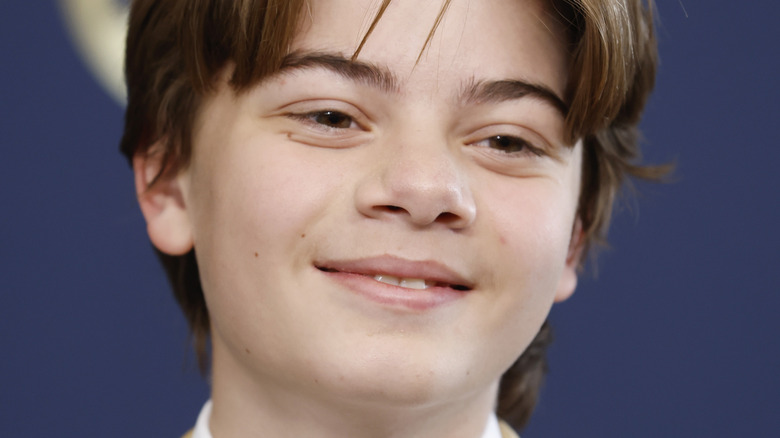 Frazer Harrison/Getty Images
Over the course of its first five seasons, "Yellowstone" has explored more than its fair share of characters, conflicts, and subjects. The Paramount Network series follows the Dutton family as its members all fight desperately to maintain their control over the largest ranch in Montana. Along the way, the family has had to contend with enemies from the neighboring Native American reservation as well as greedy land developers, nearly all of whom have attempted to gain control of, at the very least, part of the Duttons' ancestral ranch.
Despite how much violence and political drama has been explored on "Yellowstone," though, the Taylor Sheridan-helmed series has always maintained an unwavering focus on the bonds that tie its fictional central family together. For that reason, "Yellowstone" has spent a lot of time building out and focusing on the various relationships that exist within the Dutton family, including the loving, strong bonds that Tate Dutton (Brecken Merrill) shares with his parents, Monica (Kelsey Asbille) and Kayce (Luke Grimes), as well as his grandfather, John Dutton III (Kevin Costner).
While he's never played as important of a role in "Yellowstone" as many of his family members, Tate has been at the center of plenty of memorable moments. With that in mind, there's one specific Tate scene in "Yellowstone" that remains Merill's personal favorite.
Brecken Merrill loved throwing a fish at Dave Annable
In a special behind-the-scenes featurette dedicated to him, "Yellowstone" star Brecken Merrill talked about his favorite moments from the show. In specific, Merrill revealed that his favorite scene he's ever gotten to film for "Yellowstone" actually took place all the way back in the Paramount Network series' first episode. The scene in question sees Lee Dutton (Dave Annable) throw some pebbles at his brother, Kayce, while they're sitting around a campfire only for Tate to come to his father's defense by throwing his cooked fish at Lee's face.
"My favorite scene was with [Luke Grimes]. I throw a fish in Dave's face. I actually kind of feel bad for Dave," Merrill said. While the moment itself might not seem particularly important to most "Yellowstone" viewers, either, it's not hard to see why Merrill continues to remember it so fondly. The scene, after all, is one of the first that truly gives Tate the chance to showcase his fiery spirit and devotion to his parent, both of which are qualities that have continued to guide the character throughout his time on "Yellowstone."
Of course, things haven't always been particularly easy or humorous for Tate and his family members. Over the years, Tate has not only gotten the chance to form even deeper bonds with his parents and paternal grandfather, but also fight a snake and come out of several dangerous situations alive.
Tate Dutton has been through a lot on Yellowstone
Like many of the characters on "Yellowstone," Tate Dutton has experienced a startlingly high number of violent encounters and traumatic losses. The first two episodes of "Yellowstone" Season 5 even see Tate get into a car accident with his mother and then, in the aftermath of that moment, grieve the loss of his baby brother alongside his similarly heartbroken parents. While many of these experiences have, in their own way, only helped further reinforce Tate's own resiliency and strength, that doesn't mean they haven't been particularly hard for Brecken Merrill to navigate as an actor.
As a matter of fact, it turns out that Merrill has developed a bit of a routine that helps him calm down after shooting scenes that are more grueling than usual. During a December appearance on the Dutton Rules podcast, Merrill even opened up a bit about his process and, specifically, how he has learned to recover from the "Yellowstone" scenes that require more from him than others.
"Whenever I really get out of a traumatic scene, a really weird place in my head, I run down to [craft services], grab some candy and try to cool off," Merrill revealed. "With my candy, with my chips, watching some YouTube videos or something. I think I'm good after that."
Based on how much Tate has already been through on "Yellowstone," it's easy to see why Merrill has gradually found his own way of coping with the series' more emotionally taxing scenes. The real question that "Yellowstone" fans should ask, therefore, is how many more times the series will put Tate through the kind of dangerous situations that he's already faced far too many times.