Lainey Wilson Details A Big Obstacle Of Her First Yellowstone On-Screen Kiss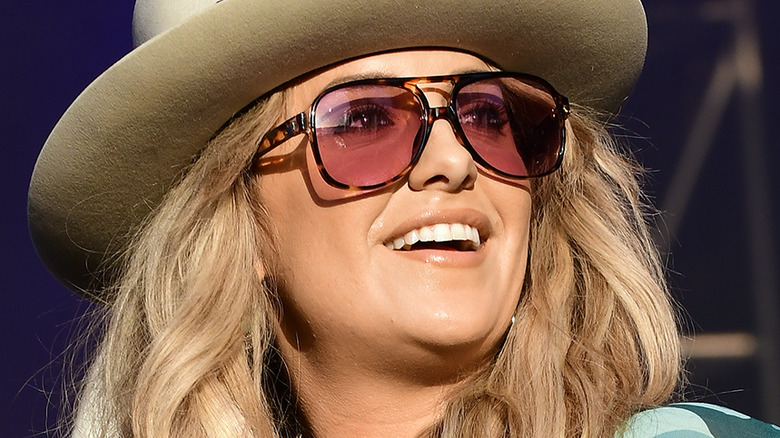 Tim Mosenfelder/Getty Images
The "Yellowstone" Season 5 premiere, which originally aired on November 13, 2022, features the acting debut of country music star Lainey Wilson as a fictional singer named Abby. Rather than serving as a one-off cameo, Abby's role grows as Season 5 progresses after she becomes the love interest of ranch hand Ryan (Ian Bohen). Around the time of its premiere, Cole Hauser teased Abby's Season 5 romance, suggesting that it would shock "Yellowstone" fans.
Wilson's "Yellowstone" debut technically came a few years prior, in the first episode of Season 2, which features a popular song of hers titled "Working Overtime." While Wilson has recounted how newer fans of hers have told her that they found out about her music through its use in the "Yellowstone" soundtrack, the fact that she's now a recurring on-screen presence, is, of course, a significantly greater responsibility comparatively.
Because Wilson hadn't acted previously outside of appearances in her own music videos, her "Yellowstone" role marks entirely new territory for the country star. This new territory includes her first ever on-screen kiss, which she revealed in an interview necessitated overcoming one particularly unlikely obstacle.
For the first scene in which Abby and Ryan kiss, Lainey Wilson and Ian Bohen had to angle their cowboy hats just right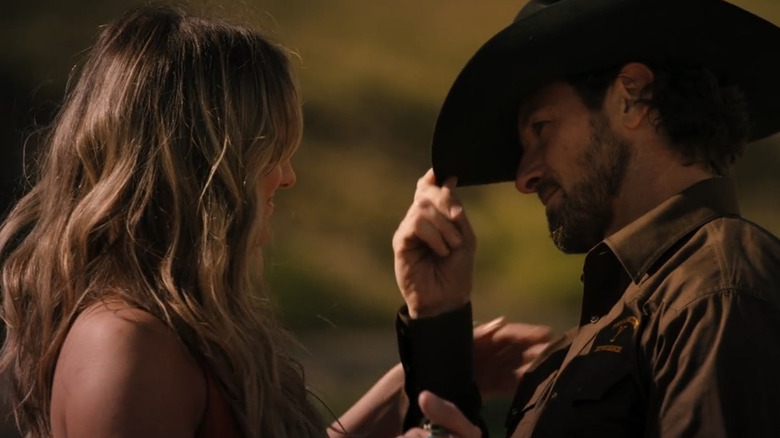 Paramount Network
After "Yellowstone" Season 5, Episode 6  — which features Abby's kiss with Ryan — first aired, Lainey Wilson spoke to USA Today about what it was like to act in Paramount Network's acclaimed Western drama. At one point during this interview, Wilson delved into the particulars of her first on-screen kiss, revealing that the cowboy hats their characters wore immediately got in their way.
"It's definitely about leaning the head to one side; angles are so important," she said. "And there's another kiss coming where I take my hat off. That's when you know you're getting down to it."
Wilson also shared that she warned her parents that they might not want to tune into her run of "Yellowstone" episodes, lest they risk seeing their daughter in a new light. "I didn't really know what I was doing, but you go in there head-first. I was going to give people their money's worth," she said of her big Episode 6 moment.
Fans, meanwhile, had good things to say about this scene after the episode premiered, including Reddit users Mauri0ra and Green-Independent951, both of whom shared that they're happy about Ryan's new romance storyline. So, while filming this scene may have presented its share of difficulties, the final product seems to be well-received among the "Yellowstone" fanbase.