The Christmas Vacation Squirrel Scene Was Just As Chaotic Behind The Scenes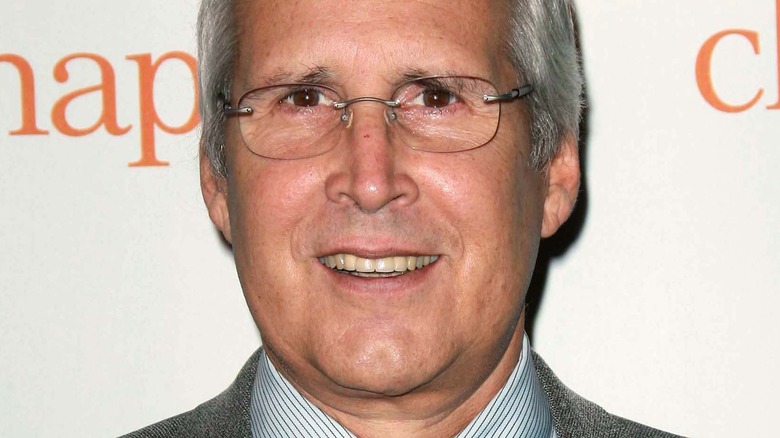 s_bukley/Shutterstock
Families must have several holiday movie staples on their television screens this time of year. In addition to the Grinch stealing gifts and Ralphie almost shooting his eye out, there's the Griswolds — the family that proves their holiday reunion is always more stressful and eventful than ours. "National Lampoon's Christmas Vacation" first hit theaters in 1989, and fans have eagerly thrown the flick on their home screens since, taking in all the Christmas chaos Clark (Chevy Chase) has to endure, including out of control sledding and being trapped in an attic.
For those unfamiliar with the franchise, fans were first introduced to the Griswolds with 1983's "National Lampoon's Vacation," which followed Clark and his wife Ellen (Beverly D'Angelo), as they take their kids across the country to visit the fictional theme park Wally World. The next installment had the Griswold clan trekking across Europe, before staying home for the holidays in this third chapter. In "Christmas Vacation," Clark bites off more dried-out turkey than he can chew when additional family members unexpectedly show up. From there, the hilarious Griswold chaos ensues, which includes an attacking squirrel scene. This scene, it turns out, had the cast and crew experiencing their own real-life chaos.
On the day of the shoot, the trained squirrel had crossed the rainbow bridge
"National Lampoon's Christmas Vacation," kicks off with the Griswolds out buying their tree to bring home, just in time for a family holiday. With no good ones left to purchase, Clark decides to cut down a huge tree from the woods. However, this tree happens to be the home of a squirrel. The bushy-tailed rodent makes its presence known by leaping out of the tree to terrorize different family members, before getting chased by the dog. However, on the day of shooting the scene, the cast and crew arrived to find out the trained squirrel had died.
During an interview with Rolling Stone, director Jeremiah S. Chechik explained how what was supposed to be a simple day of shooting turned into anything but ordinary. "For the dog and squirrel chase, we hired an animal trainer who trained them every day for months to run through the set," Chechik recalled, going on to say that the plans for the scene went out the window when the squirrel unexpectedly died. "I got out of my car and saw everyone standing in a huddle shaking their heads and I knew something was terribly wrong." 
The cast and crew had to push forward, now using an untrained squirrel. Diane Ladd, who played Clark's mother, explained why her look of fear during that scene was genuine, as the squirrel wrangler told her, "If someone screams or scares one, their claws are like razor blades."