Stephen Hawking, Renowned Physicist, Dead At 76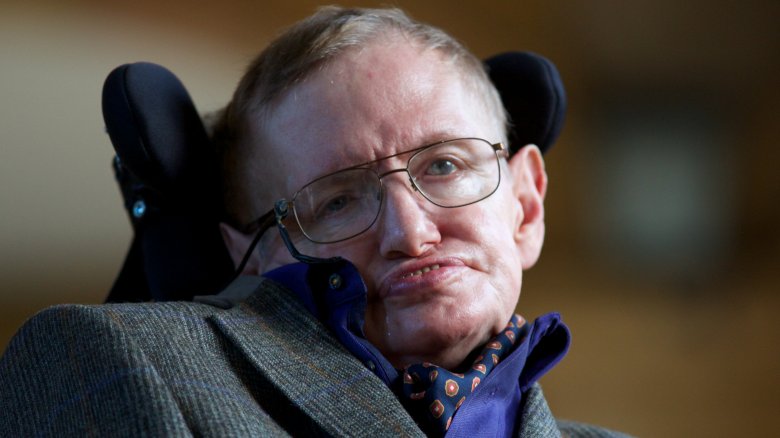 Getty Images
Stephen Hawking, the renowned theoretical physicist who explained some of the biggest mysteries of the universe, died Wednesday, March 14, according to his family. He was 76.
"We are deeply saddened that our beloved father passed away today," his children said in a statement (via CBS News). "He was a great scientist and an extraordinary man whose work and legacy will live on for many years. His courage and persistence with his brilliance and humor inspired people across the world. He once said, 'It would not be much of a universe if it wasn't home to the people you love.'"
Born in Oxord, England, in 1942, Hawking was a 21-year-old Ph.D. student when he was diagnosed with Amyotrophic Lateral Sclerosis (ALS) and doctors told him he would only have a year or two to live. Although confined to a wheelchair and unable to speak except with a voice synthesizer, he overcame the odds and survived more than five decades after his initial diagnosis.
His 1988 book A Brief History of Time explained the secrets of the universe in layman's terms and became an international bestseller. It also turned Hawking into a global celebrity.
One of Isaac Newton's successors as Lucasian Professor of Mathematics at Cambridge University, Hawking was deeply immersed in the search for a "unified theory" of physics that would resolve contradictions between Einstein's General Theory of Relativity and the Theory of Quantum Mechanics.
"A complete, consistent unified theory is only the first step: our goal is a complete understanding of the events around us, and of our own existence," he wrote in A Brief History of Time.
In 2001, he released The Universe in a Nutshell, which included new concepts like super gravity, naked singularities, and the possibility of an 11-dimensional universe.
Despite his illness, Hawking made appearances on Star Trek: The Next Generation in 1993, four episodes of The Simpsons between 1999 and 2010, two episodes of Futurama in 2000 and 2011, and several episodes of The Big Bang Theory between 2012 and 2017.
His life story was the basis for the 2014 film The Theory of Everything, which brought Eddie Redmayne an Oscar for portraying Hawking. "We have lost a truly beautiful mind, an astonishing scientist and the funniest man I have ever had the pleasure to meet," Redmayne said in a statement to USA Today. "My love and thoughts are with his extraordinary family."
Take a look at some of Hollywood's tributes below.
In loving memory of Stephen Hawking. It was an honor to have him on The #BigBangTheory. Thank you for inspiring us and the world. pic.twitter.com/9rWoYqIToy

— The Big Bang Theory (@bigbangtheory) March 14, 2018
Farewell to Stephen Hawking, the most intelligent guest star in the brief history of The Simpsons pic.twitter.com/po3fIHgEdh

— Matt Selman (@mattselman) March 14, 2018
One of the greatest minds our species has ever produced is returned to the stars. It is a great loss to the scientific community. He was a hero to so many. Stephen Hawking, let us honor your work by respecting always the importance of scientific inquiry. https://t.co/BuNaEUrcer

— George Takei (@GeorgeTakei) March 14, 2018
His passing has left an intellectual vacuum in his wake. But it's not empty. Think of it as a kind of vacuum energy permeating the fabric of spacetime that defies measure. Stephen Hawking, RIP 1942-2018. pic.twitter.com/nAanMySqkt

— Neil deGrasse Tyson (@neiltyson) March 14, 2018
Stephen Hawking was a brilliant man, but he was also an incredibly funny man. It was a huge privilege to waste some of his time, and I'll never forget the twinkle in his eye here ...https://t.co/xUmm2qIAiN

— John Oliver (@iamjohnoliver) March 14, 2018