James Spader Says Shaving His Head For The Blacklist Just 'Felt Like The Right Thing'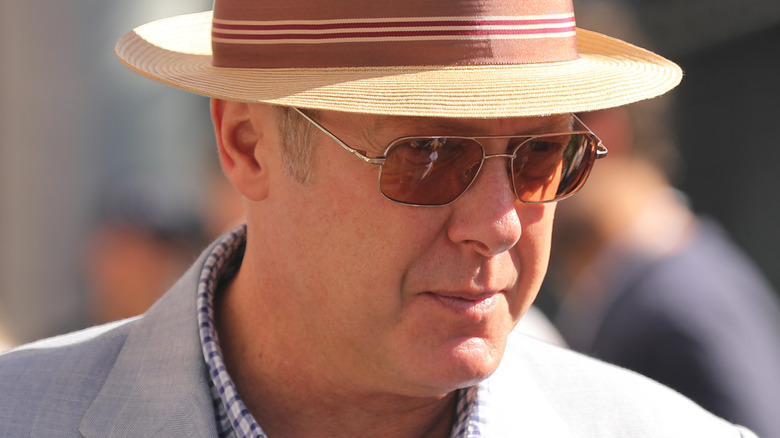 Leonard Zhukovsky/Shutterstock
James Spader stars in NBC's "The Blacklist," a popular crime thriller based on an ex-government employee turned criminal working alongside the FBI to bring down even more dangerous wrongdoers. Spader plays the role of Raymond "Red" Reddington, a charismatic and incredibly intelligent man who may not necessarily be a good person, but he's helping to bring down a lot of people who are worse than him. Refusing to work with anyone other than FBI profiler Elizabeth "Liz" Keen (Megan Boone), Spader enters the pilot of "The Blacklist" with a list of secrets that the audience immediately wishes to uncover.
As an Emmy Award-winning actor, Spader is no stranger to making drastic adjustments to bring his characters to life. Recognized for his work on "The Practice" and its spin-off "Boston Legal" as lawyer Alan Shore, Spader came to "The Blacklist" having already mastered the crime genre, and his dedication to Red's characterization started before shooting even began. Committing to shaving one's own head is a huge decision, but Spader believed it was the best call for Red's character and didn't hesitate to make the necessary cosmetic adjustments.
Shaving his head was a huge change, but James Spader says 'it felt wonderful'
"It felt wonderful," Spader told multiple reporters as transcribed by The Oklahoman. "I'd had my hair long for, I think, the last few projects that I'd done. And it just felt — it felt like the right thing for him, so I — it was an idea that I instigated, and I think it was the right choice. It just seemed to fit his lifestyle, and he's someone who has to move — travel lightly and move swiftly — and it seemed eminently practical for him."
Considering Red's background as a name on the FBI's Most Wanted list, this makes sense. Not having to worry about taking care of his hair is just one advantage of shaving it. Changing appearances with the use of disguises or wigs is also a much easier process when his own hair isn't in the way. The logic checks out: Such a bold choice naturally suits the character.
The shaved head was just the beginning of putting together Red's look, though. He's always dressed practically, and he's usually seen with a fedora, creating a timeless feel – a detail Spader fought hard to incorporate. "We didn't want him to look as if he's from any specific style or fashion of any given year or from any given place, because he's someone who would compile his wardrobe from around the world," Spader continued, discussing how Red's been on the run for quite a long time, so a single location's norms likely wouldn't rub off on him. Red also needed to be dressed in something comfortable and suitable in order to go from situation to situation without having to worry about a wardrobe change.